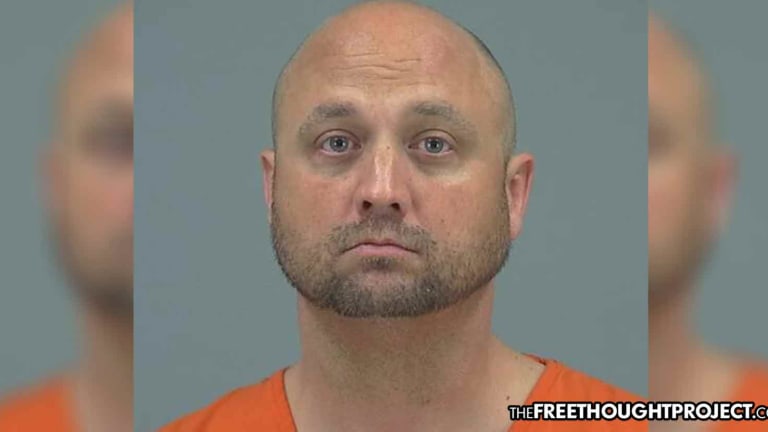 Fmr Detective Out on Bail for Child Sex Crimes, Arrested Again for Role in Child Sex Trafficking Ring
While out on bail for attempting to have sex with a child, a former detective was arrested for allegedly participating in a child sexual exploitation and child sex trafficking ring.
Pinal County, AZ — Earlier this year, former Maricopa County Sheriff's Office detective Christopher Michael Butts began engaging in a sexual conversation with a child he knew was just 13-years-old. He made several attempts to meet up with the girl for sex and was arrested after he showed up near her home. After he was arrested for luring a minor for sexual exploitation, Butts made bail and was released. Now, this man who once claimed to "protect" society is back in jail. This time he was arrested — while out on bail for child sex crimes — for allegedly participating in a child sexual exploitation and child sex trafficking ring in Pinal County.
The sting operation, known as Operation Home Alone 2, led to five arrests between Aug. 26, 2020, and Sept. 3, 2020. The other four men allegedly participating in the child trafficking ring were not police officers.
Butts' arrest came on September 2 during the sting and he stands accused of child trafficking, sexual exploitation of a minor and furnishing harmful items to a minor.
The Arizona Department of Public Safety, which is leading the investigation, said in a news release that the ongoing effort focuses on "sexual predators who attempted to lure underage children with the intent of engaging in sexual activity" in Pinal County.
According to court records, in March, Butts began discussing engaging in sex acts with a child and stated in a message, "I promise I am not here to take you, I definitely will not hurt you. If you say stop or no, then I will absolutely stop." Butts said in another message he promised he wouldn't get the girl pregnant because he had been "fixed" in that way.
As AZ Family reported at the time, on March 17, he messaged the girl through the app that he was in Maricopa and near the girl's home with one of her favorite drinks. Maricopa police arrested butts near the Cobblestone Farms subdivision off State Route 347 and Cobblestone Farms Drive. As he was taken into custody, Butts was found to have the specific drink the girl had previously mentioned, and the dating application was on Butt's cellphone.
After he was arrested, Butts made a ridiculous claim, telling investigators that despite telling the girl he wanted to engage in sexual acts with her, and showing up at her house with alcohol, he was only doing it so he could tell the girl's mother what her daughter was doing online. As his recent arrest illustrates, this was a lie.
During his tenure at the MCSO, Butts worked as a detective for the major crimes division. He would have likely been the one to be investigating people like himself. Given the fact that he was arrested again for child sex trafficking while out on bail for previous crimes against children, it is apparent that Butts has no intention of reforming himself and is a dangerous child predator.
Since an arrest did not stop him from continuing to prey on children it is indeed extremely likely that Butts has done this countless other times before. Unfortunately, as TFTP has reported many times, child predator cops are disturbingly common.
Just last week, TFTP reported on a joint investigation into child sex abuse by the Louisiana attorney general's office, the Louisiana Bureau of Investigation's Cyber Crime Unit and the St. John the Baptist Sheriff's Office. During that investigation, authorities made several arrests, including one of their own deputies, who now faces dozens of disturbing charges.
St. John the Baptist Sheriff's deputy Avo Marzwanian, 34, of LaPlace, is charged with 10 counts of distribution and 20 counts of possession of child pornography involving juveniles under the age of 13, the attorney general's office said. But that's not all, apparently this deputy didn't limit his abuse solely to children and was also charged with 15 counts of sex abuse against animals.