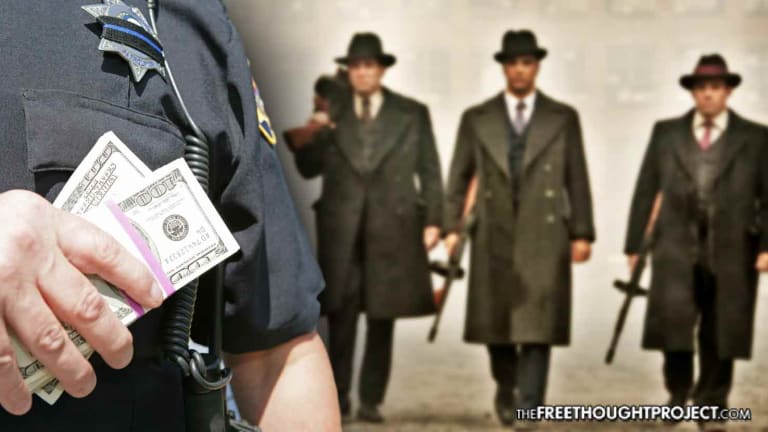 Cops Now Charge Businesses Thousands to Provide Them Police 'Protection'—Just Like the Mafia
Just like in Hollywood movies in which the mafia forces business owners to pay for "protection," Detroit police are following suit.
Detroit, MI — Everyone who's ever watched a Hollywood mob film has seen the scenarios in which the mobsters offer "protection" to local businesses in exchange for money. The scheme is called a protection racket and is usually conducted by criminals. However, as a case in Detroit illustrates, police officers have recently gotten in on the game.
Sadek Kaid, who owns a Marathon gas station in northwest Detroit called police last month to report a crime in progress which was taking place inside his store. An irate customer, who was upset with the price of an item, lost it and began smashing up the store and throwing items off the shelves.
Kaid called 911.
Several minutes passed and Kaid never received a response, so, he hit redial and called back. Still, nothing.
The customer smashed up Kaid's store for nearly an hour and police never showed up.
"The dispatcher said, 'It's because you don't have the Green Light,' " Kaid said, according to Detroit News. "The customer was in here destroying the store, throwing everything off the shelves. He was here for almost an hour before he left. When the police finally came, they told us the Green Light locations get priority."
Although police tout the 'Project Green Light' system as a means of preventing crime, in essence, it is merely a hi-tech version of the mafia's protection racket with ominous police state undertones.
As the Detroit News reports, "businesses pay between $4,000 and $6,000 to join Project Green Light, a program that allows police to monitor businesses' video surveillance feeds in real time. The cost covers installation of high-definition cameras and lighting. There also is a monthly fee of up to $150 for cloud-based video storage."
For paying the cops the exorbitant fees to essentially let police spy on them 24/7, businesses get Priority 1 status on calls to 911. Now, the businesses who can't afford to pay the m̶a̶f̶i̶a̶ police for protection are getting left out in the cold.
"It's not fair," said Abdo Nagi, owner of a 76 gas station on Grand River on Detroit's west side that is not part of the program, according to the News. "We should all be equal. I pay high taxes already. Now I have to pay extra to get the police to come?
"Don't get me wrong: If someone has a weapon and we call the police, they get here fast," Nagi said. "But with other things, it takes a long time. There were kids in here beating up another kid last year, and by the time the cops got here, they were gone."
According to Detroit News, Priority 1 runs are given precedence over other emergency calls, although Police Chief James Craig said Green Light runs don't trump violent crimes. But per the agreement with the city, if there are simultaneous calls from two business owners reporting similar crimes, police prioritize calls from the Green Light locations.
On top of the mafia-esque tone of this program is the fact that business owners are essentially constructing their own police state—and they are paying for it.
Likely salivating over the idea of having cameras recording everything in the city, city officials are now considering making the Green Light Program mandatory. However, that won't happen until at least next year, according to Mayor Mike Duggan.
Duggan says everyone loves the program and if you don't like it you're a criminal.
"The level of enthusiasm is so high," he said. "Our resistance comes almost entirely from people who appear to have a relationship with the people up to no good in their parking lots."
However, not all businesses can simply shell out thousands of dollars to the cops for protection and they aren't criminals at all.
"It sounds like a great idea, but I just can't afford it," said Jesus Hernandez, owner of Abby's Party Store. "If the city makes it mandatory, I'll just have to close at 10. That won't make a big difference during the week, but on the weekends I'll lose money."
Perhaps the Detroit police would do well to study the model of Dale Brown who owns and operates his own 'private' police force.
Dale Brown of Detroit's "threat management center" has shown that crime can be stopped and lives can be saved by independent people using non-lethal tactics and without creating a police state.
In areas of Detroit where police don't answer 911 calls, Dale Brown took matters into his own hands and started taking those calls himself, and because Dale was not "above the law" as police officers claim to be, he had to solve these crimes without hurting people, because he would actually be held accountable for his actions.
Yes, businesses pay for these services. However, as a side effect of providing businesses with security, Dale has also been able to provide service in poor neighborhoods for free, by financing his business through providing security for high-income areas.