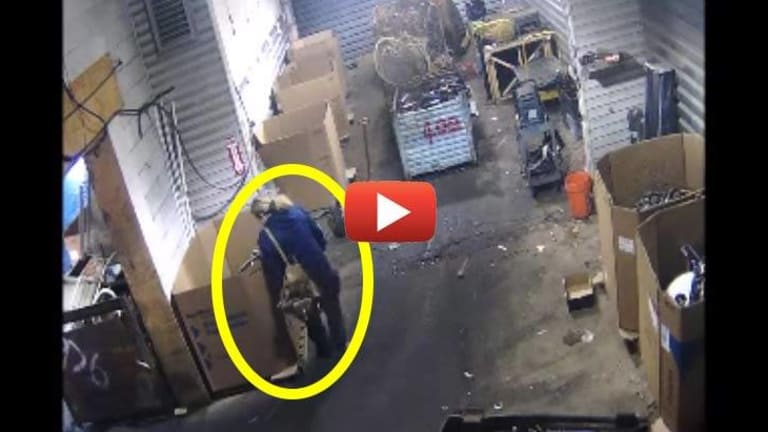 Detroit Police Sergeant Caught on Video Planting Evidence to Ruin Local Business - Lawsuit
In a vendetta to ruin a local business a Detroit police Sgt has been caught on video allegedly planting evidence.
Detroit, Mich. – A family scrap metal shop was illegally targeted according to a lawsuit filed in U.S. District Court Monday. The suit is filed against the City of Detroit and the Detroit Police Department, as well as Sgt. Rebecca McKay, Mayor Mike Duggan and Police Chief James Craig.
Dearborn resident Joseph Fawaz, whose family owns Southwest metals, accused a Detroit police sergeant of planting evidence, lying to prosecutors, attempting to bribe witnesses, and arresting employees in a multi-year vendetta.
The suit claims Detroit Copper Theft Task Force member, Sgt. Rebecca McKay, was caught on the scrap metal shop's surveillance camera planting evidence during a raid of Southwest Metals.
"Southwest Metal's security surveillance system recorded footage of what clearly seems to be Sgt. McKay planting underground 'greasy or sticky' wire at Southwest Metals in Detroit," the lawsuit claims. "In essence, Sgt. McKay appeared to plant evidence in a desperate attempt to gain evidence against Plaintiffs."
In an effort to combat post-bankruptcy blight and stem emerging black market rackets, Detroit has attempted to crack down on copper and metal thefts by forming a Copper Theft Task Force.
The lawsuit highlights the extremely desperate situation Detroit finds itself in after filing for bankruptcy protection.
Attorney for the family, Nabih Ayad, claims that the city was attempting to harass Fawaz because his company is Arab-American operated and Muslim-owned, as well as one of the smallest shops in the city, according to the Detroit News.
"He is the small sheep they are going after — the weak party to make an example out of," Ayad said. "Once the city takes their license away, they're dead."
According to Fawaz his problems began in May of 2013, with McKay's arrival on the Copper Theft Task Force.
A man was accused of selling wire stolen from DTE energy to Southwest Metals. Prior to the industry-wide alert going out to notify scrap dealers that wire had been stolen, Southwest Metals had already purchased the materials.
Fawaz then fully cooperated in the prosecution of that case, the lawsuit alleges.
"He's helped the city in more than 20 prosecutions," Ayad said.
In spite of Fawaz's assistance, McKay began an investigation into Southwest Metals and its employees, according to the lawsuit.
The suit goes on to claim that Fawaz and two employees were subsequently arrested after the Detroit Police Department unlawfully obtained a warrant. According to the lawsuit, Fawaz plead guilty to a misdemeanor charge to avoid a felony conviction.
"Sgt. McKay has continually attempted to intimidate and bully Mr. Fawaz and Southwest Metals in an attempt to put Southwest Metals out of business," the suit claims.
There was no probable cause for McKay to obtain the warrant she used to search Southwest Metals, and she was allegedly captured on the company's surveillance camera as she "appeared to plant evidence," according to the court filings by Ayad.
According to the suit, McKay can be seen in the video walking into a storage room without finding any contraband, only to return to the same room "and look(s) both ways as if to see if anybody else is in the area."
"Sgt. McKay then immediately and quickly walks to the back corner of the room, a location she had already been," Ayad wrote. "She then squats in the corner and miraculously returns with a very small piece of wire."
McKay claimed that the wire she allegedly found during the search was stolen, according to the lawsuit.
Fawaz attempted to rectify the situation by contacting the department's Internal Affairs Division, which is currently investigating McKay, the suit alleges.
The department has since proceeded to file 40 citations against Southwest Metals and launched proceedings to revoke its business license in what Fawaz claims is retaliatory action.
As usual the city denied any responsibility.
"We have carefully reviewed this complaint and have found no evidence of wrongdoing on the part of Sgt. McKay," Detroit Corporation Counsel Butch Hollowell told WDIV, Channel 4 News in a prepared statement. "The city is committed to protecting homes, businesses, schools and other public assets from metal theft."
https://www.scribd.com/doc/259805591/Soutwest-Metals-lawsuit-against-DPD
Jay Syrmopoulos is an investigative journalist, freethinker, researcher, and ardent opponent of authoritarianism. He is currently a graduate student at University of Denver pursuing a masters in Global Affairs. Jay's work has previously been published on BenSwann.com and WeAreChange.org. You can follow him on Twitter @sirmetropolis, on Facebook at Sir Metropolis and now on tsu.