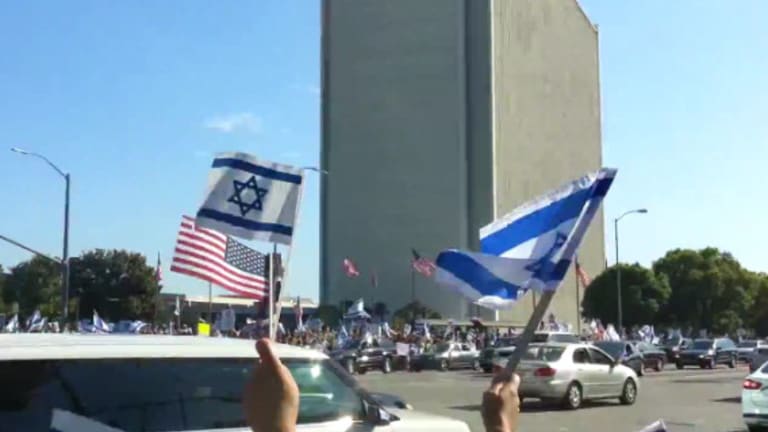 DHS Agent Opens Fire During Pro-Israel Rally
Sheriff's department "not sure" why DHS agent left federal property
Mikael Thalen
July 14, 2014
The Los Angeles Police Department confirmed Sunday evening that a Department of Homeland Security agent opened fire during a pro-Israel rally in front of the Westwood Federal Building.
The protest, which drew as many as 2,000 participants, reportedly turned violent after pro-Palestinian protesters began attacking several attendees with sticks.
As the four alleged attackers attempted to leave the scene in a pickup truck, a DHS agent opened fire on the vehicle, missing all inside. Cell phone footage of the incident captures the audio of a faint gunshot at around 29 seconds in.
According to NBC reporter Gadi Schwartz, the Los Angeles Sheriff's Department was completely unaware that the agent had left his post at the federal building.
#LASD says they are not sure why DHS officer was in the street and not on Federal Property

— Gadi Schwartz (@GadiNBCLA) July 14, 2014
Barry Poltorak, a Los Angeles County deputy sheriff who was off-duty during the time of the incident, told reporters that the four men could face felony assault charges. Friends of the four men disputed the accusations, saying the group was attacked by protesters after attempting to retrieve their stolen Palestinian flag.
FBI spokeswoman Laura Eimiller said the agency would assist the Los Angeles County Sheriff's Department in investigating the shooting. The DHS agent, who was briefly interviewed, was not taken into custody.
Friends of shooting victims tell me they haven't heard anything from #LASD, want to know why Homeland Security shot toward their friends

— Sam Hoff (@samhoff3) July 14, 2014
Although details are scarce, the agent's decision to open fire in a large crowd is quite telling given the agency's training.
Just last year, the agency spent more than $2 million on paper shooting targets depicting pregnant woman, the elderly and young children. Although the target producer publicly apologized for selling the "No Hesitation Targets", the DHS outright refused to acknowledge their own involvement.
The agency has also come under scrutiny for remaining silent on their purchase of more than 2.5 billion rounds of ammunition over the past few years. Along with the unprecedented ammunition stockpile, the DHS has also begun acquiring armored military vehicles.