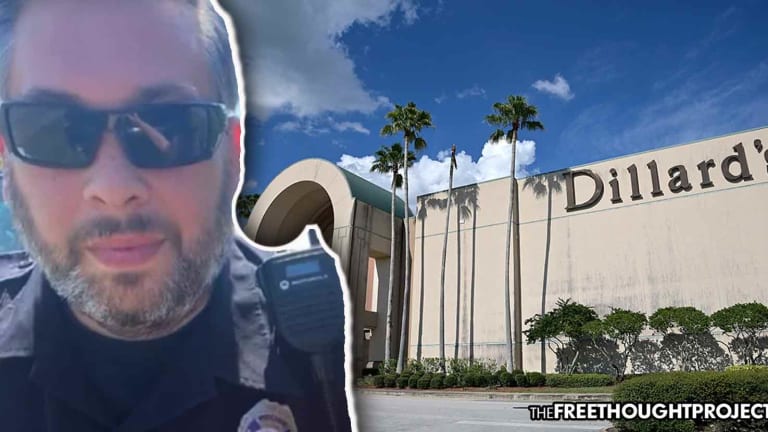 Dillard's Employee Records On-Duty Cop Trying to Coerce Her Into Back of Store to Sexually Assault Her
A cop who is eligible for "creep of the year" was recorded by a victim attempting to coerce her into fellatio while she worked.
North Charleston, SC — Before he was busted attempting to force a department store employee into the stock room to service him sexually, officer Darryl Felkel was raking in nearly $70,000 in regular pay, plus overtime. As you will witness in the video below, much of that taxpayer-funded paycheck was going in this cop's pocket — so he could harass and coerce women into sex.
Luckily, however, the citizens of North Charleston will no longer have to foot the bill for this cop, as one of his victims recorded the conversation which ultimately ended in his firing.
Fits News obtained the recording and published it this week. The incident unfolded last year and Felkel was fired on September 2, 2021 but despite having the recording, the North Charleston police department did not release it themselves. Criminal proceedings are currently underway, though the results are unknown.
The recording starts with this cop using his badge in an attempt to coerce a woman into sex at her place of work. The officer was so brazen that he made it sound like it was her responsibility to sexually pleasure him while she worked.
"See, I have more to lose – I feel like – than you do," Felkel told the woman on the recording, referencing his position compared to hers. "I have a job, a family. I got my body cam on, I'm in uniform."
"You have your body cam on?" the woman asked.
"No, it's not ON on, but it's on me," Felkel responded. "I'd have to put it up somewhere to make sure it didn't turn on accidentally."
"It could turn on?" she asked.
"Well, if you bump it the wrong way," Felkel said.
The woman likely wanted that body camera on as she was certainly uncomfortable and looking for anyway out of this situation. The situation got even creepier after Felkel told the woman that he had already scoped out the store and there were no cameras working in the back room where he wanted to take her.
"The cameras in the stock room could go on at any time," the woman retorted.
"But they don't – I've already checked it," the officer said. "I've asked them in the camera room.  He said that he's not checked them once. He's not concerned about back here. He's only concerned about out there (on the showroom floor) – about the shoplifters."
Clearly going over the line, and not reading any signals at all, Felkel continued to push after several obvious "no" answers from the woman.
"That's the risk and then that's why it's got to be quick," he said. "You got to go in, do what you're going to do – and get out. You can't dilly dally you have to go in and get it done."
At this point, the woman points out what's happening — an on-duty cop is attempting to force a woman to have sex against her will while they are both at work.
"You're trying to coerce me, sir," she said, after he demanded that she give him fellatio.
Still ignoring her repeated declines, Felkel continued to press her, reminding her that it doesn't matter if she doesn't want it, it just has to be quick.
"That's why I said it's got to be quick, you can't go in there and have like thirty minutes,"  he said. "Like if it's not happening, if it's not over in five to ten minutes then you need to be done and go.  You tried."
This creep even suggested that she set a timer.
"When the timer goes off you just got to be done," he said.
When the woman put down the hammer a final time and told him flatly that he was creeping her out and she was not interested, Felkel finally let up, but not before creepily telling her that if she hadn't been denying him for the last 7 minutes, that he'd be done already.
"I wanna say one more thing," Felkel said, not being able to control himself, "we'd already be done."
As Fits News reports,
Felkel was scheduled to appear before the S.C. Criminal Justice Academy (SCCJA) last month after an initial hearing last November was rescheduled. According to Felkel's file with the agency, he was terminated due to "misconduct" – namely "willfully making false, misleading, incomplete, deceitful or incorrect statements to a law enforcement officer."

According to the file (.pdf), Felkel initially told internal affairs investigators there was "no inappropriate conversation" between him and the woman – however it was noted his "account of the conversation changed several times." Felkel later told investigators "maybe it was an inappropriate conversation but he never asked for sex," according to the SCCJA file.

When Felkel was asked whether he wished to hear a copy of the recording, he declined – telling investigators "no, it would make me sick," according to his file.

"He was given every reasonable consideration to provide investigators with the facts of the incident which he failed to do," the SCCJA file noted.
According to the report, the SCCJA is scheduled to review Felkel's law enforcement certification next month. The fact that they haven't immediately revoked it and charged him, speaks to the nature of law enforcement and their insidious thin blue line.
Below is the entire audio exchange. It's creepy.
https://www.fitsnews.com/wp-content/uploads/2022/03/North-Charleston.m4a