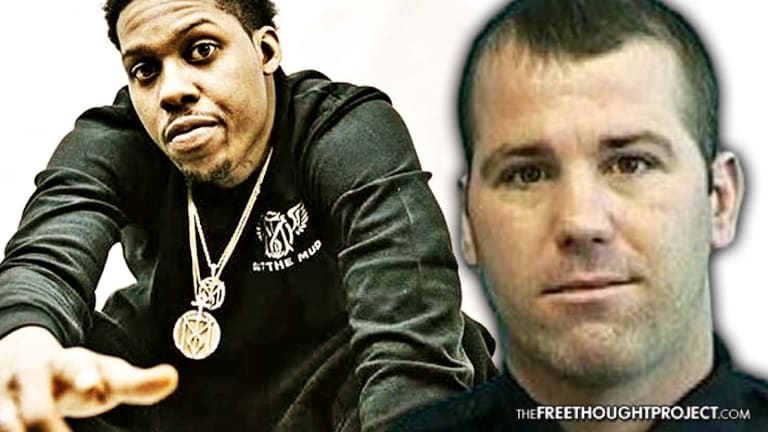 Local Rapper Called Out Convicted Criminal Cop in a Song Years Ago—But No One Listened
A young rapper who preached against police brutality named the criminal cop in a rap song 4 years ago, described his crimes, and filed a complaint against him—but no one believed him.
Baltimore, MD — The recent conviction of officers on the Baltimore Police Department's "Gun Trace Task Force" has exposed some of the worst corruption that this country has seen in years. Eight officers were found guilty on various corruptions charges and at least a dozen others are currently being investigated for their involvement in these crimes.
In court, it was revealed that these officers regularly planted evidence, robbed and extorted innocent people and even carried around bags filled with BB guns to plant on people they shot. In the aftermath of the trial, some Maryland lawmakers have even suggested disbanding the entire Baltimore Police Department and starting from scratch.
The fact that this case could potentially bring down the whole department casts more doubt on the official story of Sean Suiter, the Baltimore Police Officer turned whistleblower who was mysteriously shot and killed just before he was set to testify. This remains the only unsolved case of an officer being murdered in the history of the Baltimore Police Department.
Former Baltimore Police Detective Daniel Hersl was among the worst offenders in the task force, and his name was notorious on the streets of Baltimore. So notorious was his name, that he was called out by a local rapper long before his crimes were made public.
Baltimore rapper Kevron Evans, AKA Young Moose, says that he was regularly harassed by Hersl, which put a significant strain on his life and career.
After his first run-in with Hersl, Moose refused to back down and instead began speaking out against police brutality and corruption, which made the Baltimore Police Department crack down on him even harder.
"Hersl is used to doing that to people where it's no response. Once it happens, I'm supposed to just go about my business and don't say nothing about it. But Moose was young at the time and arrogant. He came home and responded," Moose's father Big Kev told Vice News in a 2017 article titled, "How a Dirty Baltimore Cop's Vendetta Derailed a Promising Rapper's Career."
In the song "Tired" from his 2014 mixtape "OTM 3," Young Moose called out Hersl by name, saying
"Detective Hersl, he a b***h, I swear to God he ain't right/ Heard about my rap career, he trying to f**k up my life," as well as, "They get away witheverything when the f**k this gonna stop?"
Last year, Young Moose's attorney spoke to WJZ about their case against Hersl.
"Daniel Hersl has a history, a demonstrated history of police brutality that's resulted in multiple thousands and thousands of dollars being paid out to victims. And he has personally demonstrated a real desire to attack one of my clients, which has caused a great deal of aggravation in a very bright young man's future… I filed multiple motions to try to alleviate some of the damage that Hersl had done to my client, and it was like trying to pull teeth out of a tiger. I got very little cooperation from the courts," he said.
Hopefully, in light of these recent findings on Hersl and the Gun Trace Task Force, Young Moose will finally find some vindication.
Baltimore police have a reputation for using strong-arm mafioso tactics to intimidate fellow officers out of turning on the gang. As we reported back in 2014, Baltimore Detective Joe Crystal became a target of intimidation for his entire department after testifying against other officers in a misconduct case. Following his testimony, he received threats from other officers and even found a dead rat on his car one day.
For a history of how corrupt, violent, and deadly Baltimore cops are, take a look at our archives here.