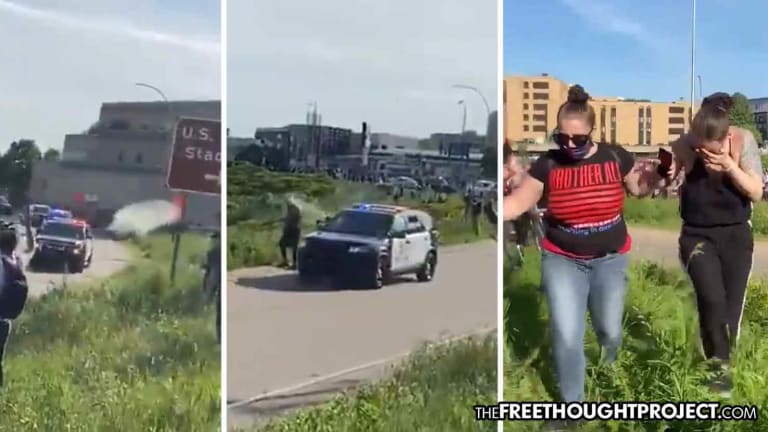 As City Moves to Disband Dept., Cops Conduct Drive-by Pepper Sprays on Peaceful Protesters
As the city council moves to get rid of the police department, Minneapolis cops prove why that needs to happen immediately.
Minneapolis, MN — On Saturday, several Minneapolis city council members announced that big things were coming in the pipeline that would be revealed on Sunday. Then, on Sunday, nine members of the Minneapolis City Council proclaimed their support for disbanding the Minneapolis Police Department at a rally. Around the same time, Minneapolis cops were proving to the public exactly why they need to be disbanded — by conducting drive-by pepper sprays on entirely peaceful protesters.
City Council President Lisa Bender minced no words on Sunday when she said, "our commitment is to end our toxic relationship with MPD and to end policing as we know it to recreate systems of public safety that actually keep us safe."
She was joined on stage by City Council Vice President Andrea Jenkins, and members Alondra Cano, Philippe Cunningham, Jeremiah Ellison, Steve Fletcher, Cam Gordon, Andrew Johnson and Jeremy Schroeder.
"This council is going to dismantle this police department," Ellison said. Alondra Cano who represents the 9th Ward replied, "we are going to create a fear-free future where every life is truly protected and respected."
The money that used to go to giving cops expensive instruments of war like MRAPS, sound cannons, and other military gear, will now go to the community instead. This is a revolutionary precedent, and if it is done right, could prove to be a major shift in policing in the land of the free.
"We have a paradigm for safety that is rooted in community and justice. We have seen it the last two weeks," Cunningham said. "The reality is that people have been doing this work for decades and not being paid. We have poured that money into the police department and where has it gotten us?"
Cunningham is likely referencing the armed citizens who have been patrolling the streets since the police essentially abandoned their posts. A group called the Minnesota Freedom Riders has been policing the community in the absence of cops, successfully.
"I think that we have got to dramatically reimagine how we keep people safe in cities. I think that's been true," a member of the group, Jeremiah Ellison said as he stood on his porch, taking a break from a recent patrol, according to WaPo. "But I think that we have underestimated just how urgent that work is. The police forces in the way that they've existed, I think need to not exist."
Citizen patrols would have no interest in shaking down black kids if they smelled weed, or stopping and frisking others to fish for petty victimless crimes. The idea is paradigm shifting and actions like these will help Americans eventually realize that we do not need a monopoly on law enforcement to have security.
"We recognize that we don't have all the answers about what a police-free future looks like, but our community does. We're committing to engaging with every willing community member in the City of Minneapolis over the next year to identify what safety looks like for everyone. We'll be taking intermediate steps towards ending the MPD through the budget process and other policy and budget decisions over the coming weeks and months," another council member said.
Not everyone is in agreement, however. Minneapolis Mayor Jacob Frey says he has no intentions of getting rid of the police department, but did say he wanted to reform it.
"I'll work relentlessly with Chief (Medaria) Arradondo and alongside community toward deep, structural reform and addressing systemic racism in police culture. And we're ready to dig in and enact more community-led, public safety strategies on behalf of our city. But I do not support abolishing the Minneapolis Police Department," Frey said in a statement.
Frey appears to be in the minority of those who wish to keep the department together, including community organizers.
A member of the social justice organization Black Visions, Miski Noor voiced her support for the disbanding of MPD saying, "MPD has shown us who they really are over and over and over again."
Indeed, they have. As the following video illustrates, the police department is rogue and enacts violence and pain for apparent sport. As you watch the video below, take note on how the cops are not stopping. They are not making arrests. They are driving by and pepper spraying peaceful protesters for the sole purpose of inflicting pain and terror.
The video below is all the evidence the city council members need to make their case to disband the Minneapolis police department, right now.
Though the above video is shocking and infuriating. TFTP reported on the same department doing the exact same thing days after they murdered George Floyd.