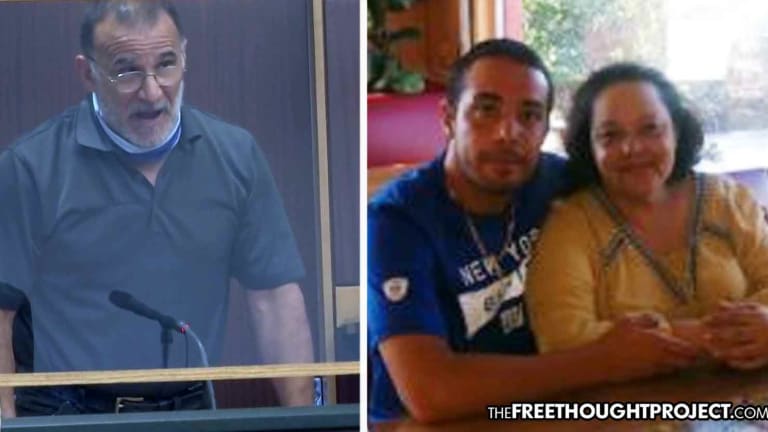 Disgraced Cop Gets Just 4 Years After Admitting He Choked His Own Son to Death
A disgraced deputy pleaded no contest to killing his son by choking him to death and was given a four year sentence.
Lee County, FL — Last week, a disgraced Lee County Deputy, Sergio Perez, admitted to killing his 33-year-old son Ramon Perez by choking him to death. He was then given a plea deal and will serve just 4 years in prison after he is sentenced in September.
On the night he choked his son to death, the father and son had been in a verbal argument with Roman allegedly threatening Sergio. The two fought at the home of Ramon's grandmother Nila Perez in August of 2019.
After he killed his son, Sergio would claim it was an act of self defense and attempted a defense under Florida's "stand your ground" law but prosecutors didn't buy it after an investigation found no evidence of a struggle.
That night, according to Nila Perez, she called 911 because Ramon was allegedly threatening Sergio. However, after she left to get help at a neighbor's home, that's when his father went too far when Sergio apparently attacked Ramon.
Investigators said the tactic Sergio used to kill his son is a technique he learned as a police officer to temporarily knock someone out for arrest. But even after Ramon fell unresponsive, his father continued to choke him out, cutting off oxygen and blood for so long that he killed his own son.
In defense of the extended chokehold, Sergio's lawyers claimed that Ramon was known for "playing possum" and his father had no choice but to continue choking his son until he died.
What's more, prosecutors pointed out that despite his father's claims, Ramon was not the wild drunk the defense painted him out to be. According to investigators, when they arrived on the scene, there was no sign of a struggle and they described the area as being in perfect condition. No furniture was moved around in the room and Ramon still had on his flip flops — indicating that there was likely very little struggle happening before Sergio began attacking Ramon.
After his no-admission plea, Sergio Perez received four years in prison and two years on probation for the death of his son. Sergio's entire family has now cast him out. According to WINK, everyone in Ramon's mother's family sat front row in court, but not a single person from his father's family stood behind Sergio.
After hearing Sergio Perez's sentence in court, his family was glad that he was prosecuted but expressed disappointment that the sentence was so light. Ramon's grandfather told reporters that God will now judge Sergio.
"There's two kinds of law: there's God's law and man's law. Sometimes man's law fails but God's law never fails," said Ramon's grandfather, Manuel Peña.
"His father would like to paint a picture that he was lazy and would drink all the time, but he helped everyone," Ramon's mother said, according to WINK News, expressing her anguish over losing her only son to his own father of all people.
"Who gave you the right to take the life of my son?" Ramon's mother said.
"For as long as I live, he will always be my grandson and will always be in my heart," said Manual Peña.
Though they expressed concerns over the light sentence, the family says this gives them at least some closure.
"Me and my family can now concentrate on a little healing, of course always keeping my son and their grandson alive in our hearts," Ramon's mom said.
"My heart splits in two," she said. "One side filled with memories, the other side died with you."