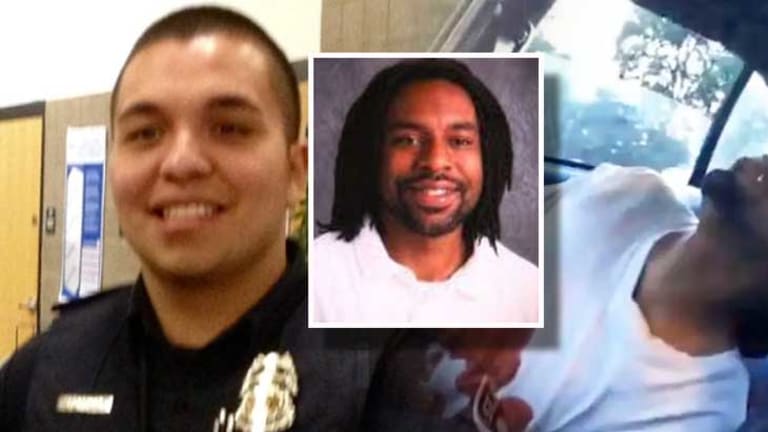 Disgraceful -- Cop Who Murdered Innocent Philando Castile is Back on the Job
Officer Juan Yanez, who killed Philando Castile in cold blood returned to his job as a police officer this week.
In a blow to the family and friends of Philando Castile, the officer who is responsible for his death is returning to work.
Last month, in shocking video streamed on Facebook Live, Philando Castile, 32, is seen bleeding to death after a Minnesota police officer shot him through his driver-side car window. His girlfriend, Lavish Reynolds captured the horrific scene on her cell phone, narrating the tragic events and streaming them live on Facebook.
According to Reynolds, police pulled them over for a broken tail light and callously shot her Castile to death after he told the officers that he had a firearm and a conceal-and-carry permit. Reynold's 4-year-old daughter was reportedly sitting in the back seat when the officer fired at least four bullets into Castile's arm and chest.
Philando Castile was an innocent man, gunned down in cold blood by an officer trained to think the public is his enemy.
Now, only a month after the death of this beloved member of the community, the cop who sent him to an early grave, St. Anthony Police Officer Jeronimo Yanez, is coming back to the job.
As reported by the AP, Yanez was expected to return to work for the first time Wednesday, Chief Jon Mangseth said. Yanez will perform desk duties and other administrative work until the investigation is completed and charging decisions are made, the chief said.
Mangseth wouldn't discuss any details of the shooting, and would not say whether or not he thinks Yanez should be exonerated. He did, however, go out of his way to praise him.
"He has a real sound ability when it comes to communicating and relating to people," Mangseth said. "He showed me that he could shine in that public eye."
In Castile's girlfriend's video, Yanez is yelling expletives and pointing his gun at Castile as he lies bleeding in the driver's seat of the car -- sounds like he has an amazing sense of "communicating and relating to people."
"There's been no time in my career where we've ever had this type of dynamic at work, this national stage, so to speak," said Mangseth, who joined the department in 1995 and took over as chief earlier this year.
According to the AP, that scrutiny eventually revealed Mangseth's department has disproportionately arrested African Americans. While just 7 percent of the Minneapolis-St. Paul metropolitan area is black, nearly half of the St. Anthony police's arrests in the first half of 2016 were of black people, according to an AP analysis of arrest data provided by the department. Members of Minnesota's black community said the statistics were proof of racial profiling.
As the Free Thought Project reported last month, Castile was a ticking time bomb -- because of law enforcement policy in the United States.
Prior to being pulled over and murdered by Yanez, Castile had been stopped a whopping 52 times. All of these 'offenses' were non-criminal, had no victim, and were used to extract thousands from this poor man.
According to the Post, Castile was assessed at least $6,588 in fines and fees, although more than half of the total 86 violations were dismissed, court records show.
Castile was not a criminal. Not only was he not a criminal, Castile was an upstanding member of the community who now mourns his loss, yet he was targetted by police dozens of times. 
"He's concerned for his future and for his family," the chief said of Yanez. "This has put him and his family front and center in our metro area, not to mention the nation."
Had Yanez actually been concerned for his future last month, perhaps Philando Castile would not have been robbed of his.

[author title="" image="https://tftpstagingstg.wpengine.com/wp-content/uploads/2016/03/magorist-e1456948757204.jpg"]Matt Agorist is an honorably discharged veteran of the USMC and former intelligence operator directly tasked by the NSA. This prior experience gives him unique insight into the world of government corruption and the American police state. Agorist has been an independent journalist for over a decade and has been featured on mainstream networks around the world. Follow @MattAgorist on Twitter and now on Steemit[/author]