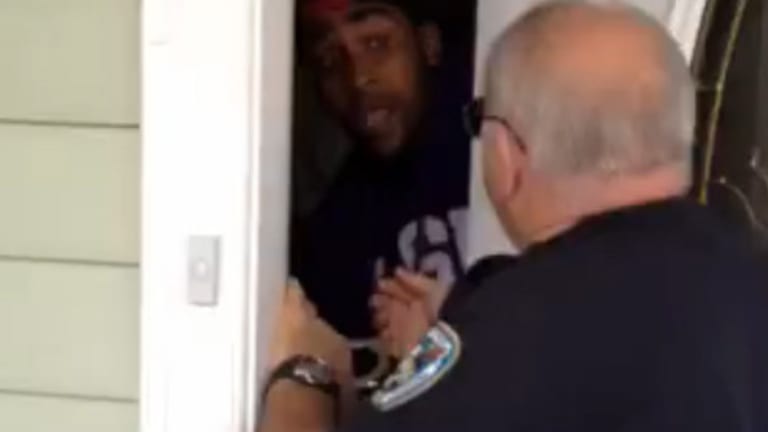 Disturbing Video Posted to Facebook Captures a Horrifying Scene of Police Aggression
April 2, 2014
A video was posted to facebook yesterday evening that shows a disturbing scene. A Jefferson Parish police officer breaks his way into a private residence to arrest a man.
Post by Eric Banegas.

The man is clearly not resisting nor posing a threat, and is obviously scared for his life. The officer just tackles the man and refuses to tell him why he is even there.
At least this man's violation was captured on video.
While we don't know what happened before the camera man began filming, these are the biggest questions I have about this video.
If the cop had a warrant, I'm almost positive he would have provided it after the man he was trying to apprehend asked him for the 30th time. There also didn't seem to be any pressing reason or circumstance requiring the officer to enter without a warrant.
The United States Constitution gives the man the right to resist an arrest if it isn't lawful, as we saw the man in the video do repeatedly. Even if the officer claims he was arrested for resisting arrest, it won't stick if there wasn't a lawful reason in the first place.
Eventually another officer arrives on the scene to assist in the arrest and the video cuts off, but we still never actually find out what the man was being arrested for in the first place.
Jefferson Parish Police are currently looking into the matter and although we have contacted Eric Banegas, he nor the man being arrested in the video have elected to comment at this time.
Again, we don't know the full story, but we will keep you updated when and if any details unfold.
Read More: Did This Jefferson Parish Cop Cross The Line? [VIDEO] | https://1079ishot.com/jefferson-parish-cop-forces-way-into-home-video/?trackback=tsmclip