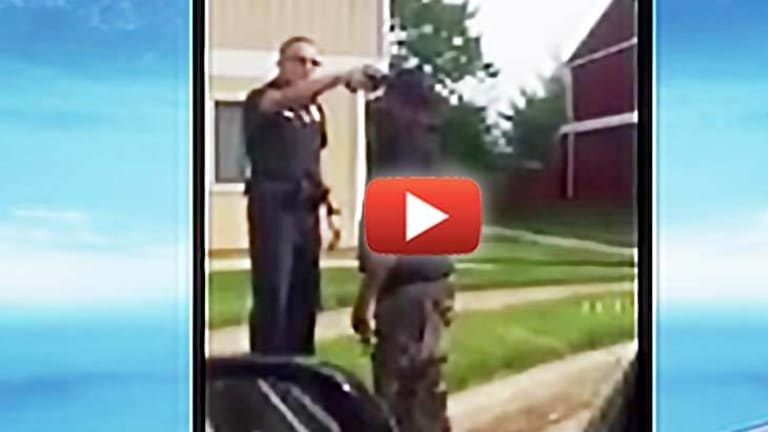 VIDEO: Cop Smashes Gun into Innocent Man's Face to Show Off for His Illegal Ride-Along Audience
A cop has been found guilty of 1st and 2nd-degree assault after showing off for two unauthorized passengers he brought along to watch him wreak terror on innocent men.
Upper Marlboro, MD -- William Cunningham and Kennieth Smith were doing nothing wrong, had committed no crime, and were attempting to go about their daily routine when they were nearly killed by a power tripping cop.
On Wednesday, that power tripping cop, Prince George's County Police officer Jenchesky Santiago, was remarkably found guilty for 1st and 2nd-degree assault, use of a firearm in violence, and misconduct in office - only after cellphone footage survived and was given to prosecutors.
The video remained private until the PGPD police department released it this week. What it shows is nothing short of a lunatic on a rampage threatening innocent people with his gun.
On May 10, 2014, Cunningham and Smith were sitting in a vehicle outside Cunningham's home as Smith was dropping off his cousin. At this point, Santiago approached the vehicle and told them they were parked illegally, according to prosecutors.
However, the gentlemen were parked completely legally and prosecutors emphasized that fact during the trial by pointing out that the area in front of Cunningham's home has no signs restricting parking, no fire hydrants nor any curb paint indicating a fire lane.
Santiago later claimed that since there were parking places nearby, this car was illegally parked - but he was still wrong.
As the men attempted to tell the officer that Smith was merely dropping Cunningham off, Santiago told them that they are in a drug-ridden area.
"What does that have to do with us?" Cunningham responded.
That's when Santiago, who had two unauthorized occupants in his cruiser who apparently wanted to witness this jackboot thug harass innocent people, said, "You guys wanted my attention. You got my attention now."
Prosecutor Donnell Turner told the judge that Santiago was showing off for two friends sitting in his patrol vehicle, during this unauthorized ride-along.
Having not been legally detained, Cunningham simply tried to walk into his house when all hell broke loose.
Santiago, responding to an innocent man walking into his own home, pulled his gun and pointed it at Cunningham, demanding that he "get back in the car!"
Frightened that he had a madman pressing a gun against his temple 'so hard that it moved his head,' Cunningham slowly made his way back to the vehicle. This slow walk was seen as a threat to the tyrant Santiago, which made him even more enraged and more apt to preen for his sadistic audience.
He then pressed the gun directly at the center of Cunningham's face and mouth, "Go ahead. I dare you to f**king fight me, son." All of this was captured on video.
After the video was turned off, Cunningham testified in court that Santiago later told them, "Y'all gonna learn about officer Santiago today. I just got back from Iraq. I'm not scared of you all." He testified that Santiago also said, "You need to watch your attitude because us P.G. cops, we shoot people."
Cunningham and Smith were then illegal searched without consent. Since Santiago found nothing to charge them with, he made up two counts of disorderly conduct, which would later be thrown out after the video surfaced.
"The actions Officer Santiago chose to take that day are his alone. His behavior is flagrant, appalling and isolated. His actions are among the worst I've seen as Chief of Police and that will be taken into account when I make a decision about his employment," PGPD Chief Mark Magaw said.
"The moment officer Santiago made the decision to act in a reckless, illegal way, he ceased being a police officer," Prince George's County State's Attorney Angela Alsobrooks said. "There is no place for that type of behavior in our county or on our police force. Every citizen should be able to walk across their front yard to their door without fear of being assaulted, especially by a police officer."
Had Smith made the decision not to pull out his camera and shoot the video you see below, both of these men would likely still be facing the false charges brought against them by this costumed maniac. Let that sink in. Without that cellphone video, two innocent men would be in jail and a maniac cop would still be on the loose.
However, because of that video, a tyrant's true colors were exposed to the world and he is now facing a minimum of 5-years in prison.