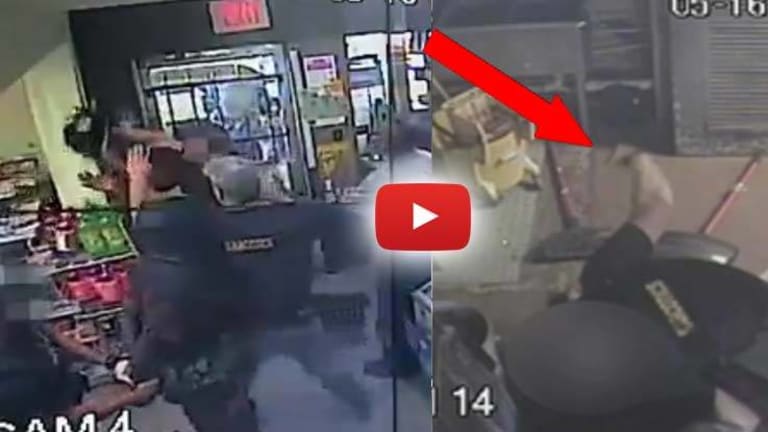 Disturbing Video Shows Cops Brutalize Innocent Man for Walking into a Store During an Arrest
For walking into a store while police were making an arrest, an innocent plumber was brutally beaten and then arrested.
Jacksonville, FL -- For walking into a convenience store, an innocent Florida man was attacked, thrown to the ground, beaten in the head and body, arrested and charged with two crimes by people claiming to protect society. The entire incident was captured on multiple surveillance cameras.
The victim, Demarcus Brown, and his father are both plumbers who stopped at the Ethio Food Mart to grab a snack on Monday when all hell broke loose.
In the video, we see Brown's father inside at the register trying to pay for his food when Demarcus walks in. Inside the store, police were conducting an arrest of an alleged drug dealer.
Instead of police telling Demarcus and his father to leave, they immediately tackle him.
The video shows Brown getting thrown into a back room in a likely strategic move to avoid the camera. However, there was a camera back there too and captured the officer's brutality. While he's shoved into the corner, the officer can be seen delivering multiple blows to the body and head of Brown.
"I'm trying to cover my face so they won't hit me in my face. Then they pushed me in the back room and get me on the ground, get me in a choke hold. I tell them, 'I can't breathe. I can't breathe.' I said like three or four times," Brown said in an interview with News 4 JAx. "Finally, they let go, then another officer hit me in the head twice."
After they beat this innocent son in front of his father, police arrested Demarcus and charged him with resisting an officer with violence and trespassing, according to the Jacksonville Sheriff's Office incident report.
"I can't say. I guess I just look like a drug dealer, tattoos and dreads. But (I'm) just trying to work," Brown said.
According to police, the savage attack on Brown was justified because an officer outside the store allegedly told him not to go inside. However, there was no police tape, and Brown had just watched his dad go in. He simply wanted to check on his father.
"There is another video that shows everything that occurred outside, which would have been a detective telling anybody else that would've tried to enter the store, after other police officers had already gone in the store, to take enforcement action with a different subject, not to go in the store," Jacksonville Undersheriff Pat Ivey said.
Brown has since retained counsel to fight the charges against him and his attorney, Rhonda Peoples-Waters says that he is a victim of police brutality.
"My client was arrested and charged with resisting an officer with violence and trespass. We can certainly look at this video and we can see there was no resisting an officer with violence and no trespass," Peoples-Waters said. "This video tells the story that my client would have never been able to tell without the credibility of this video."
According to Peoples-Waters, they plan to file a lawsuit against the department but first they have to beat the charges.
This incident comes just weeks after a Jacksonville police officer was arrested and fired for punching a woman who was handcuffed.
[author title="" image="https://tftpstagingstg.wpengine.com/wp-content/uploads/2016/03/magorist-e1456948757204.jpg"]Matt Agorist is an honorably discharged veteran of the USMC and former intelligence operator directly tasked by the NSA. This prior experience gives him unique insight into the world of government corruption and the American police state. Agorist has been an independent journalist for over a decade and has been featured on mainstream networks around the world. Follow @MattAgorist[/author]