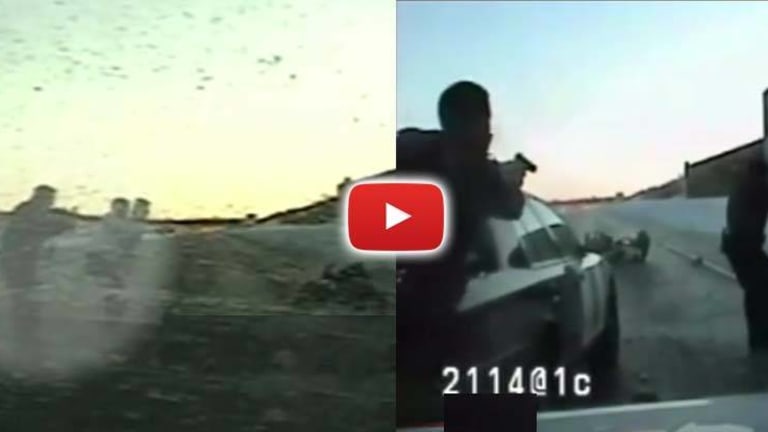 Disturbing Video Shows Cops Shoot Suspect, Then Walk Up to His Hostage and Execute Her
Police kept the gruesome dashcam video of an officer killing a hostage, but an attorney for the family of the victim just released it.
Eden Prairie, MN -- On Feb 7, 2014, Matthew Serbus led police on a dangerous high-speed chase before crashing his car and taking Dawn Pfister as a hostage. Police would shoot Serbus as he held a knife to Pfister, then, walk up to Pfister and kill her too. The entire incident was recorded on a police dashcam.
The Chaska police department never released the dashcam footage showing the killing until now -- after all the officers involved were cleared by a grand jury. Now, the family of Dawn Pfister is speaking out and has hired an attorney to bring their daughter's murderer to justice.
Two years ago, officers received calls about a hit and run and a vehicle driving dangerously down the highway. They found Matthew Serbus driving his car, weaving down the road, with the hood blocking his view. Inside that car was his girlfriend, Phister.
After the pair had crashed into a wall, Serbus and Pfister eventually came out of the vehicle. Serbus was holding Pfister and refusing to allow her to comply with police. Officers immediately declared a hostage situation. However, an attorney for the officer who killed Pfister claims that the pair was acting together, despite the knife Serbus held to his victim.
"Show me your hands sir; nobody wants you to die right now. You're gonna though," one officer is heard saying.
At this point, the officers had no reason to resort to deadly force as they were not being threatened. However, a single shot was fired, and police told the pair to get down.
Pfister immediately drops to the ground in an obvious attempt to comply. However, her boyfriend -- turned hostage taker, would not allow it. When officers see that Serbus is holding a knife to Pfister, they open fire.
"It's a knife, he's got a knife." Shortly after that, officers worry Serbus may be stabbing or harming Pfister, one officer yelling, "don't do that to her!" Another officer says, "I gotta drop him guys." Shots then rang out from multiple officers for several seconds.
Eleven officers surrounded the couple, all of them pointing firearms, some of them behind shields. To any rational person, the officers clearly had the upper hand and had no need to begin firing as their lives we in no danger at all. Even if they felt justified in killing Serbus for holding Pfister hostage, what happened next would be nothing short of murder.
After firing multiple shots into Serbus, the eleven officers began to close in. As Pfister attempts to grab the knife away from her assailant, one of the eleven cops, Officer Brady Juell, of the Chaska Police Department, shoots and kills Pfister -- firing not once, but four times at close range with his AR-15.
In an interview with the Minnesota Bureau of Criminal Apprehension (BCA), Juell attempted to justify his murder by claiming that he feared for his life. "And she's got the meanest, angriest look on her face…And she looked up at us and she started comin' up at us. She posted her arm and she started comin' up at us with that knife and I, I knew right then and there she's gonna try and kill us with that knife. And she had this knife in her hand and she came up at us and I knew I was the only one with the rifle and I knew how [Serbus] acted drugged out, wasn't going down. I thought she was gonna be the same."
Even if Pfister was running at him with a knife, all this officer had to do instead of pulling the trigger was back up.
However, the video clearly shows at the time Juell fired, Pfister was in no way a threat. The fact that the ten other officers with guns trained on pair didn't fire as well backs up this notion.
Dawn Pfister was killed as she was surrounded by people who are ostensibly sworn to protect her -- and no one will be held criminally liable for it.
However, Pfister's family has since filed a lawsuit. They intend to go after Officer Juell personally, as well as the city of Chaska.
The family's attorney, Bob Bennet, in a deposition of a senior special agent, asked, "did you look at the videotape evidence before the shooters were interviewed?" The agent answered, "I looked at it after I conducted the interviews." Bennett followed up by asking, "so basically you take these officers' statements about what they perceived at complete face value?" The agent answered, "yes." Bennett believes the agent would have benefited from watching the video before the interviews because "they would use the video evidence to contradict and say to the witness, 'I know you're lying, we can see you're lying on the videotape.'"
"I've certainly learned you cannot reliably trust the BCA to investigate officer-involved shootings or other conduct impartially. And I don't know what the answer to that is. That needs to be dealt with systematically at the Bureau of Criminal Apprehension," Bennett told Fox 9.
Sadly, officers killing hostages is no isolated incident. Just this week, we reported a similar incident in Redlands, California. In response to a hostage situation at an Office Depot, Redlands police officers showed up and shot the victim, not the man who took her hostage.
[author title="" image="https://tftpstagingstg.wpengine.com/wp-content/uploads/2016/03/magorist-e1456948757204.jpg"]Matt Agorist is an honorably discharged veteran of the USMC and former intelligence operator directly tasked by the NSA. This prior experience gives him unique insight into the world of government corruption and the American police state. Agorist has been an independent journalist for over a decade and has been featured on mainstream networks around the world. Follow @MattAgorist[/author]