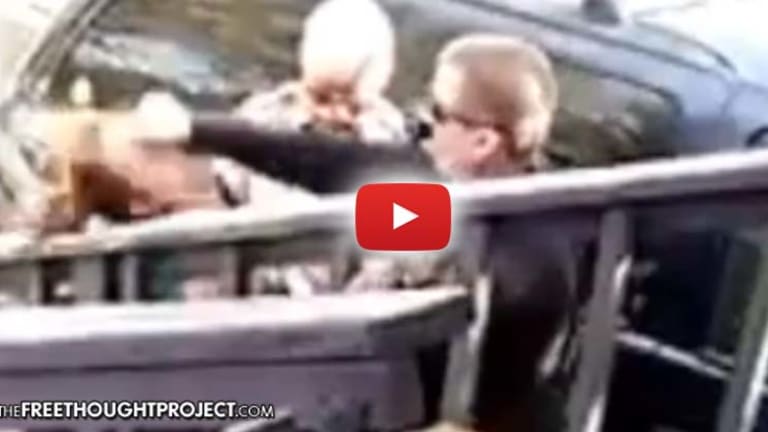 Disturbing Video Shows Cop Punch Young Woman in the Face in Front of Small Children
An Arizona cop has been suspended after he was caught punching a nonviolent woman in the face in front of small children.
Flagstaff, AZ -- Because someone pulled out their camera and decided to record the police, an officer has been placed on suspension for punching a woman in the face in front of small children. Had the camera not been rolling, the likelihood of the suspension would have been drastically reduced.
On Wednesday afternoon, the Flagstaff police department noted that they "became aware" of the video showing one of their own, officer Jeff Bonar strike a woman in the face, according to police Sgt. Cory Runge.
"Our agency is very concerned by what is depicted in this video," Runge said. "We are immediately initiating an internal investigation into this incident."
According to police, they were there to make sure the family was vacating their former home after receiving an eviction notice. Wednesday was their deadline to leave.
The couple was leaving and locking up the home when officer Bonar recognized the former resident, Jimmy Sedillo's girlfriend.
"She had a warrant a few weeks ago," Sedillo said. "He still assumed she had a warrant."
When Bonar saw the woman, he approached and violence ensued -- in spite of the woman not becoming violent.
The unnamed woman attempted to explain to Bonar that she no longer had a warrant and simply wanted to see the warrant before she was arrested.
"You cannot arrest me until I know I have a warrant," says the woman.
As the video begins, the woman is merely arguing with the officer and is not physical at all. However, Bonar employed the common police tactic of repeating 'stop resisting' just before he reached back and delivered a haymaker to the woman's face.
"You can't hit a girl like that!" screams the victim.
After the officer punched the woman in the face, the situation became even more tense as another officer helps tackle the woman to the ground to be arrested. All the while the woman is crying, "I didn't do anything, I didn't do anything."
Sedillo said he and his 3- and 9-year-old children, mother, niece and brother-in-law watched his girlfriend get hit and tackled. His brother-in-law, Danny Paredes, shot the video shared on Facebook, according to AZ Central.
"It was just shocking," Paredes said. "I pulled out my camera immediately."
Whether or not the woman still had a warrant is unknown at this time. However, even if she did, the response from police seems entirely unnecessary.
Police have ensured the public that they are deeply concerned with this matter and are investigating it.
Arizona police officer is placed on leave after footage emerge...

Arizona police officer is placed on leave after footage emerges of him punching an uncooperative woman in the face during an arrest(WARNING: Some viewers may find this clip offensive)(Credit: Facebook/Danny Paredes Esb via Storyful)

Posted by Yahoo Canada on Thursday, November 17, 2016
[author title="" image="https://tftpstagingstg.wpengine.com/wp-content/uploads/2016/03/magorist-e1456948757204.jpg"]Matt Agorist is an honorably discharged veteran of the USMC and former intelligence operator directly tasked by the NSA. This prior experience gives him unique insight into the world of government corruption and the American police state. Agorist has been an independent journalist for over a decade and has been featured on mainstream networks around the world. Follow @MattAgorist on Twitter and now on Steemit[/author]