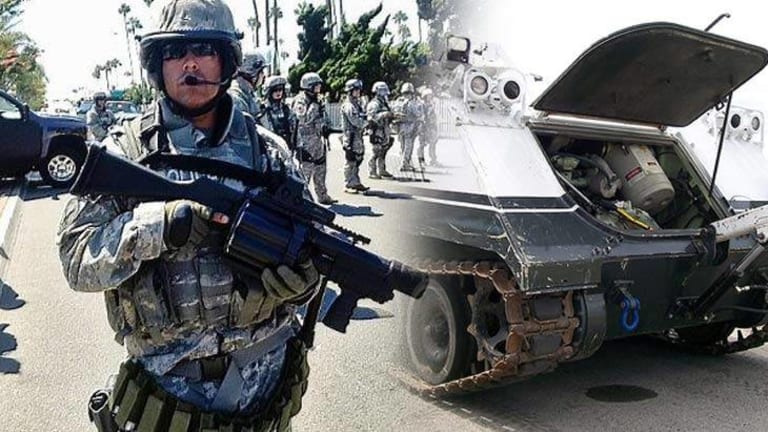 DoD Orders Police Nationwide to Give Back Grenade Launchers, Bayonets, & Tanks
Police across the country are likely grieving over the fact that they must now give back their cool grenade launchers, bayonets, and tracked tank-like vehicles.
When you tell someone that their police department has bayonets, their immediate reaction is denial or ridicule. "Why would cops need bayonets?" they ask.
Exactly, why would cops need bayonets? Why do they need grenade launchers, .50 caliber rifles, Apache attack helicopters, camouflage uniforms, or tracked tank-like vehicles for that matter?
While there are multiple reasons public servants attempt to justify their need for weapons of war, the fact remains that they do have them and denying it, doesn't change that fact.
Over the past decade, police departments have been using the 1033 program to acquire these weapons of war. The feds provided surplus military hardware to local police to fight a seeming war against its own citizens. These actions went unchecked and very little government, or public oversight existed.
Then when the events that took place in Ferguson beamed across the globe, the militarized U.S. police state revealed it's ugly face to the world.
The images of the militarized police in Ferguson made clear that the days of Andy Griffith and Mayberry are a distant memory. They have been replaced by something that looks as if it belongs on a war-torn battlefield in Afghanistan or Iraq.
These revelations caused many to question why small police departments across the country were procuring mine-resistant armored personnel carriers, grenade launchers, and other weapons of war.
Because of backlash from the citizens, the federal government was forced to act. In January of this year, Obama signed Executive Order 13688. However, this EO appeared to have very little effect on the departments, and largely went ignored, until now.
On Thursday, however, police departments across the country were sent a memorandum that sets a deadline for them to return prohibited military equipment.
The memo references Recommendation 1.1 to EP 13688 which prohibits the following items in police departments:
Tracked Armored Vehicles: Vehicles that provide ballistic protection to their occupants and utilize a tracked system instead of wheels for forward motion.
Weaponized Aircraft, Vessels, and Vehicles of Any Kind: These items will be prohibited from purchase or transfer with weapons installed.
Firearms of .50‐Caliber or Higher
Ammunition of .50‐Caliber or Higher
Grenade Launchers:  Firearm or firearm accessory designed to launch small explosive projectiles.
Bayonets:  Large knives designed to be attached to the muzzle of a rifle/shotgun/long gun for the purposes of hand‐to‐hand combat.
Camouflage Uniforms:  Does not include woodland or desert patterns or solid color uniforms.
The memo states:
State and Local LEA's are directed to return the following equipment to DLA (Defense Logistics Agency) Disposition Services.
Tracked Armored Vehicles
M-79 Grenade Launchers
Bayonets
The above items, according to the memo, are to be returned no later than April 1, 2016. Missing from this memo, however, are .50 caliber firearms, camouflage, and weaponized aircraft.
The entire process of issuing these weapons only to later recall them speaks to the sheer inefficient manner of the state. As if there would ever be a scenario in which police would need to affix bayonets to protect the public at large; yet departments across the country have acquired thousands of them.
While this memo is a start, it does nothing to address the unaccountable and brutal nature of police in America. A police officer does not need a grenade launcher nor a bayonet to violently assault an innocent mother in front of her children.
If the federal government were genuinely concerned with addressing the policing problem in the US, they would end the war on drugs. They would stop enforcing victimless crimes altogether. However, it appears that law enforcement is nowhere near ready to give up their ability to throw morally innocent people in cages or extort money from them as this is what justifies their entire existence.