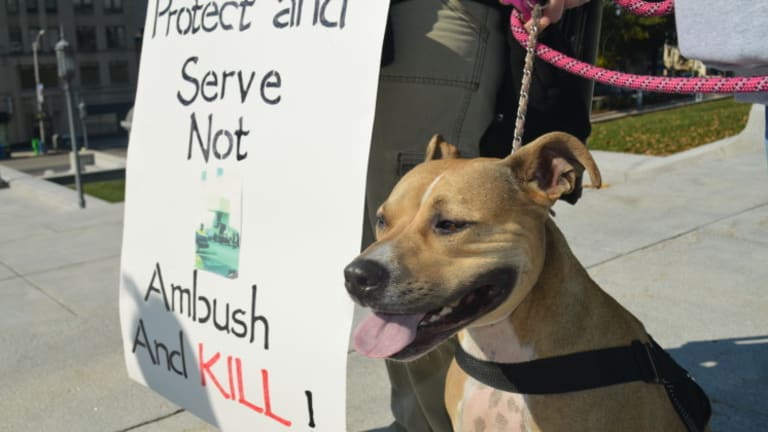 Dogs and Their Humans Gather Nationwide, Demanding Change to Stop Police From Killing Dogs
Victims of puppycide, dogs and their best friends gathered in 50 locations nationwide to protest puppycide and demand change.
From our friends at News2share.com
Biscuits and Bullets: Change Demanded for Police Killing Dogs
On March 18th, 2013, the Hartman family dog Lucy left their house and got lost. Thinking she was home, the dog began scratching at a neighbor's door to get inside. When the neighbor called the police, officers arrived, killed her, and left her body on a hill near the road without notifying the family.
Ford Fischer and Trey Yingst of News2share visited Glen Rock Pennsylvania, where they visited the gravesite as well as where Lucy was shot. Bryan Hartman, who was working at a firearms factory at the time of the shooting, expressed his frustrations not only with the details of the shooting, but the traumatic aftermath. His wife, Shelly Hartman, was also deeply impacted, and miscarried her pregnancy three weeks after the shooting.
After visiting the gravesite, Fischer and Yingst traveled with the Hartmans to the Pennsylvania State House in Harrisburg, the site of one of 50 nationwide "Freeze: Don't shoot" rallies to protest police violence against dogs. Bryan told the crowd his story of what police did to Lucy and the aftermath. Other protestors joined him in telling stories, mourning, and demanding change.
While tragic, Lucy's shooting is not unique. One dog, Ivy, was shot in the jaw by police only a month ago and is currently active but recovering. According to her owner, Mark Soltis, "the dog's never been aggressive to nobody… There was really no reason for the officer to shoot his weapon in the middle of the afternoon around children."
Despite being called "aggressive" by the officer who shot her, Ivy played gently with children as the interview went on. Both Ivy and the late Lucy were part Pitbull. Khaldun Rasheed, a former worker at the Humane Society, noted that stereotypes and poor police training may be responsible for how frequently they are killed by police. "I think that the myth that all of them are evil is wrong," he said. "I would be against arbitrary violent acts, randomly shooting dogs."
Donna Earley, the event's organizer, encouraged the crowd to call their state representatives to pass laws mandating training for police officers to minimize fatalities of family pets in the future. "It's not always wise to go for the gun first," she said. "There's other means of deterrence other than putting a bullet in our dogs."
[metaslider id="11353"]
PRODUCED BY FORD FISCHER AND TREY YINGST; EDITED BY FORD FISCHER; LOGISTICS COORDINATOR: HEATHER GARCZYNSKI; FEATURING BRYAN AND SHELLY HARTMAN, MARK SOLTIS, KHALDUN RASHEED AND DONNA EARLEY; OUTREACH: BRYAN PARK AND LAURA THOMPSON; MUSIC BY CHRIS ZABRISKIE
This article first appeared on news2share.com It has been republished with their permission.