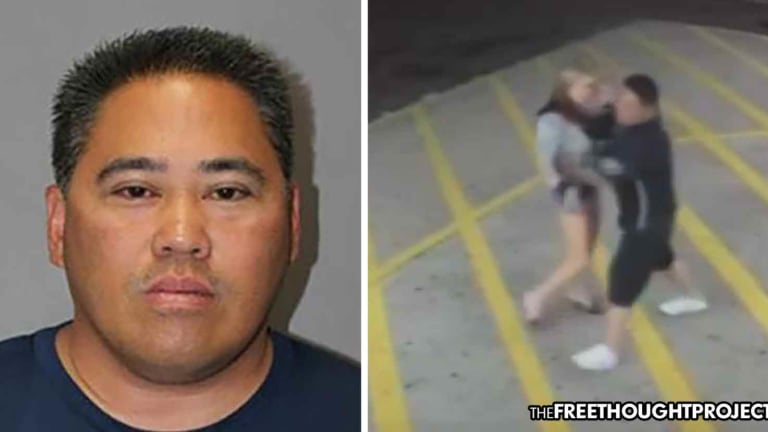 Dept Protected Woman-Beating Cop, Covered Up His Crimes Caught on Video—Taxpayers Held Liable
Because the department covered up for an alleged woman-beating police officer, the taxpayers are now being held liable for his abuse.
Honolulu, HI — As frequent readers of the Free Thought Project understand, law enforcement families experience domestic violence at nearly four times the rate of non-cop families. What's more, as the following case illustrates, many estimate this number is likely higher due to the fact that the abusive officers are often protected by the thin blue line who silence victims and shield officers.
The taxpayers of Honolulu, Hawaii have found out this week that they will be shelling out $320,000 to pay for the domestic violence doled out by one of their "finest." The reason for the taxpayers footing the bill is due to the fact that the department helped cover for the officer's alleged abuse for years.
According to the lawsuit, officer Darren Cachola choked his wife in 2017 then pushed her against a wall and terrorized two years later after she filed for divorce. Despite making numerous reports, according to the lawsuit, Cachola's fellow officers at the Honolulu police department refused to investigate her injuries and went so far as to discourage her from filing charges.
"Here's the sad thing. This money is coming from taxpayers," said Ken Lawson of the University of Hawaii Law School. "When the HPD does not enforce its own rules and allows officers ... to come in and cover up for other officers in cases of domestic violence we end up paying for it."
Indeed. Had the officers actually held Cachola accountable, or even investigated his wife's claims, the taxpayers would not be on the hook right now.
Naturally, however, Cachola's police union appointed attorney said his client did nothing wrong.
"There's no admission of liability. He's taken the position from day one that he did not do anything to his wife," said attorney William Harrison.
This claim rings hollow, however, considering the fact that Cachola's wife was not the first person to claim he beat her. In fact, the officer was captured on video at a local restaurant in a violent dispute with his girlfriend before her. Like they did for his wife, fellow officers covered it up and refused to file reports over it.
As Hawaii News Now reports:
Back in 2014, he was caught on surveillance cameras fighting with his then-girlfriend in an empty Waipahu restaurant.

The responding officers did not arrest Cachola and did not file reports. A grand jury also declined to indict. Cachola was later fired but was reinstated.
"When you commit crimes as a police officer, not get prosecuted, get fired and get your job back because of arbitration and not be punished ... what's the deterrent from continuing to engage in misconduct," said Lawson.
Cachola's attorney thinks that the lack of indictment is good enough reason to believe that the officer did nothing wrong.
"You can pretty much indict a ham sandwich before the grand jury, right? And they looked at the videos at the other cases and they found there was not enough," Harrison said. "That case was dismissed but it continues to haunt him."
But this is simply not true. When it comes to indicting cops, even cops who kill innocent children on video, getting a grand jury to pull the trigger is an often impossible task.
Also, here's the video. He is seen repeatedly pummeling his girlfriend, beating her across the entire restaurant.
The next video shows him repeatedly attempting to take her down before she defended herself against him.
This incident was so over the top that TFTP reported on it in 2014. In this article, we detailed how the officer's ex-wife before this incident, filed two petitions for temporary restraining orders against him in 2002 and 2009. She also alleges he threatened to kill her if she went to police. Sound familiar?
When a cop with a proven history of domestic violence, spanning decades, is allowed to walk while the taxpayers foot the bill, it may be time to re-examine the role police play in investigating themselves.
What this case highlights is the extensive privilege granted to police officers even in the most extreme situations. Had this man been accused of committing the same crimes against his wife and not had a badge, rest assured things would have played out far different.
TFTP has reported on far less serious domestic disputes in which police have responded with excessive levels of force. Earlier this year, we were contacted by friends of a couple who made the poor decision to call the police for a dispute over a parking space.
The couple's verbal dispute over a parking space turned into a nightmare after a call was made to 911 to settle it. When police showed up, the man involved in the dispute, Mark Anthony Smith, 48, was savagely beaten by three deputies who all used their rifles to inflict serious injury. He was then falsely charged and thrown in a cage. Luckily, video was released months later which cleared his name and all the charges were dropped.
Also, what this case illustrates is that police officers in the United States have an exceedingly higher rate of domestic violence than any other occupation. The average rate of domestic violence among most families in America is around 10%. As the National Center for Women and Policing points out, two studies have found thatat least 40% of police officer families experience domestic violence. That is a four-fold increase.
A simple Google search will illustrate how police officers are arrested for domestic violence on a near-weekly basis. It is also estimated that the incident rate for domestic violence is likely far higher than reported as many women stay silent out of fear of retaliation and the fact that their abuser's brothers in blue will cover for them.
As TFTP has previously noted, a report by a government-appointed watchdog group shows that most of the time, abusive officers who commit these crimes, do so with seeming impunity. The above case is a perfect example of why that is so.
If you or someone you know is a victim of domestic violence, you can seek help at the National Domestic Violence Hotline website or by calling 1-800-799-7233.