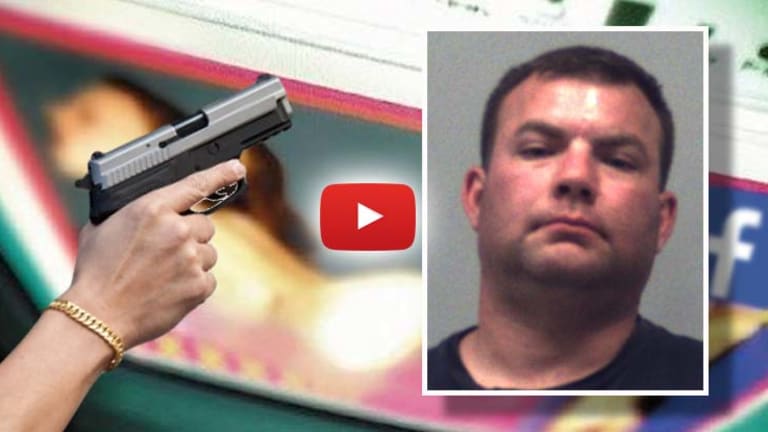 Crazed Cop Pulls Gun at Party, Strangles His Wife, Then Posts Revenge Porn on Facebook
Domestic violence among police officers is almost double the national rate, the case of the Georgia cop shows why that is.
Statistics show that 1 in 4 women in the US is a victim of domestic violence, those numbers jump to 1 in 2 if they are married to a cop.
Stone Mountain, GA -- Gwinnett County Police Officer, Zachary Wilkerson, 35, was arrested Sunday on multiple charges relating to stalking and abusing his estranged wife. Wilkerson also threatened to use his police power to inflict harm on his wife.
According to officials, a friend of Wilkerson's estranged wife called police after she received some disturbing text message from the officer. While Wilkerson was on duty, he had been stalking his estranged wife and her boyfriend, according to officials.
"The text messages were so alarming that she decided to call police to check on her friend's well-being," Cpl. Deon Washington said in a news release.
The friend said that Wilkerson's estranged wife had forwarded text messages from Wilkerson in which the police officer mentioned various equipment violations on her boyfriend's vehicle, and threatened to impound the vehicle, according to officials, as reported by 11 Alive.
Saturday night, according to police, Wilkerson stopped merely stalking and took action. He showed up to a home where his estranged wife was hanging out with friends. Wilkerson then took her phone and walked away.
However, shortly after walking away, Wilkerson came back, grabbed the woman by the throat and slammed her down. When others in the home began to protest the abuse, Wilkerson pulled out his gun and began yelling obscenities. Luckily, he left the house before anyone was seriously injured or killed.
He still had his estranged wife's cellphone.
Later that night, Wilkerson took to Facebook and uploaded a sexually-explicit video of his wife, also known as revenge porn.
Instead of sending in a SWAT team to a known armed and dangerous man's home after the assault, as would have most likely been the case if he was not a cop, police simply met with Wilkerson to retrieve the phone.
Wilkerson was then arrested and charged with three counts of simple assault and single counts of theft by taking, battery and "transmission of video depicting nudity or sexually explicit conduct of an adult," police said.
"We find these allegations very disturbing and unbecoming of any of our core values and ethical standards," Washington said. "We do not tolerate any form of misconduct or criminal conduct by any police officer from this department. In this situation, Wilkerson represented everything that police do not stand for and we are fortunate that he is no longer an employee of this agency."
Wilkson has since resigned, and according to authorities, if he is found guilty, 'could lose his law enforcement license.'
Law Enforcement officers beat their significant other at nearly double the national average. Several studies, according to Diane Wetendorf, author of Police Domestic Violence: Handbook for Victims, indicate that women suffer domestic abuse in at least 40 percent of police officer families. For American women overall, the figure is 25 percent, according to the Centers for Disease Control and Prevention.
According to The Advocates for Human Rights Organization, studies indicate that police families are 2-4 times more likely than the general population to experience domestic violence, making the potential for disparities in protective success particularly troubling.
What makes police domestic violence more difficult to deal with is the fact that women feel scared to report it. Even advocates for battered women are reluctant to dive into domestic violence cases involving police for fear of alienating the agencies they rely upon for help in other abuse cases, according to a report by SFGate.
When other women report their abuse, they do so to law enforcement officers. Think about it from the position of the one being abused by a law enforcement officer. The one doing the beating is simultaneously holding a position in which they are tasked with preventing that very abuse.
These women not only fear retaliation but also have apprehension about their husbands losing their jobs, thus stifling their own economic future.
If they do report it, they often run into skepticism from the same law enforcement system to which they are complaining.
"A big part of police culture is the code of silence, the prosecutors depend on police for their cases, the police depend on each other - it's a very insulated system," says Wetendorf. Cops will all too often look the other way when it is "one of their own" facing accusations. 
An example of this tendency to cover up domestic police abuse can be seen in the case of Jeremy Yachik. This monster beat and tortured his daughter for years. His girlfriend even filmed the abuse with her cellphone and brought the footage to the police department where Yachik was employed.
After showing the video to Glen Johnson, the Police Chief, they failed to respond and she was forced to find another venue to expose this abuse.
Also, a study conducted by the Domestic Violence Task Force called Domestic Violence in the Los Angeles Police Department: How Well Does the Los Angeles Police Department Police Its Own? revealed that performance evaluations of cops with a history of domestic violence are largely unaffected. The study of the Los Angeles Police Department further examined the 91 cases in which an allegation of domestic violence was sustained against an officer.
Over three-fourths of the time, this sustained allegation was not mentioned in the officer's performance evaluation.
Twenty-six of these officers (29%) were promoted, including six who were promoted within two years of the incident.
The report concluded that "employees with sustained allegations were neither barred from moving to desired positions nor transferred out of assignments that were inconsistent with the sustained allegation"
Wetendorf points out the most common fears when reporting police domestic abuse in her handbook:
If your abuser is an officer of the law, you may be afraid to:
Call the police — He is the police.
Go to a shelter — He knows where the shelters are located.
Have him arrested — Responding officers may invoke the code of silence.
Take him to court — It's your word against that of an officer, and he knows the system.
Drop the charges — You could lose any future credibility and protection.
Seek a conviction — He will probably lose his job and retaliate against you.
These fears can make someone feel incredibly trapped and feel like there is no way out.
If you or someone you know is a victim of this type of abuse we encourage you to no longer remain silent. As long as people go unpunished for their abuse, they will continue it.
[author title="" image="https://tftpstagingstg.wpengine.com/wp-content/uploads/2016/03/magorist-e1456948757204.jpg"]Matt Agorist is an honorably discharged veteran of the USMC and former intelligence operator directly tasked by the NSA. This prior experience gives him unique insight into the world of government corruption and the American police state. Agorist has been an independent journalist for over a decade and has been featured on mainstream networks around the world. Follow @MattAgorist on Twitter and now on Steemit[/author]