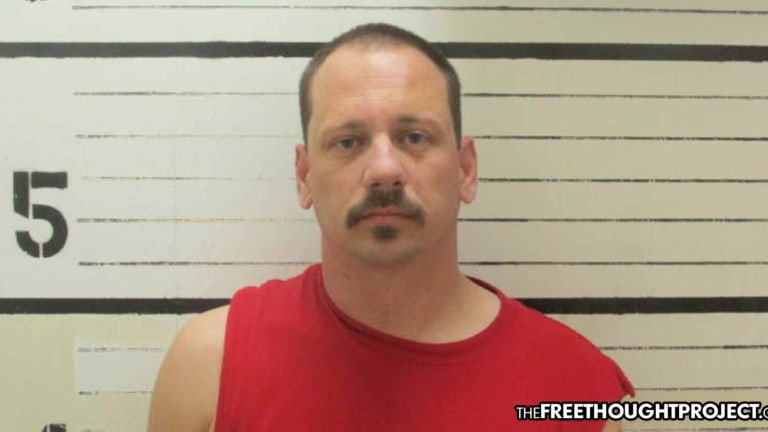 Cop Who Avoided Jail for Kidnapping, Beating Ex-Wife, Arrested 2 Months Later for Breaking Woman's Arm
Thanks to the special deal he was given after kidnapping and beating his estranged wife, a cop was allegedly allowed to strike again.
Muskogee, OK — As TFTP has consistently reported, police officers in the United States have an exceedingly higher rate of domestic violence than any other occupation. The average rate of domestic violence among most families in America is around 10%. As the National Center for Women and Policing points out, two studies have found thatat least 40% of police officer families experience domestic violence. That is a four-fold increase. This number is likely far higher due to the fact that much of this abuse goes unreported and is covered up.
What's more, when it is not covered up and the officer is caught, they often avoid jail. This was the case out of Muskogee, Oklahoma when disgraced Muskogee officer Mark Vernon Ridley Jr., 47, was sentenced to no jail for kidnapping and beating his then-estranged wife.
Because he never went to jail, Ridley was allowed to allegedly strike again. This time, he was arrested in a bar in Fort Gibson for reportedly breaking a woman's arm during a fight.
As the Muskogee Phoenix reports:
Mindy Pinord, according to an affidavit filed by Cherokee County Deputy Jimmy Tannehill in support of the application for an arrest warrant, pushed her way through a crowd gathered around the altercation. On the way, she encountered a man, identified later as Ridley, who allegedly cursed her and squeezed her wrist until it snapped.

Pinord and a friend reportedly began gathering their things to leave. By the time she arrived home, which according to Tannehill's affidavit was about a 30-minute drive from the bar, Pinord knew there was something wrong with her wrist.

X-rays taken at Wagoner Community Hospital, according to Tannehill's affidavit, confirmed the woman's wrist was fractured and would have to be set and cast. She reportedly was referred to an orthopedic specialist.

Tannehill states in his affidavit that Pinord identified Ridley in a photograph while waiting in the hospital emergency room at Wagoner. According to Tannehill's affidavit, Pinord expressed some reluctance about filing the report due to Ridley's history as a former police officer and prior felony charges to which he pleaded no contest.
"Mindy stated after much thought she believed this man should have consequences for his actions," Tannehill states in the affidavit. "Mindy stated at this time she would like to press charges against Mark Ridley Jr."
Highlighting the special privilege for cops in this incident is the fact that it unfolded in February and the warrant for Ridley's arrest wasn't issued until May. Then, it took them five more months to arrest him.
Nevertheless, authorities claim there was no favoritism involved.
"I assure you there was no thought of favoritism here — the fact he's a former police officer carries no weight with me," said Assistant District Attorney Eric Jordan. "If anything, that's a negative because he's the kind of guy that shouldn't be doing these kinds of things he's accused of doing, so I would say that does not work well in his favor."
Yet somehow his warrant was never enacted.
Sadly, as TFTP reports on a regular basis, this is a situation countless spouses find themselves in from coast to coast. As we reported earlier this year, in an investigation by the Boston Globe found that in most instances of domestic violence, the officers face no discipline much less criminal charges.
According to the report, "of the dozens of State Police andBoston police officers who have been investigated over the past decade for domestic-abuse-related offenses, more than half have gone entirely undisciplined, records show — while some have remained on the job despite multiple allegations against them."
But it gets worse, even when female cops complain that their husband cops beat them, this was ignored as well.
The Globe's investigators contacted Lou Reiter, a policing consultant and former deputy police chief with the Los Angeles Police Department, who confirmed this problem is rife from coast to coast.
"Most departments," explained Reiter, "want to just shut their eyes and cover their ears."