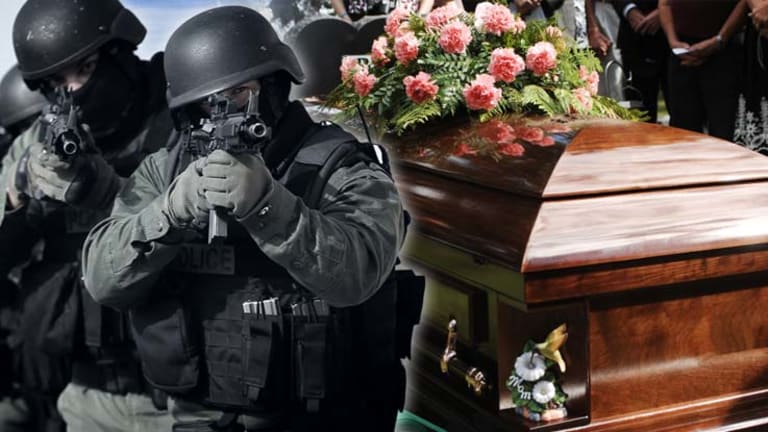 Cops Serve Warrant on Unarmed Man at His Dad's Funeral -- Kill Him in Front of Entire Family
Police felt it was a smart idea to serve a man with a warrant at his father's funeral. Dozens of family members watched their loved gun die as a result.
Douglas, WY -- On Thursday, Scott Ramirez was attending his father's funeral when he was shot and killed by undercover police officers, according to multiple eye-witnesses and local police.
According to the Douglas Budget, Ramirez' cousin, who asked not to be named, told the Budget that Ramirez was confirmed dead about 30 minutes after the shooting in the emergency room at Memorial Hospital of Converse County.
According to witnesses, the funeral for Joe Ramirez, Scott's father, had just ended, and people were giving their condolences. All of the sudden, a half dozen shots rang out; all of them fired into Scott Ramirez.
According to the report from the Douglas Budget,
Reneil Cisneros, a close family friend who lives in Casper who attended the funeral, said that she spotted the agents when she arrived. She arrived late and said there were three individuals parked near the church who looked out of place.

When she entered, she said she took a seat in the back. During the service, Ramirez sat near the front sobbing. She said he was too upset to take communion.

Following the funeral, she saw the agents again. She said she was getting ready to go over and talk to Ramirez and give him a hug, but then she heard shots, about seven of them.

She said she couldn't process what was happening.

She looked over and saw him leaning on the car door. It looked like he was getting into the passenger side when he was shot, she said. She said he had been shocked with a stun gun, too. He appeared lifeless.
Cries rang out from the dozens of onlookers who just watched their family member get gunned down by police at his own father's funeral.
"That was my dad!" Ramirez' son yelled out, according to Cisneros.
While police have yet to release any details involving this case, the eye-witnesses from the crowd of 60 people, all claim that Ramirez was unarmed when police killed him.
Police were on the scene to serve an arrest warrant to Ramirez, who according to family members, had warrants out for his arrest. However, they say, "he was a good guy, a sweet heart," who was trying to get his life together.
That will not be possible anymore.
Police officers serving warrants at funerals is an all too common practice as they know people will show up to say goodbye to their loved ones. The effectiveness of such a practice, as this case illustrates, is less than well-conceived. Attempting to bring in an emotionally charged person who just buried a loved one is a terrible idea.
After the shooting, officials placed the city of Douglas on lockdown. The Converse County Sheriff's Office posted the following message on its Facebook page:
"At this time, we ask everyone to stay away from the Courthouse area. The Courthouse, Memorial Hospital and City Hall are on lockdown. Thank you."
During the police created chaos, a Wyoming Highway Patrol trooper smashed into another vehicle while on his way to the funeral home, according to Sgt. David Wagener, a WHP spokesman.
According to the Wyoming Highway Patrol,
The Trooper was taken by helicopter ambulance to Wyoming Medical Center in Casper. The driver of the SUV was transported by ground ambulance to Wyoming Medical Center. Injuries sustained to both the Trooper and the driver of the SUV are not believed to be life threatening."
The Douglas Police say that the investigation is active and involves multiple agencies. Family members told local media that it was officers from the Wyoming Division of Criminal Investigation who shot Ramirez.
The Free Thought Project will update this story as more details emerge.