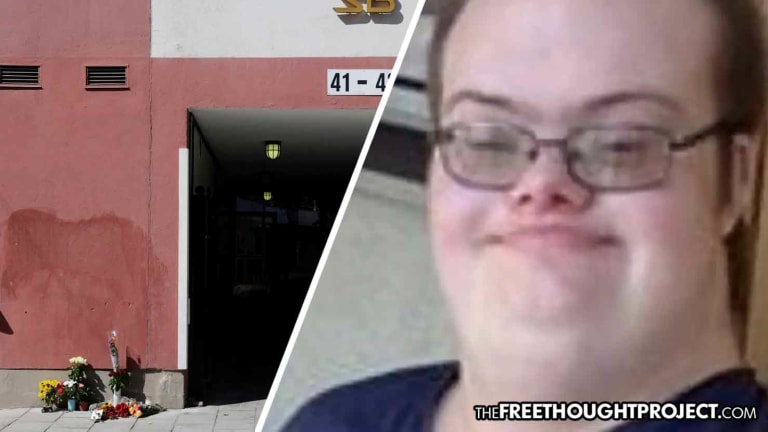 Young Man with Down Syndrome and Mentality of 3-year-old, Killed by Cops for Holding Toy Gun
A young man with Down syndrome was shot and killed by police officers as he walked down the street with a plastic toy gun.
A 20-year-old man with Down syndrome was shot and killed by police this week as he walked down the street with a toy gun. Police claimed the young man — who, according to his mother, had the mentality of a 3-year-old — created a threat that needed to be dealt with with deadly force.
According to the victim's father, Richard Torell, his son Eric grabbed a toy gun from his toy pile and disappeared overnight.
"I woke up because Eric was gone," Richard Torell told Expressen. "I went out and looked for him. I saw police cars on the street.
"Three police officers shot him in his stomach."
As the Independent reports:
Police had been called after Eric reportedly showed the small toy gun to neighbours, who contacted authorities believing it was real.

Local media reports stated three police officers had shot him in the stomach after attending the incident. He was taken to hospital, but later died from his injuries.

The Swedish Police Authority said officers had opened fire after they deemed the situation "threatening".

Eric's mother, Katarina Söderberg, described her son as "wonderful" and "the world's most loving person".

She added he had suffered from autism as well as Down's syndrome and had the mental age of a three-year-old, struggling with speech and usually only using the word "mum".
"We are completely destroyed, we are in shock. I cannot believe it's true," Ms Söderberg told Stockholm-based newspaper Aftonbladet.
"Of course, it was very unfortunate that he had [the gun] for some reason.
"But why do you have to kill him, why not shoot him in the foot? And from three policemen? You cannot be shot by a piece of plastic."
Stockholm regional police chief, Ulf Johansson told the press that they have launched an investigation into the possible misconduct of the police officers involved.
"On Thursday, a young man was killed in a police intervention in central Stockholm," he said. "It's a terrible event and my thoughts go to his family and relatives.
"It is very tragic for all involved," he said.
"But I still want to mention, from experience, that very difficult decisions in unclear and hard-pressed situations sometimes need to be taken in a few seconds and happen on initial evaluations.
"With all respect for the family of the deceased, my thoughts obviously also go to the police officers who were involved in this event."
The Swedish police are known for their lack of violence. In fact, police in Sweden only pull their firearms, on average, a total of 200 times a year. They also rarely fire their weapons as well, averaging about 12 shots per year—but only fired as warning shots.
Torell's death is extremely rare and hopefully it is not a sigh that Swedish police are taking a page of the deadly American police book.
As TFTP reported in 2015, Swedish police served as an example for how to peacefully de-escalate situations while on vacation in New York.
The officers were on their way to see a performance of Les Misérables when the train operator frantically asked for assistance. "Are there any police officers on the train?!" the men heard over the intercom.
"We thought maybe someone needed help," Samuel Kvarzell, 25, a rookie with the Stockholm Police Department told the New York Post.
The Scandinavian patrolmen ran towards the front of the subway to help and encountered a brutal fight between two homeless men that had broken out. One of the men was reportedly attacking the other, as the injured victim made very little effort to defend himself.
After separating the aggressor off of the victim, the officers kept the aggressor detained in an arm lock while attempting to calm him using non-threatening voices and a soothing hand on the back.
"Take it easy, just relax, everything is going to be okay," one of the officers told the detained man while he frantically screamed that he couldn't breathe. This seemed to calm him, and the officer asked if he was injured with a kind and gentle hand on his back. The officer seemed genuinely concerned about his well being.
There was no violence; there was no threat of violence, no cursing or racist remarks. The officers acted as professionals, even while off-duty and on vacation. It is easy to see that these officers were not out to bully or harm anyone and that they were simply trying to make sure that nobody was hurt.
Hopefully, this is a tragically isolated incident and they are not taking notes from the pages of the deadliest police force in the world in America.