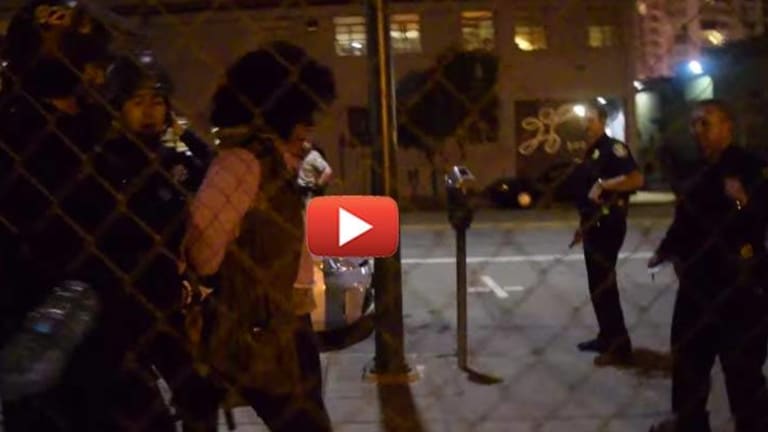 Dozens Detained, Including City Official After Citizens Refuse to Comply with Illegal Protest Ban
As the citizens of Oakland refuse to have their rights trampled on by the state, they are met with heavy police presence.
Oakland, CA — This week, the mayor of Oakland has decided to use an old and unknown law to impose an anti-protest curfew to keep demonstrators off the streets at night.
Mayor Libby Scaaf claims the illegal ban on free speech is to prevent vandalism. Apparently the law against vandalizing isn't effective and free speech must be attacked now.
For this horrendous violation of their rights, Oakland residents took to the streets. They were met with heavy police action. Oakland Planning Commissioner Jahmese Myers was among those who were detained and cited.
"We are at a crossroads with the City of Oakland, with this administration, and with the police," said Myers. "Black folks are having to fight for our lives. Low-income people are fighting for their right to stay in this city."
Tear gas canisters were deployed after swarms of cops began blocked protesters in and declared the assembly "illegal." It appeared as though random protesters were being picked out and "disappeared" by police.
According to the East Bay Express:
The demonstrators then sat down in the street in an act of civil disobedience. Some were led away on their feet, while others were carried. According to OPD, 47 people were detained and cited and 5 more were arrested. It appeared that nearly all of those cited were physically detained and cuffed.

The citations were for violation of California Penal Code 409: unlawful assembly. OPD did not say what the five who were arrested are being charged with.
It was also reported that multiple Oakland cops, in defiance of department policy, were refusing to wear their body cameras.
Below are two videos of the weekend protests.