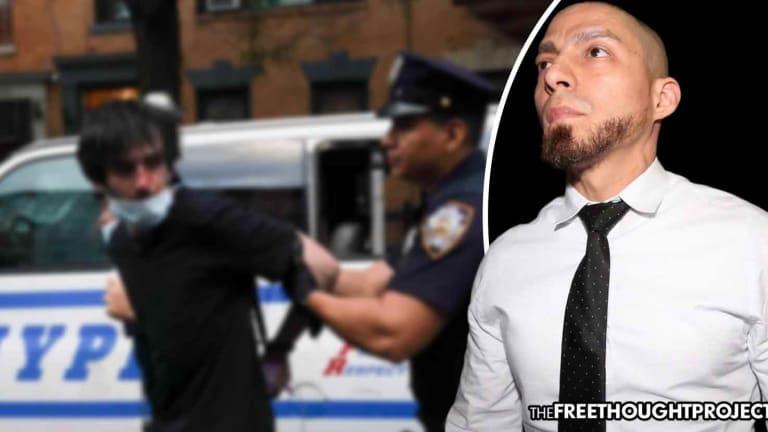 Dozens Freed After NYPD Detective Charged for Framing Innocent People for Drug Crimes
After a top detective at the NYPD was caught framing innocent people for drug crimes, dozens of people have had their charges dismissed.
Brooklyn, NY — Charges against the now-disgraced NYPD detective Joseph Franco are being welcomed by the families of dozens of New Yorkers as it is leading to the dismissal of their family members' charges. Franco was reportedly caught framing innocent individuals and now Brooklyn District Attorney Eric Gonzalez's Conviction Review Unit this week asked for the dismissal of 27 felony convictions and 63 misdemeanor convictions based on Franco's corrupt policing.
According to ABC 7, Franco has been indicted in Manhattan for perjury, official misconduct and other charges in connection with four incidents whereby he allegedly framed numerous individuals for making narcotics transactions.
According to the Conviction Review Unit, the dozens of cases are being dismissed because Franco's crimes have discredited his witness testimonies.
"Knowingly and repeatedly framing innocent people obliterates the credibility of any police officer and proving perjury in such circumstances is rare," Gonzalez said. "After a grand jury reviewed the evidence and indicted former Detective Franco, I have lost confidence in his work. His cases in Brooklyn are over a decade old, which limited our ability to reinvestigate them, but I cannot in good faith stand by convictions that principally relied on his testimony. Integrity and credibility are at the heart of the justice system and prerequisites for community trust."
After Gonzalez moved to dismiss cases under his office, Judge Matthew D'Emic moved to dismiss dozens of similar drug convictions tied to the corrupt cop. Brooklyn Criminal Court Judge Keisha Espinal followed suit vacating more than 50 drug convictions.
As ABC 7 reports:
The cases stemmed from arrests that happened when Franco was assigned to Brooklyn commands between 2004 and 2011. All but one of the 90 convictions were obtained by way of a guilty plea.

Most of those convicted for a felony were sentenced to between six months and a year in jail, with the longest sentence being three years in prison. Most of those convicted for a misdemeanor were sentenced to terms ranging from time served to 90 days in jail.

The CRU reviewed all convictions where Franco was involved, and cases where he was the primary undercover and his testimony was necessary for a potential hearing or trial were flagged for dismissal.
As for Franco, he is currently awaiting trial on dozens of counts of first degree perjury and other related charges. Despite facing over a dozen charges in April 2019, and again in July 2019, Franco was not fired from the department until a year later in May of 2020.
"It shows you the unbelievable ripple effect that one individual who wears a shield can have on lives of hundreds, if not thousands," said Aida Leisenring, a criminal defense attorney with Barket Epstein. "Overturning a wrongful conviction is not a substitute for justice, because the damage has already been done. Filing a lawsuit against the NYPD and receiving financial reparations for that, that's a step towards justice."
Unfortunately, there is no shortage of police officers like detective Franco. Here at the Free Thought Project, we report on cops who frame people frequently. One such cop, whose actions were similar to the actions of Franco was Jackson County Sheriff's Deputy Zachary Wester.
Wester was arrested in 2019 after video surfaced of this drug enforcement cop planting meth on an innocent grandmother. After the release of that video, other videos surfaced, showing the officer planting drugs on other folks as well.
While it is no question that folks will claim that drugs found on them or in their possession "aren't theirs" and "they don't know how that got there," nearly all of Wester's cases had this characteristic. The videos showed that people were utterly shocked when Wester claimed to have found drugs in their vehicles. While a single person may have been lying, when everyone reacts the exact same way, something is up.
This characteristic led to assistant state attorney at the 14th Judicial Circuit, Christina Pumphrey, investigating the corrupt cop, and she discovered he'd been conducting this framing scheme for some time.
As a result of Pumphrey's actions which led to Wester's arrest, 119 people were exonerated and freed from jail.