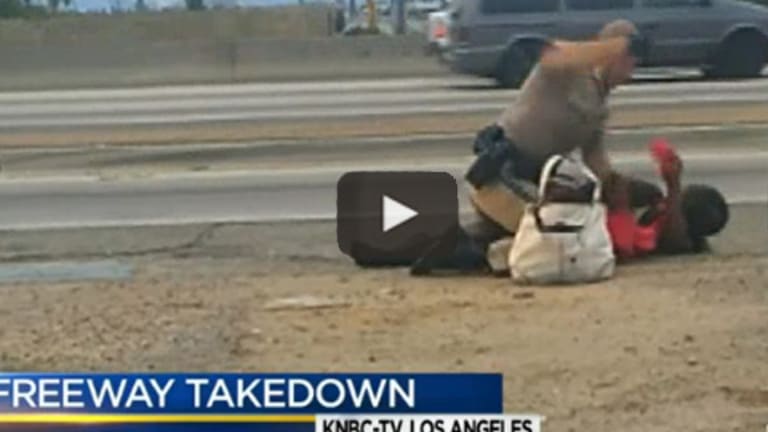 Cop Throws Barefoot Woman on the Ground, Repeatedly Beats Her in the Head
John Vibes
July 4, 2014
This week, in Los Angeles, California, a cop was caught on camera senselessly assaulting a pedestrian.
Bystander David Diaz was in his car when he noticed a violent confrontation developing between a police officer and a woman.
Diaz saw the woman walking away from the officer but then he saw him grab her and throw her to the ground before repeatedly bashing her head with his fists.
The police department insists that this level of force was necessary.
California Highway Patrol told NBC 4 that it, "Would be premature to comment on the video without reviewing the entire incident."
"No one condones…when he gets on top of a woman, and this is a big officer, and he punches her repeatedly," Diaz said, adding, "She could have died out there."
Another eyewitness said that woman was "shoeless, terrified and did not pose a threat."
The CHP has refused to release any information about the woman or the officer involved in the incident.
John Vibes is an author, researcher and investigative journalist who takes a special interest in the counter culture and the drug war. In addition to his writing and activist work he is also the owner of a successful music promotion company. In 2013, he became one of the organizers of the Free Your Mind Conference, which features top caliber speakers and whistle-blowers from all over the world. You can contact him and stay connected to his work at his Facebook page. You can find his 65 chapter Book entitled "Alchemy of the Timeless Renaissance" at bookpatch.com.