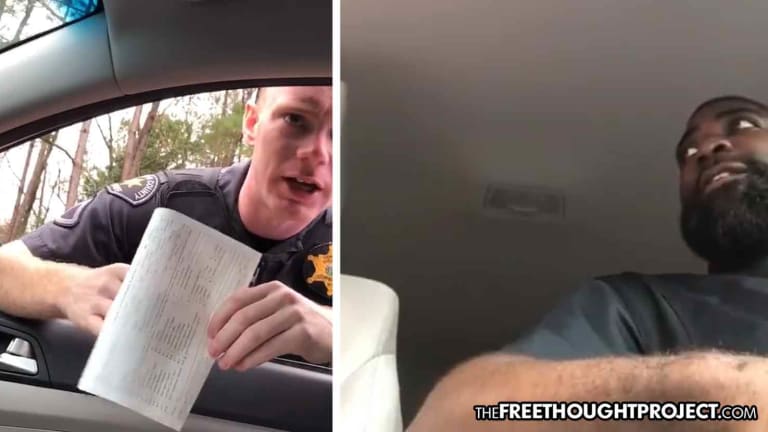 'You're Doing 65 in a 70': Racial Profiling Cop Pulls Over Innocent Man for Driving UNDER Speed Limit
An infuriating case of racial profiling was caught on video showing a white cop harassing a black man for driving safely down the road, 5 mph under the speed limit.
Sampson County, NC — Over the years, the Free Thought Project has reported on countless incidents of racial profiling which has led to the immeasurable suffering of innocent minorities. In case after infuriating case, we've seen innocent black men, women, and children shaken down, unlawfully detained, beaten, and even killed for being black in the wrong place at the wrong time. As the following case illustrates, even when successful innocent black people do everything they can to make sure they don't break any law, they will still be targeted by apparently racist cops.
Ace Perry was on his way to work last week when he was targeted by a Sampson County deputy and pulled over. When Perry asked the cop why he was pulled over, the cop said that Perry was driving 5 mph under the speed limit — which happens to be completely legal. The incident and subsequent video were so infuriating that Perry took to
" target="_blank" rel="noopener noreferrer">Facebook to express how he felt.
In lieu of Black History Month I felt compelled to share my experience on yesterday with an officer of the Sampson County Police Dept. While it is ever so important to celebrate and uplift our heritage and progress in America with regard to racial disparities. We must always continue to challenge racial injustice, inequalities, and discrimination to show true honor to those that gave tirelessly to the cause both negro and other.
As the video shows, the officer had no problem telling Perry that he pulled him over for driving 5 mph under the limit of 70.
"You're driving 65, and you know the speed limit is 70. I'm just wondering what's wrong. I mean, are you OK?" the deputy, who is white, asked Perry.
"As opposed to what?" asks Perry.
Do you think that this cop would've pulled over a white person for driving 5 mph under the limit and asked them the same questions? "Are you OK?" Really? How would obeying all traffic laws and safely driving down the freeway make someone not "OK"?
Perry continues:
This officer cited that I was stopped for merely driving 5 MPH below the speed limit after taking a look at me at a stopped intersection and trailing me for more than 10 minutes once I merged into a freeway without committing one single traffic violation. No missed signal no following to close. This area in particular seems to have a heightened police presence and I'm constantly followed on my commutes to and from work. Being that I manage multiple branches within this region it is imperative that I make use of these roadways for express transitions both to and from. However I do not feel safe nor comfortable after this obvious misuse of power. Civil servants must remember there primary function is to serve and protect and this officer has clearly lost sight of what that truly is.
We agree with Perry. This cop was protecting and serving no one. He was harassing innocent people in search of substances deemed illegal by the state and an innocent man suffered as a result.
When Perry confronted him after he received a "written warning" for driving under the speed limit, the cop claimed obeying all the traffic laws and not speeding was "suspicious." He couldn't even look at Perry in the eye, likely knowing that his job consists of harassing innocent people for no reason.
"Wouldn't you say it is kind of suspicious to travel under the speed limit and when the speed limit is 70?" the deputy asked before he dismissed Perry, telling him, "I've got stuff to do."
Perry answered back, telling the cop that he has stuff to do too and would have appreciated not being pulled over and harassed by a racial profiling cop.
According to WRAL, a spokesman for the Sampson County Sheriff's Office said leaders there would review the in-car camera of the deputy involved. "Should personnel action be necessary, we will take appropriate action," he said, noting that Perry has not filed a formal complaint.
"In regards to the law regarding stopping someone under the speed limit, please keep in mind an officer only needs reasonable suspicion to stop a vehicle," the spokesman added.
To those who pay attention, however, they know exactly what this was, a fishing expedition by a racial profiling cop.
One of the comments on Perry's post laid it out perfectly and had a tip for when this happens to others, never answer questions.
This was your classic drug interdiction stop. The Officer knew he was behind a rental vehicle by running the tags. He knew there was a Black male driver and he observed the vehicle traveling 5 mph under the speed limit. His line of questioning was consistent with him trying to observe any discrepancy in regards to the drivers whereabouts or unreasonable nervousness. Like I tell all Black motorist. DONT ANSWER POLICE QUESTIONS!!!