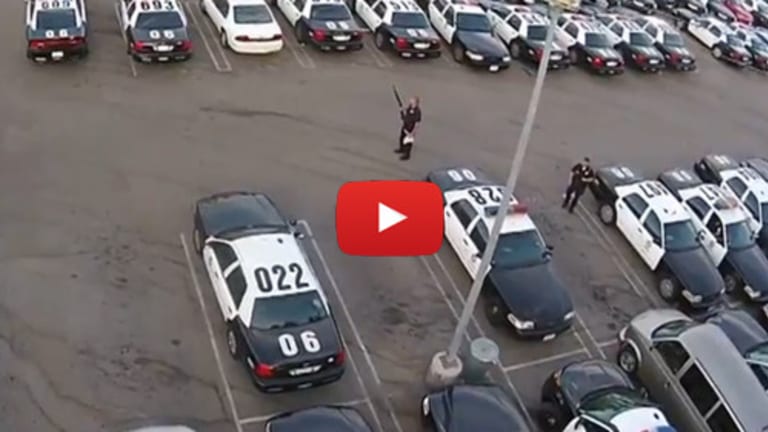 Free Thought Project & Tom Zebra, Turn the Police State Inside Out. 'Drones Over LAPD'
Cassandra Rules
July 31, 2014

On Tuesday afternoon, Jason Bassler and Cassandra Rules from the Free Thought Project met up with the amazing Foxy and Tom Zebra to talk about activism, the police state, and to take Mr. Zebra's drone out for a spin.
If you aren't familiar with Mr. Zebra, you should be. This man's drive and determination should be an inspiration to us all. Tom got his start filming the police after an encounter where he witnessed serious brutality and the Torrence Police destroyed his recording.
Arrested countless times for filming since that incident, he has not let it slow him down one bit. Infact, it has caused him to up his game even harder, purchasing a DJI Phantom 2 Drone fully equipped with a 14MP camera with 1080p HD video capability- thanks to a settlement from the Hawthorne PD.
Tom and Foxy met after she stumbled upon his YouTube channel and saw that he was filming the same department who had recently brutalized her sister. Foxy invited him to a protest and they have been working together to film the police and demand accountability ever since.
After getting to know each other a bit, Tom decided to show us the drone. We watched it zoom over to Capitol Records then hover over very confused traffic on Cahuenga. Andy Dick pulled up to ask about it. Everyone who saw it was highly intrigued.
We knew our intended video subjects would not be as intrigued, as we headed for the LAPD to see what they were up to.
 An angry officer with two people in the back of his vehicle pulled up demanding to know if we were police.
We kept the drone hovering intending to film what happened to his passengers once he got beyond the gate, but officers quickly stormed out to question us.
After the encounter we returned to the car to listen to the scanner so we could go do some cop watching.
At our first stop a cop with a front headlight out told us he would be sure to get it fixed as they sped off.
Next we stumbled upon two officers at a car with expired tags and a man cuffed in the back of their vehicle. This is where we met jabber jaws Sargent Jaffey.
This morning The Free Thought Project and Tom Zebra's project attracted the attention of TMZ.
Law enforcement sources tell TMZ ... several people have become a thorn in the side of the LAPD -- trying to expose what they claim are police misdeeds. One of them flew a drone over the Hollywood Division Tuesday afternoon, shooting video of the parking lot with prisoners and undercover officers.

We're told police detectives and lawyers from the L.A. County D.A. and the L.A. City Attorney had a meeting to figure out what criminal laws might have been violated, but they concluded as long as the drone flies lower than 400 feet ... there's nothing they can do. Anything above is covered by the FAA.
Check out what happened as activists turn the police state inside out and drone (film) the police!