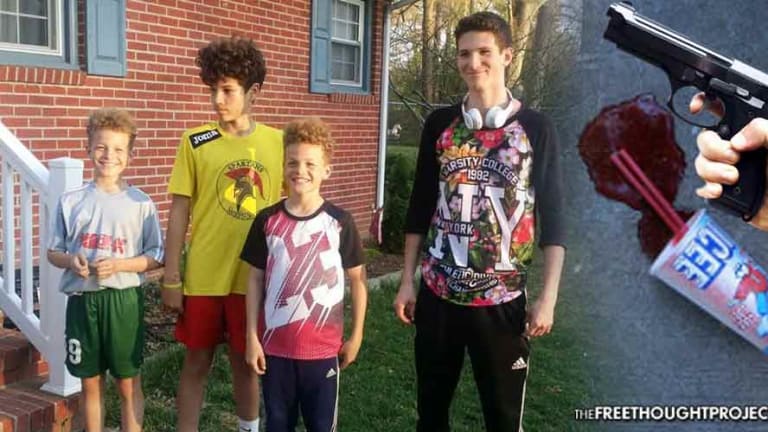 'Drop that Slurpee!': Parents Furious After They Say Cops Pulled Guns on Children for Playing
A group of children felt their lives were threatened when Virginia Beach, VA police officers pointed their guns at them for playing soccer and drinking slurpees.
Virginia Beach, VA -- It has happened again. We first told you the story about several Black youth playing basketball when a police officer rolled up in his cruiser and pointed his gun at the boys demanding they get on the ground. Now, it has happened to another group of boys...this time in Virginia Beach.
According to the allegations leveled at police by Damien Jackson, 12, Ken Sedlack, 13, Davian Jackson, 12, and Maurice Victoria, 14, the boys were sitting in the backyard of a home where one of their fathers, Ken Sedlack 43, had been working. They say they were playing soccer and drinking Slurpees while Ken made a run to the hardware store for supplies.
The kids accompanied Ken's father to go and work on the home which was in need of repair. They're reportedly all honors students and their school, which is in another district, was on Spring Break. They also play travel soccer.
According to The Virginian-Pilot, the boys were confronted by a neighbor who asked if they had permission to be at the home. They said they did and went back to playing. One of the boys needed to use the restroom so he crawled through an open window to get inside the locked home. While inside, he opened the door for the other boys to come inside.
After being inside for a while, playing video games on their phones wasn't much fun any longer, so Maurice and Ken went into the backyard to play soccer. Damien went to the carport and listened to music, while Davien, his twin brother, stayed inside to keep playing video games.
Police first approached Damien. "I heard a voice real loud say, 'Come here!' I saw three cops with guns and one cop without a gun," he told reporters. He said a cop came in the house and yelled, "Hey!", pointing his gun to Damien's chest the entire time. Damien noticed the officer's finger was on the trigger.
"I was shocked he was pointing a gun at me...I was like, 'Whoa!' " said the sixth grader. Officers then moved to the backyard where they found the other two boys. Maurice said one of the officers yelled at him, "Hey! Big guy!" Maurice is six feet two inches tall, but hardly any match for a seasoned officer -- as he is still only a child.
"He said, 'Drop the Slurpee!'" he told reporters. He admitted, "I didn't see the gun, but they (the other boys) all told me about it." Maurice said he was so scared he put down the offending slurpee, lowered his head, and got on his knees, placing his hands in the air.
Ken, too, was holding an offensive object in his hands, a soccer ball. "I still had the soccer ball in my hand...He pointed the gun at me and said, 'Drop the ball!' ... All I saw was that finger on the trigger," Ken told the press. All the boys were rounded up and taken to the front of the house where they were forced to sit in a circle while police determined if they were legally allowed to be at the home.
After a brief conversation, police then called Ken on the phone to determine for what reason the boys were present at the home during school hours. The explanation was satisfactory for the police, who explained school was not out for students in their district, and they proceeded on their way.
But Ken wasn't done with the officers. Upon learning at least one of the officers pointed his weapon at the children, with his finger supposedly on the trigger and the gun pointed at their chest and their head, he filed a complaint against the officers. Ken along with little Ken's mother, Georgina Vazquez, filed complaints.
An internal affairs investigation was opened. The Virginian-Pilot filed a Freedom of Information Act request to receive body cam footage but the request was denied as the boys involved are all minors.
The newspaper spoke with Lt. Johnny Gandy, a police spokesman, who said the incident was one of three which occurred at about the same time. The Virginian-Pilot reported;
Gandy, the police spokesman, said there were two 911 calls that day that led police to the house. One was for an armed robbery involving multiple juvenile suspects in the 4800 block of North Witchduck Road. The area is 1.3 miles from Sedlack's house.

Gandy said the call came in at 12:31 p.m., which was about a half-hour before the officers arrived at Sedlack's home. An incident report said that the call came in at 12:50 p.m. and that no weapon was involved. An 18-year-old and two 16-year-olds were later charged, Gandy said.

The other call, at 12:47 p.m., was for a possible trespassing in the 400 block of Declaration Road, Gandy said. That's where the home owned by Sedlack is located. No report was filed, he said.
Contrary to what the boys allege, Gandy retorted, "No officer is going to point a gun at a kid kicking around a soccer ball." Unfortunately, Mr. Gandy, we here at The Free Thought Project, beg to differ.
As we've reported, police hardly need a reason to point their loaded weapons at anyone. They do so at will, every day. All of which serves to highlight our contention that no officer should be allowed to point a loaded weapon at anyone, anytime, unless of course, another person is pointing a weapon at them.
Critics would contend doing so would place police officers in harm's way unnecessarily. But when statistics show that less than 100 of the over 1 million full-time police officers die from gun violence, there's hardly a reason at all to point a loaded weapon at anyone, unless you're trying to kill them. In fact, more officers die in car crashes and from natural causes than die from violent crimes. In other words, driving recklessly to a scene where kids are playing soccer, video games, and listening to music, is much more dangerous than a kid holding a slurpee or a soccer ball. Keep your guns holstered. Garbage truck drivers have more dangerous jobs.
As TFTP has reported, more than 1,000 people die every year when officers shoot them. Children who are playing basketball in the front yard, or soccer in the backyard, pose no threat to anyone and should be treated as children, not criminals. Speaking about his experience with police pointing their weapons at him, Damien said he used to respect officers, "But not anymore. Not after what happened. Now I'm just scared of them."