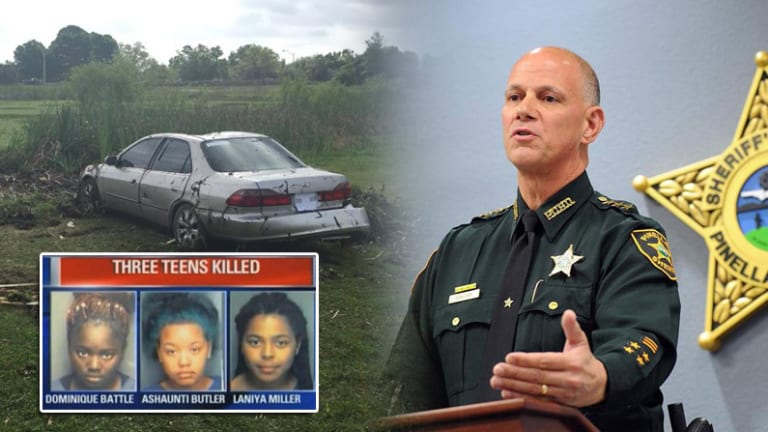 Sheriff Defends Cops Recorded on Dashcam Watching 3 Girls Drown -- Blamed the Dead Girls
As if allowing three teen girls to drown in a car while sheriff's deputies watched wasn't awful enough, the sheriff has now blamed the victims for their own deaths -- and excused his lying deputies inaction.
Pinellas County, FL -- Tragically shocking dashcam footage released earlier this week proved Pinellas County Sheriff's deputies lied about trying to save three teen girls from drowning as the car they had been driving sank below murky waters.
Deputies had previously claimed in reports they'd removed gun belts and clothing, and had entered the water to try to save the three young victims. Social media exploded in anger with the release of ">dashcam footage of the incident, as many understandably questioned whether the deputies had done enough — or, indeed, anything at all — to assist the teens.
On Friday, beyond comprehension — and despite both video evidence to the contrary, as well as the outright lies said to be contained in deputies' reports — Pinellas County Sheriff Bob Gualtieri vigorously defended the (non) actions of his employees. Far worse, he appeared to blame the victims — essentially justifying their deaths for crimes they allegedly committed just prior to drowning — inexcusably sloughing off the fundamental right of every American to due process.
"In reports that were written by the deputies who took their gun belts off, their clothes off and went in the water — those deputies aren't lying," Gualtieri asserted, according to local station, Bay News 9.
As Bay News 9 explained, the Sheriff "emphasized" the 15- and 16-year-old teens had been fleeing police before they drowned while deputies watched.
"This isn't a problem with the sheriff's office," Gualtieri scoffed. "This isn't a problem with the police. This is a problem with those kids engaged in criminal conduct and running from the police. The police tried to go into the water and save their life [sic] and they couldn't do it."
Families of the girls publicly questioned whether deputies had, in fact, acted sufficiently to save lives.
Further, as Gualtieri readily admitted, one of the deputies on scene that morning was a member of their dive squad — but had decided against what would have been too risky a rescue, given the muddy, murky condition of the water.
Audio evidence of this decision, however, either doesn't exist or wasn't captured in recordings.
In fact, captured on both audio and video is a bone-chilling lack of action as deputies stand on the shore, witnessing the vehicle slip beneath the surface of the swamp.
">
"I hear them yelling, I think!" a deputy is overheard on the dashcam ">recording.
Recording jumps forward, and a second deputy can be heard saying, "They're done. They're done. They are 6-7, dude."
"Did you hear them yelling?" another deputy responds. "I thought I heard them yelling."
"As it was going down," the first deputy intones, "but now, look — they're done. They're done."
Gualtieri had told the press his deputies had quickly shed their gun belts and clothing, and dove into the water in a heroic — but ultimately failed — attempt to rescue the girls.
Confronted by public backlash over the newly released dashcam recording of the incident, apparently, Gualtieri balked — not only justifying actions by deputies which clearly didn't take place, but essentially saying the girls deserved to die -- because of their nonviolent criminal activity.
Though allegedly the girls stole a car and initiated a chase as they fled police, Gualtieri's foisting blame for their deaths on the girls' alleged crimes — rather than blatant inaction of his deputies — makes him judge, jury, and executioner.
As The Free Thought Project reported of the events leading up to the incident, "a friend asked 35-year-old Damien Marriott to drive the three teenage girls to Child's Park on Wednesday, March 30. For some reason, Marriott reportedly stopped at a Walmart to buy a TV when he left his keys in the ignition with the engine running along with three girls that he did not know sitting in his 1990 Honda Accord. Although Child's Park closes at 8 p.m. on Wednesdays, Marriott did not return to his vehicle or report his car stolen until 8:30 p.m. that night."
Several hours after that, deputies reportedly witnessed the Honda run a red light with its lights off, and initiated a pursuit — which ended in the back of a cemetery, where the girls mistakenly drove into a swamp.
Two hours after becoming a watery tomb, the car containing the bodies of 16-year old Dominique Battle, 15-year-old Ashaunti Butler, and 15-year-old Laniya Miller was pulled from the depths by a tow truck.
"My daughter was not perfect," Miller's mother, Natasha Winkler, tearfully told ABC Action News. "What 15-year-old is?"
On Friday, as Bay News 9 reported, Michele Whitfield, attorney for the girls' families, released a statement saying:
"At this point, we're still combing through the information.The sheriff is giving an appearance of transparency but we're still waiting on other documents that haven't been given to me. Some of that includes the primary [officer 's] dash cam video."
An investigation into the incident continues.