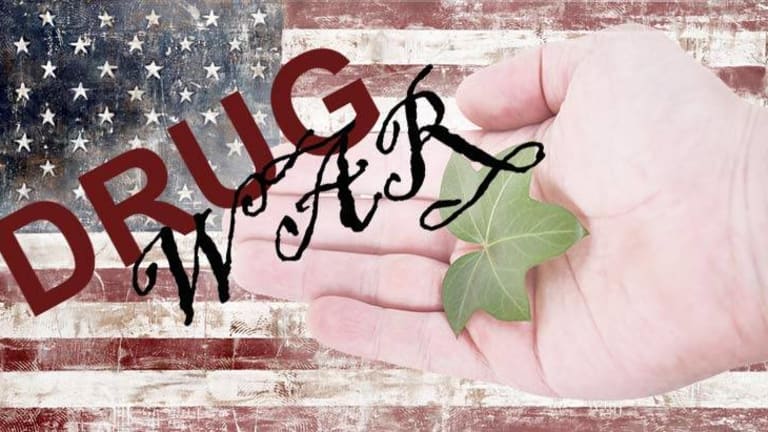 Drug War Insanity: 11-Year-Old Suspended, Arrested for Having a Leaf, that Wasn't Pot
The latest victim of the state's nonsensical, negligent, and immoral war on drugs is an innocent 6th-grader.
Bedford County, VA -- The latest victim of the state's nonsensical, negligent, and immoral war on drugs is a 6th-grade student from Bedford Middle School.
The 11-year-old student, who's only identified as R.M.B., was accused of bragging that he had marijuana. When the child was taken to the principle's office, school administrators found a crumpled up leaf in the boy's book sack.
RMB was immediately suspended for a year. A sheriff's deputy the filed marijuana possession charges in juvenile court.
For six months, parents Bruce and Linda Bays thought their gifted and talented 11-year-old had actually possessed marijuana. However, during the boy's hearing it was revealed that officials knew it wasn't pot from the get go.
Bruce Bays explained, "During the hearing I asked Wilson, 'What about the field test on the marijuana leaf?'"
The assistant principal skirted the question "and finally he got around to it and said 'I'm not qualified to interpret the results of the field test,'" Bays said.
Not until they kept demanding answers did the Bays learn that the field tests conducted on the supposed pot leaf came back negative. Three times.
The Bays have since filed a lawsuit against the school and the Bedford County Sheriff's Office. The sheriff's office is accused of malicious prosecution, because Deputy M.M. Calohan, a school resource officer, filed marijuana possession charges against the boy despite field tests that indicated otherwise.
"The field test came back not inconclusive, but negative," the family's attorney, Melvin Williams said. "Yet she went to a magistrate and swore he possessed marijuana at school."
Now the school and the sheriff's department are asking for the suit to be thrown out citing the law that says "imitation" drugs are illegal too.
According to the school system's anti-drug policy,
"The unlawful manufacture, distribution, dispensation, possession, use or being under the influence of alcohol, anabolic steroids, or any narcotic drug, hallucinogenic drug, amphetamine, barbiturate, marijuana or other controlled substance … [or] imitation controlled substances or drug paraphernalia while on school property, while going to and from school, or while engaged in or attending any school-sponsored or school approved activity or event, is prohibited, and will result in an automatic recommendation of expulsion."
However, the context of imitation controlled substances in this policy is more than likely meant for the synthetic versions of drugs, like bath salts and synthetic marijuana.
Trying to callously charge an 11-year-old child with drug possession because he had a leaf is ludicrous. It speaks to the ridiculous nature of the police state today.
I look back to my childhood and can recall the dozens of times other kids brought a bag of Italian seasoning to school, or their parent's BC powder claiming they had drugs. No one was ever expelled from school, much less arrested.
According to the Bays, however, their son may not have even been playing a prank on students. They said their son has no idea how the leaf or the lighter got in his knapsack, and that he wasn't joking around.
According to Roanoke.com, Linda Bays said that based on scuttlebutt she's heard since his suspension, she believes one or two students who dislike her son put the leaf in his knapsack. They did so on the bus, and then informed school officials about it.
Sadly, in today's common sense lacking police state society, a child's prank can ruin a life.