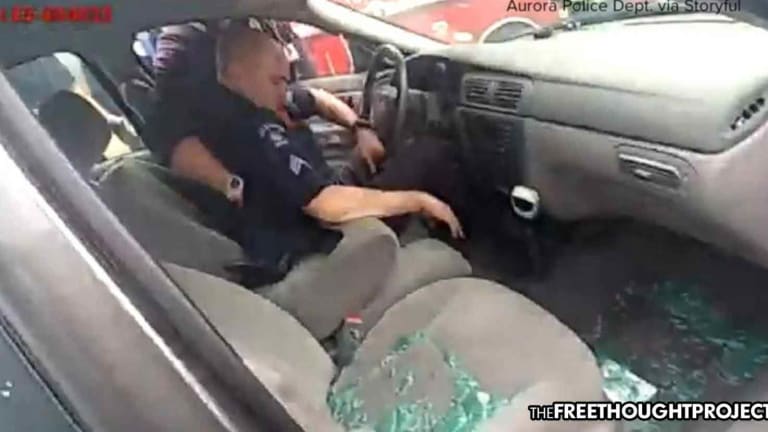 Cop Found Passed Out Drunk in Patrol Car On Duty in Traffic, 5X Over Legal Limit—No Charges
A Colorado District Attorney is crying foul this week after he watched a police department do everything they could to protect a cop who passed out drunk while driving on duty.
Aurora, CA — In March, Aurora police officer Nate Meier was found presumably drunk and unresponsive behind the wheel of his police cruiser. Since the release of the body camera footage recently, the command staff at the Aurora Police Department (APD) have come under fire for not only not charging Meier with a DUI but allowing him to keep his job with APD.
In December, APD Chief Nick Metz began pointing the finger of the blame at the media, instead of his failed leadership, and insists his officer didn't cross the line into criminality. His proactive blue privilege approach worked and there is nothing anyone can do about it — not even the DA.
On Thursday, District Attorney George Brauchler told reporters how "incredible frustrated" he was at the blue privilege given to this clearly criminal cop. He held no punches when he called out the department for "protecting" Meier.
"I am incredibly frustrated," Brauchler said. "Bottom line is if one of us had been in that car, and not officer Nathan Meier, do I think it would it have been treated differently? I do."
Stopping short of calling it a cover up, Brauchler said it was extremely close to one.
"I think this became an 'ignorance is bliss' moment," Brauchler said. "I don't think it's a cover-up, but it's a couple blocks from it."
While Brauchler may have to watch his tongue, we don't. This instance reeks of a cover up starting from the very beginning.
When you watch the video below, you will likely agree with this claim. As the video shows, officer Meier was on duty and driving on a public roadway when he became so drunk that he passed out with the vehicle in gear. He was so drunk that responding officers had to break the window to his cruiser and drag him out.
As ABC reports:
Brauchler said none of the eight Aurora police officers on scene told firefighters or EMS personnel that they had smelled alcohol. As a result, paramedics suspected Meier might have been experiencing a stroke or suffering from opioid exposure. A DUI specialist dispatched to the hospital where Meier was taken was told to stand down, Brauchler added.

Brauchler said "there was no attempt, ever, to seek Meier's" blood or begin a DUI investigation by Aurora police.

Medical staff at the hospital he was taken to had drawn Meier's blood and results indicated his blood-alcohol level was five times over the legal limit. However, Brauchler said he couldn't use the hospital's test results to prosecute Meier for a DUI because of medical privacy and a law that prevents information compelled as part of an internal affairs report from being used by prosecutors.
That is nothing short of a cover up.
After the incident, Chief Metz issued a statement to the press claiming the press had rushed to judgement. Metz called it an "inaccurate media spin" and rejected any notions there was a cover-up at work. Going further Metz added, "I don't want this to become a distraction from a message I want all of you to hear loud and clear, which is this: If you make a mistake, OWN YOUR S**T".
But owning his sh*t was the last thing on this chief's mind.
A TFTP reported, chief Metz may be so far removed from reality of the world in which the rest of the commoners live, possibly made blind by his shiny badge or delirious with pride in his crisp uniform, but we all know you don't smell of alcohol behind the wheel of a running vehicle, unresponsive, with the vehicle in drive, and avoid getting a DUI. No one but cops get away with such actions.
Once again, Metz has proved common knowledge to be true. Unless you have a badge, you cannot drive drunk and keep your job, any job which involves a moving vehicle.
In the eyes of many police accountability experts, righting the wrong in Meier's case would have been to resign and avoid bringing any shame onto his police department. That didn't happen. Meier did, however, reportedly "receive a significant unpaid suspension" the details of which still have not been disclosed.
But somehow, someway, an unpaid suspension, in Chief Metz' mind appears to make up for the fact the officer could have killed someone while drunk and behind the wheel of his cop car. In the end, Metz claims to be able to "find a balance between discipline and support."
Metz also claims termination of an officer's employment is appropriate "when the evidence overwhelmingly suggests this is the right course of action." Metz neglected to mention none of the officers on scene attempted to collect any evidence against one of their own, and he failed to mention the results of the hospital blood test.
In other words, accusations of a cover-up appear to be grounded in several key facts. Meier was found unresponsive smelling of alcohol. He was not administered a breathalyzer test or a field sobriety test by fellow cops. Blood tests at the hospital revealed he had a BAC five times over the legal limit. Meier was not charged with any crime. His employment was not terminated. This is all in spite of the officer admitting to drinking vodka while on-duty as well.
As the Denver Post reports:
The internal affairs report said Meier showed up to work that day at 10:17 a.m. — more than two hours late for his 8 a.m. shift — and left police headquarters at 2:03 p.m. The report said "no one knew (his) whereabouts" prior to the incident.

In a later interview with internal affairs, Meier admitted that he went home during his shift and drank vodka. He told internal affairs investigators he was impaired by the vodka and did not remember anything after drinking until he woke up in the hospital, according to the summary. He also provided investigators with medical records that "indicated his level of alcohol consumption," according to a statement from Aurora police.
The Deputy Chief as well as the current Chief of Police at Aurora Police Department both have made statements in support of their actions not to charge the officer and have pointed the finger of blame at the media, the only ones brave enough to hold Meier and the APD accountable for their actions. Smells like a cover-up to us.