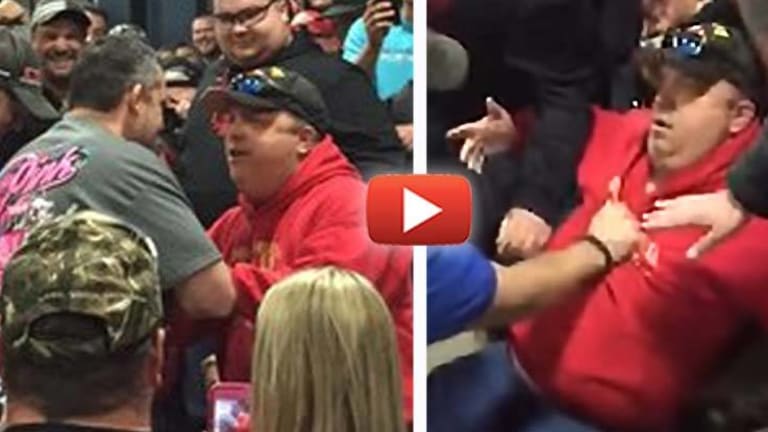 Drunken Cop Assaults NASCAR's Tony Stewart, Hilarious Video Shows How Bad of a Mistake it Was
A drunken cop gets a taste of his own medicine after he becomes belligerent with a NASCAR driver.
Tulsa, OK -- A video of a drunken fan picking a fight with NASCAR driver Tony Stewart has gone viral after the drunken fan quickly got put in his place.
However, after the video was seen by people who knew the man heckling Stewart, Deputy Justin Green of the Tulsa County Sheriff's office identified him as Cpl. Kyle Hess. "We're all held to a higher standard, even off duty," Green said.

According to Tulsa World,
The confrontation happened in the general admission pit area grandstand on the backstretch. In the video, which reportedly had over 500,000 YouTube hits on Saturday morning, you can hear fans chanting "Tony." Stewart is seen smiling as he confronts the fan and some pushing and shoving is seen.
"We had a race fan that probably had too much beer from my observations after speaking with him," said Tulsa Deputy Police Chief and Expo Square Liaison officer Dennis Larson. "He kept taunting Tony Stewart as Tony would pass by. Tony came up to the stands and decided to have a discussion with him on why he did not like him."
In the video, Hess can be seen becoming quite aggressive with Stewart as he begins shoving him. Had Hess been on the receiving end of such an affront, he and his uniformed brothers would probably not have reacted so calmly. However, Stewart and his private security handled the situation without resorting to baton blows, or pepper spray and Hess was escorted out of the stadium without incident.
On Saturday, the Tulsa County Sheriff's Office announced that they are now investigating the incident.
Had actual police officers responded to Hess's conduct, history tells us that things would have gone much different.
In October of last year, a Pittsburgh police officer was caught on video assaulting a Cubs fan during the National League Wild Card game between the Chicago Cubs and Pittsburgh Pirates. The belligerent cop placed the sports fan in a chokehold and slammed him to the ground for asking a simple question.
Even children at high school sporting events get abused by the police state. In November 2014, a 17-year-old high school student was having fun and talking to a girl at a football game, when all of the sudden a ski-masked Phenix City Police Officer comes from behind and assaults him.
Matt Agorist is an honorably discharged veteran of the USMC and former intelligence operator directly tasked by the NSA. This prior experience gives him unique insight into the world of government corruption and the American police state. Agorist has been an independent journalist for over a decade and has been featured on mainstream networks around the world.