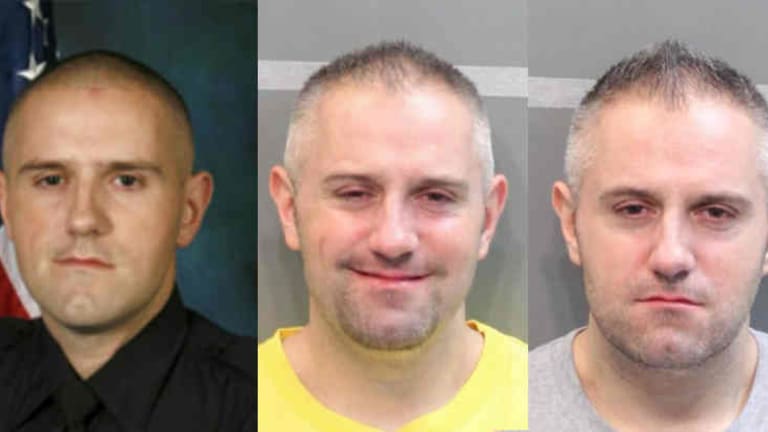 Drunken, Violent Cop Arrested Twice in Four Months. Keeps His Job and Gets Paid Vacation
"Go ahead, call the cops. They will believe me before you, because I'm a cop."
Chattagnooga, TN -- A Chatanooga police detective has been arrested, again, within a four month time frame and he's still being paid.
David Catching, 34, was arrested in September for suspicion of driving under the influence. He was reported to police for weaving in and out of cars, nearly striking many of them. Several beer bottles were found in his vehicle and he failed the field sobriety test.
The Times Free Press reported that Catchings tried to use his status as a cop to get out of the arrest.
"It should be noted during that during this entire incident, [his] mood changed from compliant to hostile," the affidavit read. "He advised several times that he was a cop and asked to try and work things out."
"He advised we were brothers and I should be arresting bad guys," the police officer present wrote in the affidavit. "He stated his aunt signs my paycheck and advised I was a rookie and didn't know anything about police work."
Apparently ending up in jail again was humorous to Catching, as his mugshot featured a smile.
On Wednesday, this stand-up guy landed in jail again but not for drinking and driving; this time it was drinking and beating, his mother-in-law.
According to the Times Free Press, Janet Ashford, told police that she woke up to find Catchings drunk on her couch around 3 a.m. When she told him to leave, she said, Catchings struck her with an open hand across her face.
Catchings called her a liar when she threatened to call police and said, "Go ahead, call the cops. They will believe me before you, because I'm a cop."
Despite the threat, Ashford called the cops, and Catching was locked up, again.
The department has promised a "second internal affairs investigation" into the violent drunken shenanigans of Catchings. Meanwhile Catchings gets to enjoy his $42,000-a-year salary, while he sits at home and puts back six-packs on the tax-payers' dime.
Ironically the police chief Fred Fletcher, said "I'm impressed with local law enforcement, that people are held to the same standards whether they are law enforcement or not."
But he is not being held to the same standards.
Catchings job is to enforce the law. However, he has been shown to be a failure at this, as he cannot even stop himself from breaking it. If he were employed in the private sector he would most assuredly have been fired by now.
If you are the fry cook at McDonald's and instead of frying french fries, you fry hamburgers, you will be fired.
If you are the greeter at Wal-Mart and instead of greeting people as the walk in, you punch them in the face, you will be fired.
Neither McDonald's, nor Wal-Mart would put you on paid vacation for doing the exact opposite of what you were hired to do.
However, if you are "an officer of the law," you get to enjoy being paid for a job that you do not have to do.