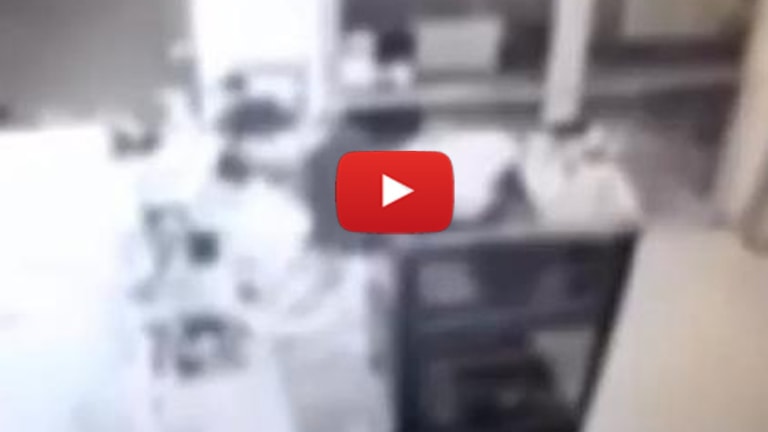 Cop Caught on Camera Savagely Beating His Girlfriend- Has Not Been Arrested
"The knee jerk reaction from myself was that this guy needs to be arrested and brought to justice- as a police officer... but when you step back and you compose yourself and you think - what needs to be done..." Chief Louis Kealoha said in a press conference regarding the incident.
Sgt. Darren Cachola, an 18-year, newly promoted, veteran at the Honolulu police department is under investigation after a video was given to police of him savagely beating his girlfriend in the restaurant she manages.
In the video, the sergeant is seen attacking and repeatedly punching the woman as she moved from room to room, until coworkers came and put a stop to it before the police arrived.
The officer has not yet been arrested, and his coworkers who responded at the scene did not arrest Cachola or open any criminal case. They are currently under investigation, but have not been removed from duty.
Cachola's girlfriend alleges that they were just playing around, however, this is not the first domestic violence complaint against the officer, Hawaii News Now reports.
The officers ex-wife, and mother of his children, filed two petitions for temporary restraining orders against him in 2002 and 2009. She also alleges he threatened to kill her if she went to police.
Cachola has been temporarily stripped of his police duties pending the investigation.
As we have previously reported-
Statistics show that 1 in 4 women in the US is a victim of domestic violence, those numbers jump to 1 in 2 if they are married to a cop.
Reporting domestic violence is scary, reporting domestic violence by your significant other to their coworkers and peers is even scarier, especially knowing how rare it is for an officer to cross the thin blue line against one of their own.
"Aside from the fear of violent retaliation, women abused by police can also have trepidation about costing their husbands their jobs and jeopardizing their own economic future," Diane Wetendorf, who wrote the victim handbook, "Police Domestic Violence." told SFGate.
The SFGate also reported that even advocates for battered women are reluctant to dive into domestic violence cases involving police for fear of alienating the agencies they rely upon for help in other abuse cases.
"Abusive police officers may use professional tactics of power and control in their intimate relationships. Not all abuse is physical violence. Lying, isolation, interrogation, surveillance and weapons are also used," Wetendorf explains on her website, Abuse of Power.
The Power and Control Wheel from her website breaks down how officers may misuse their police training.
If you are a victim of domestic abuse by a police officer there ARE resources to help and you aren't alone. Visit Abuse of Power for extensive resources and information that may help potentially save your life.