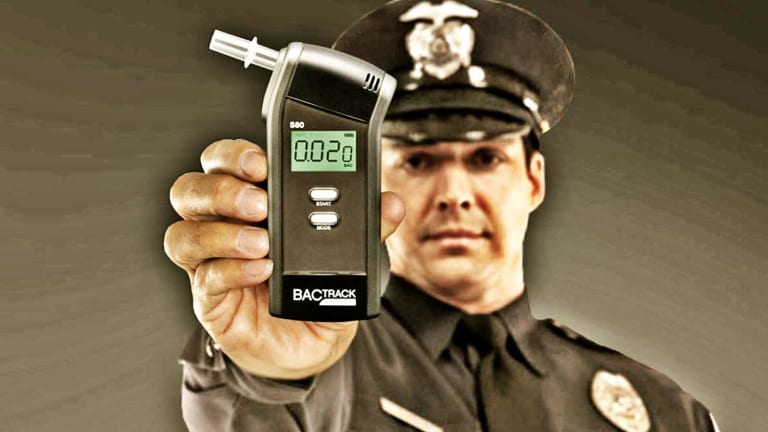 20,000 DWI Cases May Be Thrown Out After Cop Arrested for Tampering With Breathalyzers
More than 20,000 drivers may have been charged with false DWIs after the police sergeant who issued them was found tampering with multiple breathalyzers.
More than 20,000 drivers in the state of New Jersey could have DWI charges wiped from their record because a police officer was caught tampering with multiple breathalyzer machines.
Last year, Sgt. Marc Dennis, a coordinator in the New Jersey State Police Alcohol Drug Testing Unit, was accused of skipping a vital step in the calibration of breathalyzers on multiple occasions. It has not been specified in police reports whether or not Dennis had malicious intent. However, given how quickly criminal charges were brought against him, it seems that this is far more than a simple oversight.
While Dennis denies the accusations, he was allegedly identified tampering with these machines on three separate occasions. Lt. Brian Polite, a spokesman for the State Police, said in a statement after the arrest that a supervisor at the police department witnessed Dennis committing these crimes and reported him immediately.
"Once it was determined that there was a possibility of criminal charges being filed, it was then referred to Division of Criminal Justice," Polite said.
The following report shows the technical details of the alleged crimes:
This week, prosecutors have sent letters to over 20,000 drivers who were issued DWIs under his watch between the years of 2006 and 2008, saying that their case is under review and could possibly be thrown out.
"Sergeant Dennis' alleged false swearing and improper calibrations of these three instruments may call into question all of the calibrations performed by Sergeant Dennis over the course of his career as a coordinator," a copy of one of the letters published by NJ Advance Media said.
Dennis is now facing charges of second-degree official misconduct, third-degree tampering with public records and fourth-degree falsifying records. Dennis has not made any official statements to the public, but his lawyer said in a recent statement that they are confident the case will be won.
"At the end of the day, I'm sure he is going to be exonerated," Ebberup said.
The state police have insisted the part of the calibration process that Dennis skipped is "legally required but not scientifically necessary."
However, legal experts have voiced concerns about how important every part of the calibration process is, saying that these measures are "legally required" for good reason. Just a small percentage point on a breathalyzer could mean the difference between freedom and imprisonment.
Attorney and DWI expert Christopher Baxter said, "The science upon which the state obtained approval for the Alcotest device relies on proper calibration. Without proper calibration, the science behind the device's accuracy falls apart."
Jeff Gold, another DWI lawyer from New Jersey pointed out that, "Coordinators (like Dennis) are very important, and it's about all the citizen has to say the machine is working. Otherwise, it's a robot. That calibration is necessary, and small differences matter."
"If that temperature is off, if it is below that benchmark or higher, the simulator will emit more vapor and the reading is not gonna be accurate," Jonathan Marshall, a Monmouth County defense attorney told Pix11.
In addition to these charges and possible exonerations, Cherry Hill attorney, Lisa J. Rodriguez, has also filed a federal class-action lawsuit on behalf of the thousands of people who were convicted based on test results that were potentially faulty.