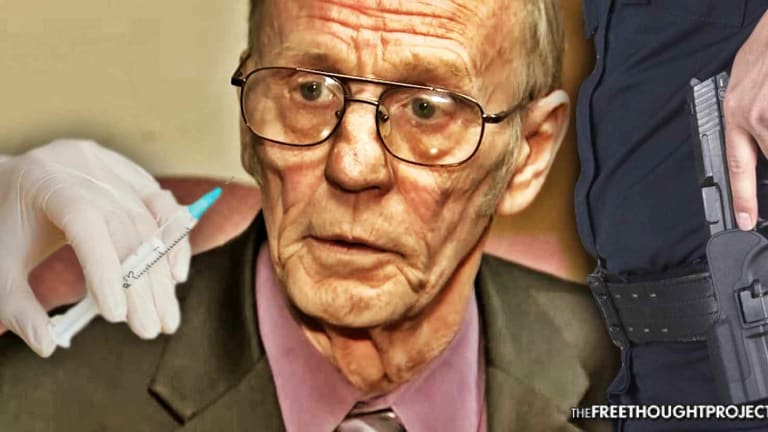 Govt Kidnaps Innocent Elderly Man, Forcibly Injects Him with Drugs—Gives Him $50 Gift Card for Steak
A senior citizen was kidnapped by police, taken to a local hospital, and forced to take injections of psychiatric drugs and they had the wrong guy.
Meadville, PA — Eugene Wright told reporters he still has nightmares about being kidnapped, caged, and forced to take drugs. The 63-year-old Meadville man says he was just minding his own business outside his home in June of 2017 when he was taken into custody by police at the request of Stairways Behavioral Health.
They claimed Wright was threatening people at a local physician's office but he told the police and the representative from Stairways that was impossible because he was at work. What happened next was nothing short of a living hell and resembled a scene out of 1984. Wright says he's now suing for having his civil rights violated. He said:
They explained to me earlier that day at 10 a.m. I was at an orthopedic office threatening people. I was at work.
While at the Meadville Medical Center he and his lawyers say he was injected with Halcion and Ativan, an anti-psychotic and an anti-anxiety drug. He described how utterly helpless he was to stop the assault on his health and his freedom. He said:
I was powerless. I had no control of what was going on down there.
Once doctors, and the hospital who should have first identified him correctly, realized they'd made a horrendous and horrific mistake, they apologized and gave him a $50 gift card to a local steakhouse—seriously.
Named as defendants in his lawsuit are the Meadville police, Meadville Medical Center and Stairways Behavioral Health.
The case will likely end with a judgment or settlement in Wright's favor. He will almost certainly win a large cash settlement, which if settled through the city's insurance company, will lead to higher taxes for the average Meadville citizen. Errors in judgment involving medical centers often end with multi-million dollar payouts. Sometimes the amounts are undisclosed while others are published.
But when police are involved, who arguably should be experts at determining a citizen's identity, the stakes are much higher. Not only do the police become agents operating in conjunction with private behavioral health organizations, they also rightfully earn the criticism of being strong arms of an ever-expanding police state.
Worse still, the hospital attempted to bribe the senior citizen with a $50 gift card. An elderly citizen's freedom taken away from him, his mental health was compromised by dual injections of medicines long believed to contribute to the deterioration of one's overall well-being, and they incredulously attempted to give him a meal and send him on his way.
The entire incident wreaks of fascism where an overbearing government along with corporations control the police to do their bidding. Wright's case is just an alarming instance of a much broader phenomenon where American citizens are seeing their rights, freedoms, and ability to choose their own health paths compromised by an all-powerful government and its police force.
For the skeptic, we provide the common occurrence of forced blood draws. Just this past fall we reported the case of a Mesa, Arizona woman who was kidnapped by police at a gas station, charged with a DUI, and taken to a local hospital where her blood was drawn for the purposes of using her blood against her in a court of law. She had committed no crime and they found nothing in her blood.
Wright's case is just the latest in a string of judicial overreaches involving citizens' health. One only has to recall the Utah case of the unlawful arrest of a Salt Lake City nurse who refused to cooperate with police—who were intent on forcibly drawing a patient's blood without his consent—to conclude the police state is growing larger and more powerful, emboldened by an inability to control itself and its agents.
The Utah nurse's plight, captured on cell phone footage, serves to illustrate the extent at which officers of the peace will go to take something that does not belong to them (blood) and use it as a judicial weapon against the citizen. It's incorrigible, disgusting, and horrific for everyone involved, especially those, like Wright, who are kidnapped, caged, and sometimes killed for resisting such sadistic attempts to force them to comply.