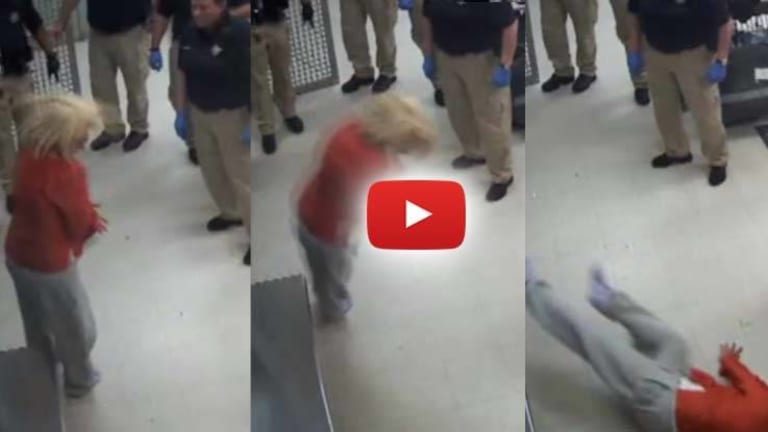 VIDEO: Elderly Woman Tasered, Her Arm Broken, for Not Removing Her Earrings Fast Enough
For not removing her earrings fast enough, this elderly woman was subject to a torturous 50,000 volts.
Chattanooga, TN — When 60-year-old Nancy Mason was in the process of being booked into the Hamilton County, Tennessee, jail on theft charges she refused to remove her earrings quickly enough setting off a violent chain of events. For not complying fast enough, Sheriff's Sergeant Rodney Terrell tased her — sending the woman crashing to the ground, landing on and breaking her arm in the fall.
Before being booked, Mason is ordered to remove her jewelry but refuses to do so. "I will report you," she says to Terrell. Terrell, can be heard saying, "Report all you want, I will not keep telling you."
Then he fires his taser.
"You broke my arm," Mason says in video footage, clutching her wrist in disbelief, after recovering from the fall.
"I didn't break your arm, you broke it," the officer retorts.
Meanwhile, despite Mason's complaints of pain, a group of officers stands around and makes no move even to offer medical assistance.
This exchange is now the subject of a $1.75 million lawsuit for the 'alleged' use of excessive force by Terrell, and the failure by him and four other sheriff's deputies, as well as the arresting Chattanooga police officer, to adequately protect her from harm. Mason had, in fact, suffered a fracture of her wrist — which she is still recovering from.
According to local ABC affiliate News Channel 9, Mason's attorney, Robin Flores, said, "She was deprived of due process in that she was in a helpless position, or was in the care and control of the government actors, and they failed to protect her."
The lawsuit names the City of Chattanooga and Hamilton County for failure to "properly train its officers and agents to intervene and prevent injury."
Despite the suit — and an internal affairs investigation by Hamilton County of the incident — all officers involved remain on the job in their same roles.
The Hamilton County Sheriff declined to comment due to the pending legal case and the City of Chattanooga. only saying that "their officer did nothing wrong," reported Channel 9.
"Whenever there's a constitutional wrong done to one person, it's going to be done to everybody and someone needs to step in to help," said Flores, according to WRCBtv. "Lawyers are usually in the best position to do that."
After this unjustifiable exchange, Mason now feels about cops the way many across the United States have unfortunately concluded after experiencing excessive force. According to Flores,
"She fears police, she fears being around them and she fears seeing them."