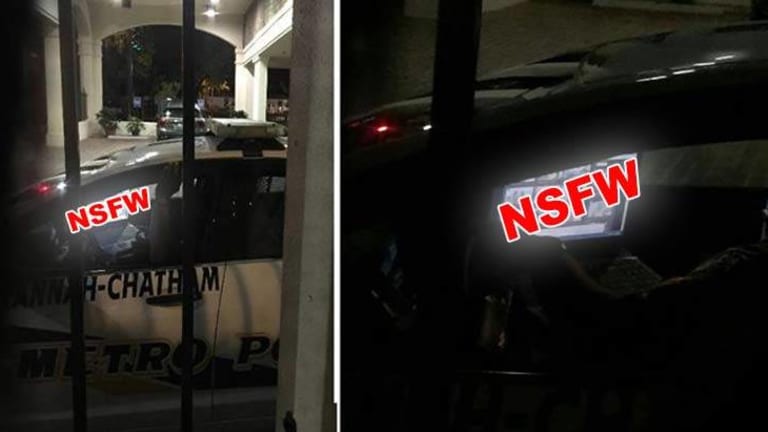 Well that's Embarrassing. Citizen Photographs Cop as He Watches Porn in his Patrol Car
The tax-payers of Savannah will be happy to see how their hard-earned money is being spent to keep them safe.
Savannah, GA -- A watchful citizen was walking down Bay street in Savannah's Historic District, when they saw something that caught their eye.
A Savannah-Chatham police officer was conducting a bit of "online research." The officer allegedly appeared to be "investigating" a popular porn video website.
This vigilant citizen caught this officer hastily taking in all the porn he could as he sat in the loading zone of the Hampton Inn.
The images were uploaded to popular image hosting site, Imgur, Monday and they paint a pretty damning picture of this officer's alleged on-duty porn habit. 
Watching pornography while at work is no big deal if you are self-employed or if your employer is somehow okay with you doing it. However, this man's employers are the tax paying citizens of Savannah, and they would likely take issue with paying a public servant to sit in his car to peruse porn sites all night.
Coincidentally this is not the first time in recent history that a Savannah-Chatham cop has been caught being NSFW at the workplace. In January of 2013, officer Harold Moore was fired after being caught soliciting sex through Craigslist while on-duty and from his department issued laptop.
These people are cops, how on earth do they think that they won't get caught using police laptops for such purposes? Perhaps that's why this latest officer was parked at the Hampton Inn, he may have bypassed the police server by taking advantage of the hotel's Free Wifi.
Maybe this officer was fantasizing about being like Trooper James Randy Moss, who served 4 years of probation for his idiotic and hilarious actions, after stopping Justis Ellen Richert, who's known in the porn industry as Barbie Cummings.
Cummings said she told the trooper about her job and sat beside him in the front seat of his cruiser as he checked her Web site from his state-issued laptop, then said yes when she offered him oral sex.
Cummings said the trooper shot photos and video of the act with his cell phone and sent her copies. Then the world's dumbest cop asked her to put them on her blog so he could brag about it to his buddies on the force.
And, he still wrote her a ticket.