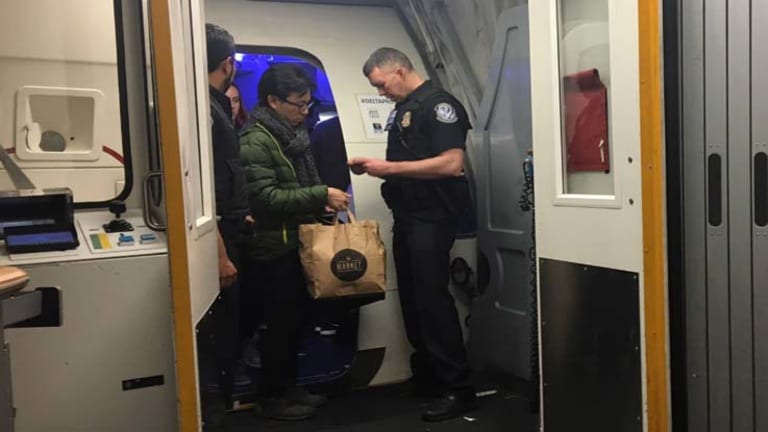 Entire Domestic Flight Detained, Forced to 'Show Papers' as ICE Looked for Non-Existent Immigrant
Travelers entering New York City after a cross-country flight were met by border agents who insisted everyone show them official identification.
New York, NY -- (RT) Travelers entering New York City after a cross-country flight were met by border agents who insisted everyone show them official identification. They were seeking to serve a deportation order on an illegal immigrant.
On Wednesday, Immigration and Customs Enforcement (ICE) alerted Customs and Border Protection (CBP) at John F. Kennedy International Airport in New York City that an undocumented immigrant was suspected to be arriving on Delta flight 1583 from San Francisco.
CBP officers were at the gate to check every deplaning passenger's ID, until they identified the person ordered to be deported by an immigration judge.
Officials say the suspect, who was convicted for domestic assault, driving while impaired, and violating an order of protection, was not found on the plane.
In a Thursday statement from CBP, they said that the agency "often receives requests from our law enforcement partners to assist in various ways, including identifying a person of interest. CBP will assist when able to."
Jordan Wells, a staff attorney with the New York Civil Liberties Union, said that this is not an ordinary occurrence.
"They'll occasionally pull someone off of a flight, or officers will come on and make an arrest," Wells told the Independent. "It's a much more surgical thing than setting up a dragnet. That's what is so alarming about the way that this played out."
Matt O'Rourke, a passenger who was asked to show his ID, said that a flight attendant repeatedly told the plane full of passengers to have their identification.
"I flew almost 200,000 miles last year," O'Rouke told the Gothamist. "I've never had my ID checked getting off a domestic flight."
Another passenger on the flight, also named Matt, said that agents did not seem to be looking for anyone in particular. "There was an older couple behind me, probably in their 70s. They gave my ID and theirs the same amount of scrutiny," Matt, who did not give his full name for fear of retribution, told the New York Daily News. "I want everyone to be safe, but I also want to protect everyone's civil liberties," he said. The search prompted two passengers to post pictures of the event on Twitter, which quickly went viral, with everyone from Chelsea Clinton to Edward Snowden retweeting the images.

On Friday, a CBP spokesperson told Rolling Stone that the ID check was "consensual" and that officials "did not compel" anyone to show their ID.
However, the CBP's search authority rules do not mention passengers traveling on domestic flights are subject to searches.
"CBP has the authority to collect passenger name record information on all travelers entering or leaving the United States," the CBP website says.
Under the Trump administration, the Department of Homeland Security has issued new guidelines that empower customs agents to have "full authority to arrest or apprehend an alien whom an immigration officer has probable cause to believe is in violation of the immigration laws."
Two memos from DHS outlined new "expedited removal" rules in accordance with Trump's executive orders on immigration that would allow any illegal alien to be deported at any time.