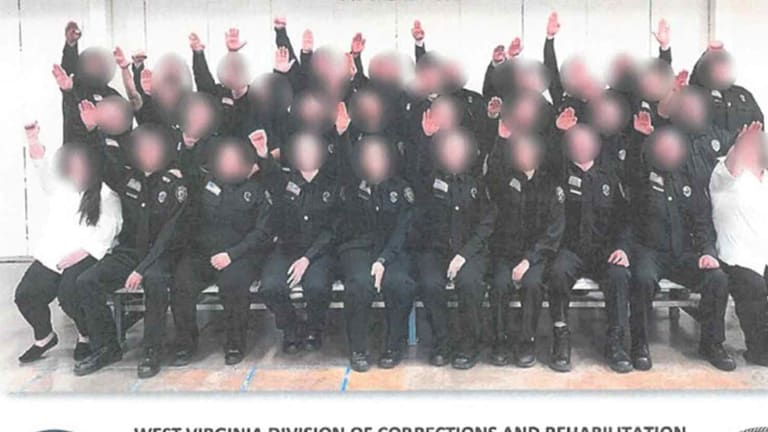 Entire Officer Training Class FIRED for Proudly Giving Nazi Salute in Class Photo
Likely reacting to outrage across the country, an entire class of officer trainees has been fired after posing for disturbing photo giving a Nazi salute.
West Virginia — Not one officer, not two, or three or even a dozen, but 37 future employees of the West Virginia Division of Corrections and Rehabilitation all raised their right arm in a Nazi salute and documented it with a photo. The incident, which goes far beyond just poor taste, subsequently became the subject of an investigation and multiple employees were suspended after the photo came to light. Now, in the only move that would have been acceptable, every one involved with taking the photo and posing in it has been fired.
Earlier this week, Gov. Jim Justice announced today that he has received and reviewed the official report completed by the West Virginia Department of Military Affairs and Public Safety related to the West Virginia Division of Corrections and Rehabilitation Academy Class 18 and has approved the recommendations submitted by DMAPS Secretary Jeff Sandy, according to BREAKING: Gov. Justice approves firing of all involved in Nazi-like salute
" target="_blank" rel="noopener noreferrer">WVVA.
"I have reviewed the factual information regarding this incident that was provided by Secretary Sandy, and have approved all of his recommendations," Gov. Justice said. "I expressed my thanks to him and the entire Department for quickly getting this report done.
"As I said from the beginning, I condemn the photo of Basic Training Class 18 in the strongest possible terms. I also said that this act needed to result in real consequences – terminations and dismissals. This kind of behavior will not be tolerated on my watch in any agency of State government.
"We have a lot of good people in our Department of Military Affairs and Public Safety. But this incident was completely unacceptable. Now, we must continue to move forward and work diligently to make sure nothing like this ever happens again."
This swift action and show of accountability is welcomed and needed in more placed around the country.
As we reported earlier this month. he disturbing image shows the class members sitting in three rows all simultaneously giving the salute with text above them that reads "HAIL BIRD!" The state Department of Military Affairs and Public Safety, which released the photo of the salute, says the text refers to a training instructor in the class.
"This behavior warrants an immediate investigation and anyone who participated in any hateful and disgusting action should not be able to work for or be paid by the federal or state government and should be removed from their position immediately," Sen. Joe Manchin said at the time.
While it is not very likely that this entire class of future corrections officers giving the salute embraces Nazi history and white supremacy, it is possible. The very idea, however, that they would think it is okay to take a photograph embellishing the salute and symbol which epitomizes the antithesis of all that is good and free, is disturbing to say the least. It also illustrates a very serious problem and disconnect between the police and the policed.
These people apparently had no problem taking a photo that showed them giving a salute. They documented it! How many classes before theirs conducted similarly disturbing photographs?
It is also important to point out that this was not just a random photograph on someone's phone for laughs, it was the official photo for the class with the state seal emblazoned on it.
With the racial disparity in American law enforcement ruining the lives of minorities by the thousands, a photo of future law enforcement officers all giving the Nazi salute does irreparable harm to community relations.
What's more, wile the idea of cops giving the Nazi salute may sound shocking, it is anything but isolated. TFTP has reported on numerous incidents in which cops were outed as Klansman and neo nazis.
Just last August, Muskegon police officer Charles Anderson was been placed on paid vacation and not fired after racist KKK memorabilia was discovered in his home. Although he wasn't seen giving a Nazi salute, he was found with an "Application for citizenship into the Klu Klux Klan" hanging on his bedroom wall.
Also, as we previously reported, a Florida deputy police chief was exposed as a member of the KKK , and no criminal wrongdoing was found as he resigned. In September, a Louisiana police detective was also caught in a photo giving a Nazi salute at a KKK rally. And an Alabama police officer recently spoke at a League of the South rally.
While the South has been fertile ground for racist groups, the KKK has penetrated many police departments around the country, as evidenced by the Lynwood horror in Los Angeles.
Larissa Moore and four of her law school colleagues performed an investigation of unsolved civil rights murders from 1946 to 1969, under a Syracuse University program, and confirmed an ugly truth.
During the Civil Rights movement, one of the KKK's first orders was to infiltrate police departments, "because the laws don't apply to them if they are the law," according to Moore.
This echoes an FBI statement in 2006 that white supremacist groups "have historically engaged in strategic efforts to infiltrate and recruit from law enforcement communities." The federal agency's concern seems to be selfish, though, as it stated that the hate group's actions cause "investigative breaches and can jeopardize the safety of law enforcement sources and personnel."