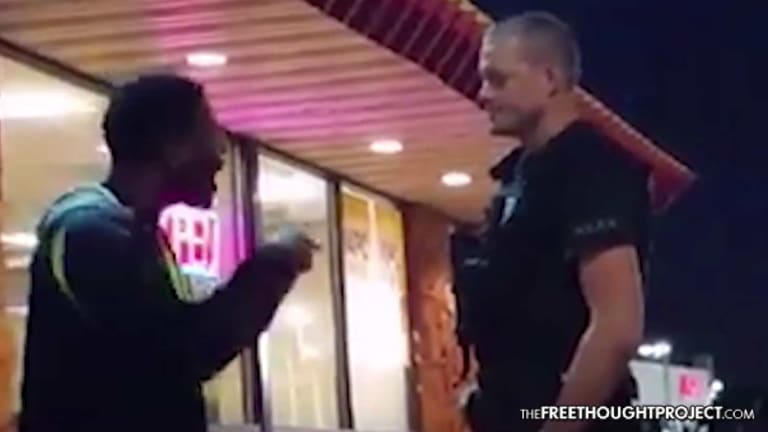 WATCH: Man Owns Cop for Planting Drugs On Him, Gets All of His Charges Dropped
A Columbia, MO man angrily confronted one of two cops he said planted drugs on him. He recorded the confrontation and the charges were later dropped.
Columbia, MO -- Lawrence Lawhorn believes Columbia police officers Chris Papineau and Ryan Terranova planted methamphetamines in their patrol car during a recent arrest. They accused him of putting it there and charged him with possession of narcotics.
Lawhorn was under arrest for an unrelated incident, but was not going to take the possession charges lying down. Not content with waiting until his day in court to prove his innocence, Lawhorn confronted Papineau to his face in a Columbia parking lot. The entire confrontation was captured on video in what looks like a scene from HBO's The Wire.
"You are crooked. You planted drugs on me," Lawhorn told Papineau to his face. "I'm tired of you flagging us down, accusing us of being crooked," the officer exclaimed. "I didn't plant shit on you," Papineau said.
"You did and I got the tape to prove it," Lawhorn replied. The officer challenged that claim saying, "Go ahead and prove it."
"You going down! That's all there is to it," an apparently angry Lawhorn exclaimed, adding, "the next time you get violent with a citizen, you're going to be in trouble. He's taping!" Lawhorn motioned to a friend who was recording nearby.
The officer, who arguably remained calm during the confrontation, told Lawhorn again he's tired of the angry citizen questioning his integrity and honor. Lawhorn fired back, "You shouldn't have planted the dope."
Papineau even tried, apparently, to throw his fellow officer under the bus so to speak. He asked Lawhorn, "Who got you out of the car?" "Terranova," replied Lawhorn. "Who found the dope?" the officer asked. "Terranova," said Lawhorn. "So, why are you sitting here accusing me of anything?" Papineau asked.
"You want me to tell you why I'm accusing you of putting it there?" Lawhorn asked. "You told another officer that you did it. I got it on tape," he said.
Lawhorn reminded Papineau he had been properly searched "for three and a half minutes" before being placed into the police cruiser. He also told the officer there was no way, humanly possible, he could have placed the drugs so far up under the seat, all the while handcuffed inside the cruiser. He also said his DNA should be on the bag of drugs.
Lawhorn continued screaming, at the top of his lungs, at Papineau. "Your ass is grass bro...you're going down in a court of law man...you fucked your career up...you're the dirtiest type of cop there is man...you're trying to take me from my family...you're going down for it. I will die making sure you go down for putting that dope on me."
As if Lawhorn could get any angrier, he arguably lost it after Papineau told him, "Well, I'm not the one with a drug history." That seemed to incense Lawhorn. "You stupid motherfucker! One! I don't have a drug history!" Lawhorn exclaimed.
"Now research my background...You dumb motherfucker. You're in the worst type of trouble in the world man...you are going down. You have fucked up your career. I promise you won't serve in this city...you're a corrupt cop. We paid you to protect and serve. You are wrong!" Lawhorn cried aloud.
"I'm not done until you are removed from your official capacity and are incarcerated," he promised.
According to Citizens for Justice, the video spurned an internal investigation. Following the outcome of the investigation, Papineau and Terranova reportedly went to the prosecutor's office and stated they believed they were in error and that the vehicle had not been properly searched prior to the arrest.
At the end of the video Columbia PD's Internal Affairs Sergeant Brian Tate, whose voice is reportedly captured in a recording, can be heard confirming the two officers did, in fact, tell the prosecutor they had not properly searched the patrol car prior to putting Lawhorn inside. That statement led to all charges against Lawrence Lawhorn being subsequently dismissed.
The video was released following recent news, as TFTP reported, of at least one Baltimore police officer caught red handed planting drugs in a bottle in the backyard of someone's home. Both videos will arguably provoke a larger discussion of the possibility some police officers will stop at nothing to get an arrest, even do the unthinkable and arrest innocent people for crimes they themselves committed.
Taken in a larger context, the video may serve to illustrate citizens do not have to take false allegations and false charges lying down. They have a right to fight back, although care must be taken in confronting any person who has a badge and a gun. To many, Lawhorn may go down in history as a champion for justice and bravery. We're glad he didn't just take it and roll over, hoping for the justice system to set him free as that almost never seems to happen.