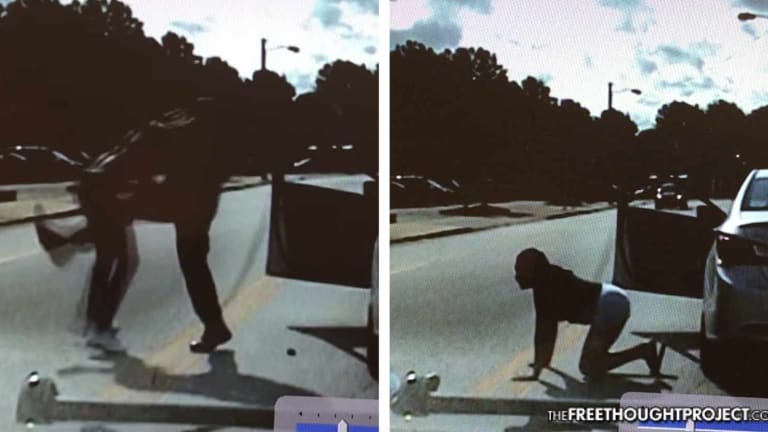 Protesters Swarm City Hall After Dashcam Shows Cops Pulverize Man Over Suspended License
Residents of Euclid, Ohio express outrage at the beating of a motorist and the recent killing of a man in an officer-involved shooting.
Euclid, OH — Following the release of a video which went viral showing police assault a motorist who was allegedly driving with a suspended license, many members of the city of Euclid, Ohio are demanding answers from police.
Dozens of protesters have taken to the street outside city hall in an apparent effort to express their disapproval of the traffic stop which, according to the video, showed police beating a man for nearly four minutes.
Richard Hubbard III is the man receiving the beat down by police. He was subsequently arrested, as TFTP reported, on resisting arrest and driving with a suspended license charges.
It's unclear if the violent arrest was racially motivated, but in the minds of some residents, there is hardly a doubt. Rian Brown, one of the protest organizers, explained his reason for protesting outside city hall:
The reason I am here is because of the failure of leadership...The city government fails to respond to black folks. This is nothing new. This is something we are seeing all across the country.
The protest was timed to coincide with a Euclid Community Relations Task Force meeting, which took place after the gathering. According to Cleveland.com, once the meeting started, residents did not hold back their disapproval of the way police handled Mr. Hubbard:
Those in attendance scolded the city's leadership and the police department for not protecting communities of color equally and questioned whether the task force would actually listen to residents.
The city's residents are also still reeling from an officer-involved shooting which left Luke O. Stewart dead, killed in March about 7 a.m. on East 222nd Street near Milton Avenue. Stewart, 23, was shot after officers responded to investigate a suspicious vehicle found in the area. Tierra Stewart, Luke's sister is still in disbelief. She addressed leaders at the community meeting saying:
I don't understand how they just kill somebody and don't say nothing...It's just not fair. My brother has two small kids who look for their father every day. All we can tell them is 'the police killed him'... I'm just outdone.
Euclid Mayor Kirsten Holzheimer Gail attended the meeting, took notes, remained silent, and later commented to members of the media:
I can understand the frustrations that they have...This was a starting point. I want to be able to understand that better. The police are under an enormous stress and the community is under stress when we have safety issues.
Gail reminded the community that both incidents are under investigation. However, for residents who have been rocked by not only the killing of an apparently innocent man, but have witnessed a man be beaten by police, answers are apparently not coming soon enough.
As TFTP has reported on numerous occasions, police often investigate themselves when citizens are killed or beaten, often siding with their own officers, clearing them of all wrongdoing. It's often only when citizens are outraged, participate in citizens review boards, or vote out their sheriffs that change takes place.
TFTP will continue to monitor the proceedings of the investigation in Euclid and we will bring you updates as they become available.
As you watch the video below, remember that this was not over a murder, a rape, or a robbery. The man being attacked by police in the video below was beaten and arrested for driving with a suspended license — like due to the fact that he's been preyed on consistently and mounted so many citations for victimless crimes that he is unable to get the ban lifted on his driving privileges.
In the land of the free, poor people and minorities serve as easy targets for revenue collection. However, if you make one wrong move or even flinch during your extortion, you will be dealt with by police using extreme prejudice.
Below is the video of protesters taking over Euclid City Hall.
Original cellphone footage of the stop.