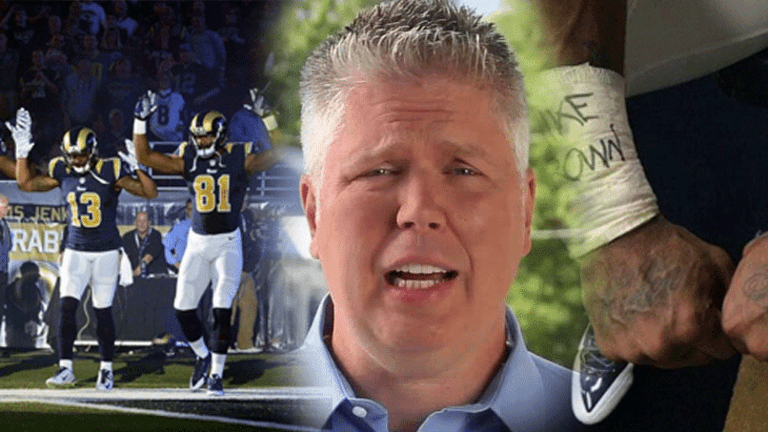 Ex-Cop with History of Lying to Protect Crooked Cops Wants Rams Players Punished for Free Speech
St. Louis, Mo. – Sunday afternoon Rams players Stedman Baily, Tavon Austion, Jared Cook, Chris Givens and Kenny Britt entered the football field with the "hands up, don't shoot" gesture as a means of showing solidarity with the Brown family and the Ferguson community.
This bold political statement by the players was immediately condemned by the St. Louis Police Officers Association (SPLOA). The group released a statement on Sunday evening labeling the players exercising of their First Amendment rights as, "tasteless, offensive and inflammatory."
Jeff Roorda, the SPLAO Business Manager, went on to say in the statement that the players need to be disciplined, and that the Rams and NFL should make a public apology.
Just so we're clear here, the St. Louis police want the Rams and NFL to apologize for players exercising their right to self-expression, but Darren Wilson doesn't have to apologize for killing a kid; typical cop logic.
In an interesting twist, it turns out Roorda is a disgraced ex-cop that was fired for misconduct in 2001. He was fired from the Arnold, Missouri police department for misconduct after having been warned previously about lying after he was found to have lied in a police report to cover for fellow officers, according to Raw Story.
According to court documents, Roorda attempted to:
"…try to 'cover for another police officer by filing a report that contained false statements as to what happened during a suspect's apprehension and arrest. As a result of this false report, all charges against the defendant were dropped."
The court went on to say, Roorda was told, "If it is ever determined again that you have lied in a police report, you will receive a more severe punishment, up to and including termination."
Roorda, who was later elected to the Missouri House of Representatives, worked to make Missouri law less transparent in regards to police activity by introducing an amendment that would "prevent the public from obtaining 'any records and documents pertaining to police shootings' … if they contain the name of any officer who did the shooting," according to MissouriWatchdog.org. The action would have covered officers that weren't even on duty when they committed a shooting.
If Roorda had his way, no one would be able to even find out which cops are shooting citizens unless they were actually criminally charged, which we all know rarely ever happens.
He attempted to roll back the Sunshine laws that provide transparency and accountability for police officers to the public they serve. He was also one of the main proponents fighting to not allow body and dash cams on officers stating,
"Instead of the cameras being there to protect the officers, they get disciplined for petty stuff constantly — for violating the uniform code, or rolling through a stop sign for an urgent call, or for not turning the camera on. That's one of the hottest issues for my guys. They're tired of the nitpicking, and that's what the cameras have been used to do."
It was also revealed that Roorda was one of the biggest fundraisers for Darren Wilson, who received over $500,000 in donations.
So lets recap, Roorda has been terminated as a cop, proven to lie to protect fellow officers, wants less accountability for officers, uses his political position to attempt to stop officers from having to wear body cams and was one of the largest fundraisers for Darren Wilson.
This doesn't sound like someone who cares in the least about the public, but rather is simply a police lackey that is a major proponent of the ever-expanding police state and who doesn't want officers held accountable for their actions.
He has lied to cover for other cops, pushed legislation to roll back Sunshine laws and fought against the use of cams on cops. Let's be honest, after seeing Roorda's disgraceful record, does anyone really care what Roorda and the SLPOA thinks about football players expressing solidarity with protesters or the Brown family?
Jay Syrmopoulos is an investigative journalist, freethinker, researcher, and ardent opponent of authoritarianism. He is currently a graduate student at University of Denver pursuing a masters in Global Affairs. Jay's work has previously been published on BenSwann.com and WeAreChange.org. You can follow him on Twitter @sirmetropolis, on Facebook at Sir Metropolis and now on tsu.