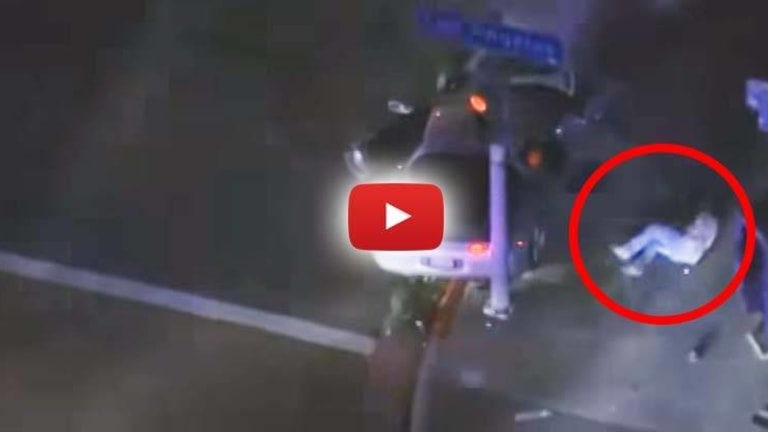 Ex-Cops Suing to Get Jobs Back After Fatally Shooting Unarmed Motorist in the Back on LIVE TV
After indisputable evidence was broadcast on TV's across the country of their crimes, two LAPD cops want their jobs back.
Los Angeles, CA -- The public is constantly told that no police officer wants to use lethal force, and that pulling the trigger is a tragic and traumatic experience for an officer. The officer is entitled to sympathy and understanding as he deals with the unbearable burden of knowing that he has ended a human life. At least, that is what the public is told.
An entirely different and much more compelling message is sent by officers who kill without justification, lose their jobs as a result – and then sue to get them back. The most recent of countless cases of this kind involves former LAPD Officers Michael Ayala and Leonardo Ortiz, who were fired after gunning down an unarmed driver from behind on live television following a high-speed chase -- and are now demanding to be given their jobs back.
Brian Beaird, a 51-year-old diagnosed with schizophrenia and related afflictions – including complications from surgery to remove a brain tumor -- suffered a breakdown on December 13, 2013 that led to a lengthy high-speed police pursuit in downtown Los Angeles. At least three agencies joined in the chase, which began as a suspected drunk-driving incident. Beaird was on the phone with his 80-year-old father during the hour-long ordeal, and frantically told him he had no idea why the police were on his tail. Bill Beaird repeatedly pleaded with his increasingly frantic son to pull over.
After crashing his silver Corvette into another car, the battered and bewildered man emerged from his vehicle with his hands above his head. As he approached the rear of the car he was gunned down by Ortiz, Ayala, and a third officer named Armando Corral, who fired a volley of at least 20 shots. The victim's back was turned to the officers and he was fleeing when he was killed. Bill Beaird watched the violent death of his son on live television.
The crash occurs just after the 20:30 mark.
No weapon was found on the victim's body or in his car, which displayed a license plate noting his disability. A police official subsequently told the Los Angeles Fox affiliate that the shooting might have begun when one of the officers panicked after hearing a comrade fire a "non-lethal" beanbag round. Following the standard "throw everything at the wall and see what sticks" approach to justification, officers on the scene also claimed to have seen Beaird reach for his waistband, a claim not validated by the video.
Under California law (Section 3300-3303, the so-called "Police Officers Bill of Rights"), police disciplinary actions are treated as confidential. "I did not believe that they faced a credible threat," Beck explained. "I did not agree with their judgment that the threat that they faced was a credible deadly threat." Officers Ortiz , Ayala, and Corral were terminated for unspecified "misconduct" after Chief Charlie Beck determined that the shooting was "not justified." (Corral has not joined in the lawsuit filed by the other ex-officers.) A law enforcement source confirmed to the Los Angeles Times that Chief Beck's ruling was the reason for the termination.
No criminal charges were filed against the officers when the DA's office ruled that "there is insufficient evidence to prove beyond a reasonable doubt" that the killing was not an act of self-defense.
"Although Beaird did not have a weapon and did not actually pose a threat to the officers at the time he was shot, no criminal liability attaches to their actions unless the prosecution can prove beyond a reasonable doubt they were not actually and reasonably in fear for the safety of themselves or others when they fired their weapons," wrote Los Angeles County DA Jackie Lacey. The subjective belief that the victim posed a danger was supposedly proven by the statements offered by the trigger-pullers, and were "corroborated … by non-shooting officers," Lacey insisted.
A police shooting is "legally justified" is officers who are indoctrinated to see the public as a threat to "Officer Safety" claim that the unarmed victim scared them. Once the demands of "qualified immunity" are satisfied, the costs of indemnifying the victim's family are absorbed by the tax-paying public supposedly served by the killers. Thus the Los Angeles City Council approved a $5 million settlement with Beaird's father.
"They shot my son in cold blood," the grieving father declared after the settlement was announced. "I would not trade my son's life for every nickel in L.A. He means that much to me. I could not believe what I saw."
That hugely expensive settlement didn't close the matter, nor did it put an end to the costs inflicted on taxpayers by Ortiz and Ayala. Last November, they filed a lawsuit demanding reinstatement, claiming that their termination was an "abuse of discretion" by the department.
For Ortiz and Ayala and others of their ilk, gunning down an unarmed, fleeing, mentally ill man is a "righteous kill," but depriving them of the chance to repeat that experience is an untenable "abuse of discretion." If they suffered from the decent remorse over killing described in police union propaganda, they would be thanking Chief Beck for relieving them of the privilege of killing, rather than suing him to have it restored to them.