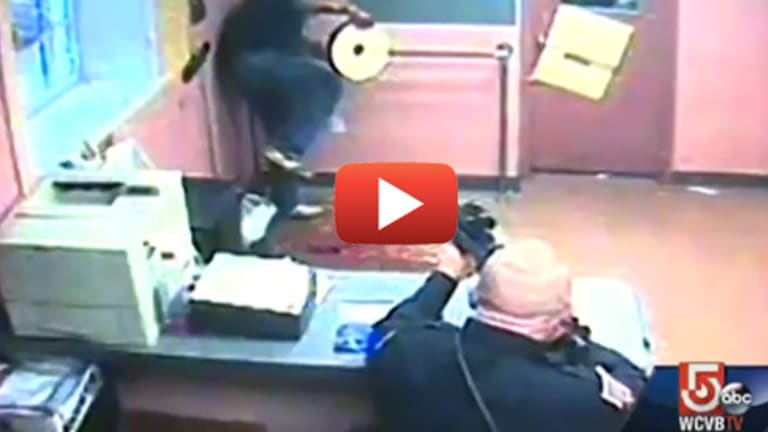 If You Look Up Excessive Force in the Dictionary, There Would Be a Picture of This Scene
"The video should be used as a training video in any police academy to train novice police officers what not to do."
July 12, 2014
A holding room video in from Bellingham police department shows two officers hyper-escalating violence on suspect Joseph O'Brien, who has one arm handcuffed to a bar and was wielding a telephone as a weapon in the other.
The officers basically throw everything they have at O'Brien short of lethal force.
The barrage started with baton blows, blow after blow landed on the head, body and arms of O'Brien.
Next came the pepper spray, at least a half dozen doses were dished out into O'brien's face.
Obviously O'Brien doesn't want this to happen to him, so he resists as much as he can with one arm handcuffed to a wall.
According to WCVB Boston, when the baton blows and pepper spray doesn't work, the video shows a police officer from Franklin, Mass., shocking him with a Taser twice.
"Why was I brought here?" asked O'Brien on the video
"Because you're under arrest," answered an officer.
"For what?" O'Brien asked.
"You know what, tase him," replied an officer.
Then another Bellingham officer, Sgt. Richard Perry, opened fire three times shooting bean bag bullets, a less than lethal weapon. Eventually, a K-9 dog is brought in!
"It should have never escalated to this point. He should have been placed in a holding cell," says Boston Police Lt. Tom Nolan.
The sheer length of this violent assault is baffling. For two hours, these officers beat, tasered, maced, and shot at this man, without thinking of some other way to defuse the situation. The incompetence is rife throughout the entire incident.
O'Brien suffered multiple head injuries, head trauma, facial injuries, and several broken ribs.
O'Brien is no angel. Officers found him sleeping in a ditch high on Ketamine. However, had they simply left him there, he would have been much better off.
One of the officers in the video is also facing accusations of excessive force from just two months ago.