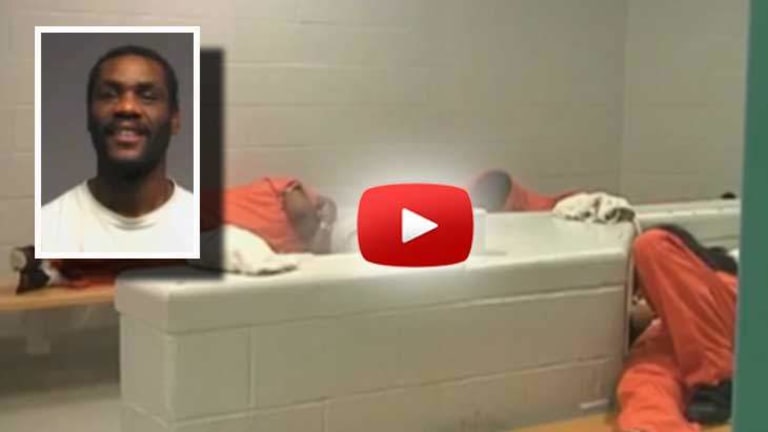 Exclusive: "Cops Killed My Disabled Brother" How Cops Starved Mentally Ill Man to Death
A New York Sheriff refuses to release surveillance footage that could implicate his guards in the torture and murder of Yasir Barton.
Broome County, NY - Following the death of his father, Yasir Barton and his family arrived at the Broome County Jail in New York last year to visit his incarcerated brother and tell him about their father's passing. Although the guards initially refused to allow them visitation, Yasir explained that his developmentally disabled brother should hear the news of his father's death from his family, not the guards.
After finally receiving permission to see his brother, Yasir was horrified to see how malnourished and emaciated his brother had become while waiting for his court date. When Yasir asked his brother what had happened to him, Salladin Barton admitted the deputies had been abusing him.
"The guards are gonna kill me," Salladin Barton pled with his family. "You gotta get me outta here!"
Seven months later, Barton was found dead in his jail cell. According to his fellow inmates, Barton complained of feeling dizzy before collapsing onto the floor. Instead of immediately responding, medical personnel have been accused of leaving Barton unattended on the floor for an unreasonable amount of time.
Although Barton's autopsy found his death medically inconclusive and four toxicology tests discovered no drugs in his system, the sheriff refuses to release his medical records or the surveillance videos that recorded his cell. Broome County Sheriff David Harder also refuses to disclose whether his deputies entered Barton's cell the day before his death and administered a brutal beating against the disabled man.
Developmentally disabled and suffering significant mental illness, including schizophrenia, Barton had spent much of his life in and out of jail for minor incidents. According to Yasir, his brother had previously been incarcerated at Broome County Jail and had gotten into trouble with the guards. Yasir recalled the guards had broken his brother's hand years ago during a prior incarceration.

On June 10, 2013, Barton was incarcerated on a probation violation, as well as felony counts of first-degree robbery, second-degree robbery, and fourth-degree grand larceny for allegedly stealing a man's pocket change.
Barton had been in jail for 19 months awaiting trial when he died.
Although Sheriff Harder claims Barton never filed any complaints, Barton frequently filed medical slips objecting to his lack of medical treatment and constant abuse by jail staff. Shortly before his death, Barton wrote on one slip, "I need to find out why I am still having seizures, still dizzy, still see all colour dots, my grain [migraines], headaches, still bleeding all over, can't sleep that good… I am starven because some workers won't give me my meals on purpose."
After receiving letters from a half-dozen inmates who witnessed the incessant abuse against Barton, his family filed a lawsuit against Sheriff Harder, jail administrator Mark Smolinsky, and the unidentified guards responsible for causing Barton's death. According to the lawsuit, Barton had been repeatedly punched, kicked, stripped naked and left in his cell by guards who continuously directed death threats, racial slurs, and sexually degrading threats against his family.
Witnesses reported seeing the guards often placing Barton's food just out of reach and returning later to throw it away in front of him. Although Barton's fellow inmates began sharing their food with him, he developed an adverse reaction to his medication because he was no longer eating full meals. On multiple occasions, Barton was seen banging his head against the cell bars as guards taunted him and threatened to rape his wife.
While waiting for nearly two years for his day in court, Barton began having seizures in jail. Medical personnel have been accused of leaving his seizures untreated, while the guards allegedly busted Barton's head open requiring staples to close the wound.
On January 14, several officers reportedly entered Barton's cell to administer another vicious beating. According to Sheriff Harder, Barton called his public defender the next day. Twenty minutes later, Barton, 35, was found dead in his cell.
Although the jail is equipped with a 24-hour video surveillance system, Harder claims he has not watched the footage from Barton's cell and refuses to release the video to Barton's family or the public. The sheriff has been accused of having knowledge of the abuse against Barton and doing nothing to stop it. As the jail administrator and a Correctional Medical Care (CMC) employee, Mark Smolinsky has also been accused of gross negligence for allowing Barton's health to rapidly deteriorate in jail.
Contracted to provide health care at Broome County Jail, the medical care provider, CMC, was directly responsible for Barton's failing health. One month after Barton's incarceration CMC renewed its contract with Broome, including a clause that CMC would assume liability from any injuries or deaths connected to its performance. Instead of the county paying for civil rights violations and prisoner abuse, CMC agreed to cover the bill.
Between 2009 and 2011, the state Commission of Correction issued critical reports concerning at least nine New York inmates who died in county jails contracted with CMC. Three reports recommended inquiries to decide whether CMC was unfit to continue to provide services, while a fourth report recommended for a county to immediately terminate CMC's contract. Federal lawsuits filed in 2013 also accuse CMC of bearing responsibility for the deaths of Frederick Haag at the Tioga County Jail in 2011, and Maria Viera at the Monroe County Jail in 2010.
This week, the Free Thought Project's Andrew Emett, spoke with Barton's younger brother, Yasir Barton, and asked him about his brother's treatment at Bloome County Jail.
AE: One of his medical slips told staff employees that his seizures were getting worse and the workers weren't feeding him. Did the CMC document his loss of weight or report that he wasn't receiving meals?
YB: They won't tell us anything. The Sheriff's Office told us that they are investigating themselves. The sheriff said he won't release my brother's medical records or the surveillance videos of his cell without a warrant.
AE: Initial reports stated that your brother died of an overdose, but the sheriff has said that four toxicology tests have shown that there were no drugs in his system. Do you know why there was confusion?
YB: The sheriff originally accused my brother's common-law wife of slipping him drugs right before he died. The tests proved he wasn't on anything.
AE: In CMC's contract with Bloome Jail, a clause is included that states CMC will assume liability for any injuries or deaths connected to its performance. Do you think this gives correctional officers a reason to be more abusive or use less restraint if the county is no longer held financially responsible for prisoner abuse?
YB: Yes, of course it does. Look, I didn't understand any of this before my brother's death. But my brother didn't have to die, and no one's being held accountable.
AE: Because CMC is a for-profit corporation providing health care in jails, do you believe they stand to lose money by giving inmates adequate medical care?
YB: CMC is full of greed and corruption on so many different levels.
AE: You were asking for other witnesses to step forward earlier on Facebook. I understand you received letters from at least a half-dozen inmates who were incarcerated with your brother. Are you still asking anyone else to come forward and testify? Possibly other inmates, jail staff, or even guards?
YB: Yes, nurses, janitors, everybody. I know everyone's scared, but we want more people to step forward. Remember this could've been anyone's brother, son, uncle, or father.
AE: Do you want to say anything to those people who haven't stepped forward yet?
YB: I know you're afraid of retribution, but there is power in numbers. They can't hide the truth if we stand together. Don't let them keep lying.