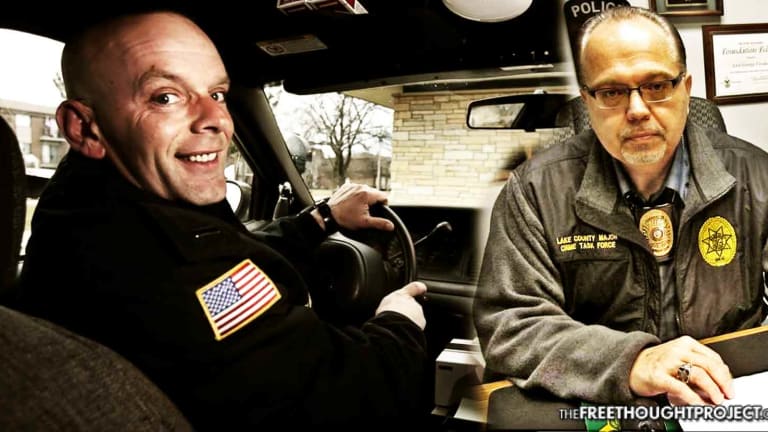 Exclusive: Police Chief Accused of Arresting Innocent People to Cover Up Cop's Suicide
After an Illinois cop's suicide was blamed on the war on cops, this police chief spearheaded a massive manhunt sweeping up innocent people.
Round Lake Park, IL -- We first brought you the story of small town Round Lake Park, Illinois' problems with its police chief, George Filenko. If it wasn't enough that his police force is suing him, that he's accused of bullying a woman into a false confession (Melissa Calusinski), that the police union president outed him as being incompetent, that the police department then arrested a celebrated whistleblower (Coroner Thomas Rudd), maybe the latest news of alleged unlawful arrests will be enough to force the Chief to resign or be fired.
While it's important to note Filenko hasn't been named as a defendant in the current federal lawsuit, sources close to the case say he's likely to be named a defendant in the newly filed lawsuit. Filenko was, according to former Lake County, Illinois Coroner Dr. Thomas Rudd, and others, directly responsible for the subsequent chaos surrounding the suicide of Fox Lake Police Lieutenant Joe Gliniewicz. At the time, Filenko was the commander of the Lake County Major Crimes Task Force, the same one responsible for investigating Gliniewicz' death.
Just before he killed himself, Gliniewicz radioed in that he was pursuing three suspects. When backup arrived, they found Gliniewicz dead in a field. According to Rudd, the coroner who examined the fallen officer's body, it was immediately apparent he'd committed suicide, yet Filenko allowed the idea and notion he'd been killed by someone else to proliferate. What resulted, according to the latest lawsuit, was that dozens upon dozens of citizens had their rights violated and were unlawfully arrested.
In the eyes of many, there's only one person responsible for the resulting chaos -- Round Lake Park Police Chief George Filenko. 
In an exclusive interview with The Free Thought Project, Rudd claimed that "they already had three people they were going to railroad for his murder," before he (Filenko) came out with the announcement he'd committed suicide. The claim that
The claim that Filenko's weak-kneed leadership is responsible for the arrest dragnet comes as no surprise to Filenko critics like Dominick Izzo. Izzo, a former Round Lake Park police officer worked for Filenko, having served as his right hand and for many years. Izzo said the subsequent manhunt for Gliniewicz' alleged killers was unnecessary.
In a recent Facebook post, he wrote, "George Filenko was the head and lead investigator of the Lake County Major Crimes Task Force which already faced scrutiny for wasting taxpayer money on a fictitious manhunt. Now this federal lawsuit on illegal seizures." Izzo's also highly critical of his fellow officers for not standing with him and denouncing Filenko. He called the hot water Rudd is now in a "farce" and implored his fellow officers to decry their boss and his actions. He wrote:
Personally embarrassed at how many of you cops and former cops have reached out to me and "thanked" me for speaking out against Filenko.
Countless many of you have worked with and under him and have known of his evil corruption for YEARS.
If you had come forth perhaps Melissa Calusinski would not have suffered the last 9 years in jail, Rudd wouldn't be going through this farce of a Lake County witch hunt, those who were illegally seized during the Gliniewicz man hunt wouldn't have been, and tons of cops, civilian employees and residents would not have been subjected to his megalomaniacal bullying, lies and corruption.
While Filenko has yet to be named to the federal lawsuit, he is arguably responsible for the dragnet of arrests which occurred immediately after Gliniewicz' suicide. We contacted the office of Gregory Kullis (attorney) to inquire as to why the head of the Major Crimes Task Force was not named as a defendant in the case, but Kullis was in trial and could not be reached for comment. We are waiting to hear back from him with an answer to that question.
As for Filenko's direct involvement in the alleged arrest dragnet, for not reporting the death as a suicide, he allegedly led Lake County police departments to believe they had cop killers on the loose. According to Rudd, he did it on purpose.
But the former coroner now has a bigger problem on his hands. As TFTP previously reported, he's been arrested and charged with several felonies surrounding his reelection campaign. In what many believe is payback for blowing the whistle about Melissa Calusinski's coerced, false confession, in the death of a toddler in her daycare, Rudd (former Lake County Coroner) was arrested and charged with multiple felonies.
Rudd's testimony was aired on national television (48 Hours) in December. In the episode, he declared Calusinski to be innocent of the charges which led to her conviction. He said he was absolutely certain she should not be in prison and provided affidavits from several other medical examiners and pathology experts to support his claim the child was suffering from a previous injury which resulted in massive swelling of his brain, leading to his untimely death.
For speaking out, instead of being commended for attempting to help an innocent woman go free, he was arrested on felony forgery charges related to his reelection campaign for coroner. In the eyes of many, the charges amount to nothing more than a thinly-veiled attempt to silence the whistleblower.
Rudd doesn't dispute he made a mistake with the petition paperwork for his reelection but told TFTP, "I didn't know that it was wrong to do that." Realizing he made a mistake he, "withdrew (from the election) before a hearing" took place.
As proof he's being treated unfairly he said, "No one has ever been indicted for doing this unless they got on the ballot." Since he withdrew before the election he said it should suffice, and no charges be brought against him, but he admitted he's being punished with "political payback" for blowing the whistle on Filenko and others, "for cases where they've disagreed with my ruling," cases precisely like Calusinski's and Gliniewicz's.
Rudd told TFTP he's resigned to the fate he's about to be handed. He said, "It's highly unlikely that I will get off. I will be convicted. I'm going down. Because they can't afford to have me run again. I will be found guilty despite the evidence."
Rudd says his case is all about discrediting his testimony against upcoming lawsuits where he'd serve as a witness against Filenko and others. When asked why it seems so hard for Filenko and others to admit they made mistakes in the Calusinski and Gliniewicz cases he responded, "Because they're going to be sued either way when that person (Calusinski) gets out." He says they're also protecting what he called "bad cops".
Rudd denies being framed. He said, "I'm not being railroaded. I'm being punished for opposing the good ole boys network the powers that be. I slipped and made a stupid mistake and they've used it against me."
Attempting to look at the problems Lake County is facing is difficult, but doing so causes us to question what would have happened if Rudd's testimony had been believed in both the Calusinski and Gliniewicz cases.
First, Calusinski would have been given a new trial and potentially set free. Many experts agree the more than a dozen hours in police custody without representation is more than enough reason to give her a new trial.
Second, Gliniewicz death would immediately have been ruled a suicide. The dozens upon dozens of arrests, according to the latest lawsuit, would have been prevented. The citizens' rights to liberty would not have been infringed upon. And lastly, a whistleblower, who should be protected under Illinois' whistleblower protection laws, would not be facing frivolous felony charges related to an election in which he never competed.
When will Round Lake Park, and Lake County realize from whence or from whom arises the majority of their legal problems, and deal with the matter accordingly? It's time the whistleblowers are believed.
For his part, Izzo isn't waiting around for someone else to do something. He started a change.org petition to be delivered to Illinois Governor Bruce Rauner, and senators Dick Durbin and Tammy Duckworth. He's calling on the state's most powerful leaders to remove Round Lake Park Chief George Filenko. If you'd like to inquire more about the petition to have him removed you can do so by clicking here.