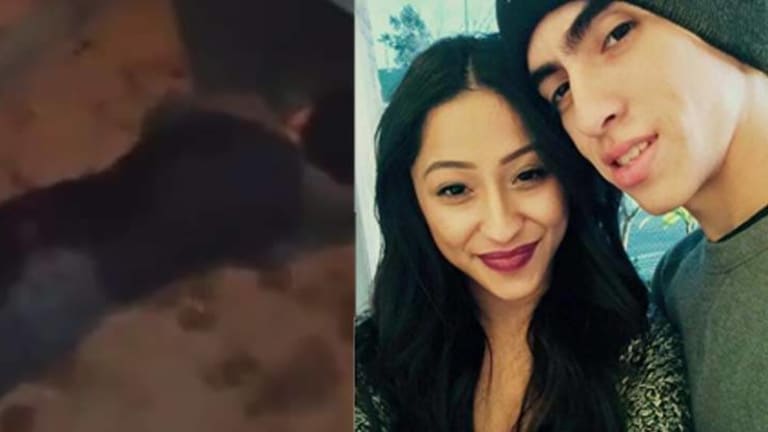 VIDEO: Family Calls 911 to Report Stabbing, Cops Show Up Assault Victim & Arrest Family
A graphic video, submitted to the Free Thought Project, shows police officers more interested in assaulting people than helping a man who lay bleeding out on the road.
Sylmar, CA-- In an extremely graphic video uploaded to Facebook on Wednesday afternoon, police officers in Sylmar, California, are seen assaulting and treating a 20-year-old victim of a stabbing, his frightened 14-year-old brother, and the 20-year-old mother of his child, like criminals.
The victim and his family say Officer Escalera of the Mission Hills PD should be held accountable for his actions.
The incident took place on Friday around 10:30 pm. The police had been called to help Charles Wesson, who had just been stabbed nine times. Details regarding the stabbing are unclear at this time. What we do know is that the assailant is known to the victim and detectives are looking for him.
" width="787" height="590" frameborder="0" allowfullscreen="allowfullscreen">
When the police arrived, instead of making sure everyone was alright and speaking to witnesses, the scene became hectic and terrifying.
Wesson is seen left alone by the police on the curb, bleeding profusely, before falling onto the pavement as three or four officers gather by the police vehicle. The person taking the video is hysterical, begging the police to come help the man that he believes to be dying. One officer is heard nonchalantly informing the man that Wesson is fine, seemingly more interested in crowd control than helping the victim or the traumatized witnesses.
"Instead of being helped or making sure nothing else happens to him, he was thrown on the hood of a white car as if he was the suspect. You can see his blood on the white car on the video." Charles Wesson's father, Fred Wesson wrote.
Fred Wesson also told The Free Thought Project that no witnesses were questioned regarding the stabbing and were all simply sent away from the scene.
"I asked why they weren't holding people for interview, the detective told me 'oh we did, they didn't know anything so we let them go,' and that was bull." Fred Wesson told us.
The victim's girlfriend, and mother of his son, Presly Diaz is seen being arrested as she was leaving a voicemail message for Wesson's mother. She was charged with battery on a police officer.
"You will also see and hear my grandson's mother (Presly Diaz) being tackled (97 pounds) by the police officer after he is told by his partner that she was also going to be arrested. While she was being tackled by the police officer, my son (before he passes out ) asked why he was arresting her. The police officer responds by saying she hit me. As you can see on the video, she was arrested because his partner told him too and not because she assaulted him. The video shows the police officer assaulting her and lying about it. One of many lies that night." Fred Wesson wrote.
The Free Thought Project spoke to Diaz, and she maintains that she was falsely accused, and was hurt as she was assaulted by the officer. She was taken into custody and released the following day. She has remained at Charles Wesson's side in the hospital since her release.
Wesson's 14-year-old little brother was also arrested for assaulting an officer, as the frightened young teen thought that the police officers were further hurting his brother who he believed to be dying.
"My younger son, not only sees his brother bleeding to death, but also seeing the police hurting him more, so (he) tries to stop the police officer from doing anymore damage to his brother. I'm not saying he should have hit the police officer, but at the time he was trying to protect his brother who was dying because the police officer who was hurting his brother for no reason." Fred Wesson explained.
We also spoke to the victim, Charles Wesson, who remains hospitalized and plans to spend Valentine's Day with his girlfriend by his side in the hospital. He told us that he is doing okay at the moment and is just trying to get his story of what he and his family went through out there.
Fred Wesson told us for a while they weren't sure if his son was going to make it. Thankfully, the young father's operation went well and Charles is expected to recover from his injuries.