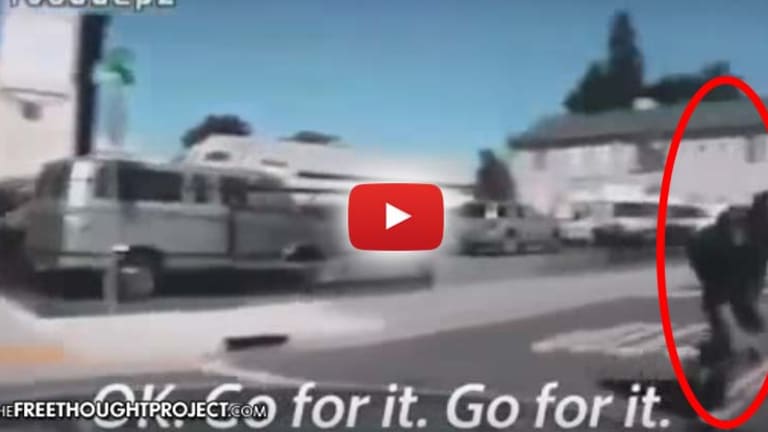 'F**k this Guy, I'm Going to Hit Him' -- Cop Records Himself Trying to Kill Mentally Ill Man With Patrol Car
Newly released video with enhanced audio shows Sacramento police try to run down a man with mental illness, twice, before shooting him 14 times, killing him.
Sacramento, CA— "Fuck this guy," an officer can be overheard saying before veering his patrol car directly toward a homeless man in the midst of a mental health crisis.
"I'm going to hit him."

"Okay, go for it. Go for it," his partner affirms.
Sent to the scene after callers claimed 51-year-old Joseph Mann was acting erratically and might be waving a gun, the Sacramento officers twice attempted to run him over with the cruiser.
Dash cam footage shows them unable to hit Mann with the patrol vehicle on the first attempt — so the slam it in reverse and speed away to try again.
As Mann runs down another street, the officers catch up to him, and seem determined to stay their deadly course, as one yells, "Watch it! Watch it! Watch!"
In the next clip, one says — chillingly — "We'll get him. We'll get him."
Unsuccessful in running him over, Officers Randy Lozoya and John Tennis leaped from the vehicle and fired 18 rounds at Mann — 14 of which hit him. On the newly released audio, enhanced by the Sacramento Bee, Mann can be heard moaning for a time before succumbing to the inordinate number of bullet wounds.
">
Many have likened the July 11 killing to an execution — and this audio does nothing to dispute that claim.
Mann's family has filed a federal lawsuit as well as one against the City of Sacramento, accusing Lozoya and Tennis of having no regard for human life — and plan to include the officers' attempts to run him over.
"They are officers that shouldn't be in uniform," Mann's brother, Robert, told the Bee. "If this is their state of mind when they go to work, this doesn't serve anyone well."
Calls placed to emergency services noted the man was probably mentally ill — as video and audio clearly shows the man behaving oddly — so responding officers should have been aware the situation would require tactful handling from the start.
Instead, the bevy of police responding follow Mann for five minutes through the streets as he flees what he most likely felt to be an impending threat before gunning him down because, in essence, they ran out of patience.
Police claimed in reports Mann reached for his waistband — but video eviscerates that claim. Mann told the first officers on scene that he did not have a gun — and no firearm was recovered from the scene, even after police thoroughly searched the area.
As The Free Thought Project reported last month upon the first release of video and audio of the fatal shooting, Mann had worked for the Department of Corrections until 2011, when the death of his mother led to a mental breakdown. Since that time, he had lived peacefully — albeit with mental health issues — on the streets of Sacramento.
Until, that is, police showed up and began yelling at him over a loudspeaker to comply with their commands — a move he almost certainly perceived as terrifying.
"Screaming over a loudspeaker at a person with a mental illness is not only futile, it only serves to further confuse, frighten, and provoke said person," Matt Agorist wrote, "especially if that person is schizophrenic."
"You do not shout at them, you do not give them commands because they are obviously mentally impaired," John Burris, civil rights attorney for Mann's family, previously admonished.
Under those conditions, Mann tried to escape the police he believed to be a threat. According to the lawsuit cited by the Washington Post, Mann's family said he was "displaying obvious signs of mental distress," as video shows him "doing karate moves and zigzagging back and forth across the street as he tried to walk away from the Officers [...]
"Inexplicably, the Officers failed to contact any properly trained mental health counselors or make any attempt to use less than lethal force and ignored the established police protocols to make attempts to de-escalate the situation."
As Burris surmised, "One could easily say this is an execution because they were not being attacked."
In fact, Burris noted, police should not have attempted to use the vehicle as a deadly weapon since Mann did not pose an imminent threat — since officers literally chased him down to try to hit him, twice, any claims he posed such a threat are effectively moot.
In fact, measurements taken by the Sacramento Bee using video for reference, place officers about 27 feet from Mann when they fired the 18 rounds.
Sacramento Police spokesman Bryce Heinlein acknowledged officers receive training to use vehicles in this manner.
"That is something we discuss in our use-of-force training, using a vehicle as a deadly weapon," Heinlein told the Bee, adding that training does not include using a vehicle as anything but a deadly weapon.
Mann's family says police were ill-equipped to properly handle the situation and failed to attempt any method of de-escalation before gunning him down.
Burris understandably called the officers' conduct "cowboyish" and "outrageous," the Bee reported.
Prior to September 20, the only evidence disputing the police narrative of the incident was cell phone video; but, succumbing to public and political pressure, Sacramento Police began to release the dash camera video and audio they had asserted for months were not a matter of public record.
Lozoya and Tennis have been placed on desk duty pending the outcome of an investigation and are still being paid as officers of the law — despite their apparent utter unconcern for human life and disregard for police protocol and civil rights.
">