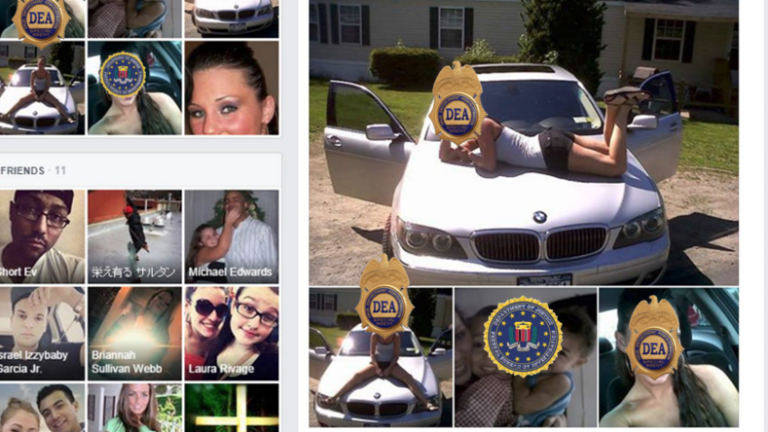 Facebook Slaps Down DEA for Using Woman's Pictures to Make Fake Profile
Facebook has put the Drug Enforcement Agency (DEA) on notice.
Facebook's chief security officer, Joe Sullivan, in a letter to the DEA and their Administrator, Michele Leonhart, has stated that the same rules apply to law enforcement agencies about being truthful and not lying about identity as civilians.
"Facebook has long made clear that law enforcement authorities are subject to these policies," Sullivan wrote. "We regard DEA's conduct to be a knowing and serious breach of Facebook's terms and policies."
Facebook has stated that it wants assurances that fake profiles will not be used in conducting investigations. The letter comes on the heels of a New York woman, Sondra Arquiett, suing in federal court over claims that a fake Facebook page was created using her name and pictures by a DEA agent, Timothy Sinnigen, in an effort to forward a drug investigation.
Initially the Department of Justice defended the tactic. They argued in an August court filing that although Arquiett didn't give direct authorization to Sinnigen to create the bogus account, she "implicitly consented by granting access to the information stored in her cellphone and by consenting to the use of that information to aid in... ongoing criminal investigations."
The Department of Justice last week changed course and opened a review of the case after Arquiett sued the U.S. government, and Sinnigen in federal court.
Investigators had initially seized Arquiett's cell phone when she was arrested as part of a July 2010 drug investigation by a county drug task force, Homeland Security and the DEA, according to court documents.
The following month Sinnigen created a fake user profile of Arquiett without her knowledge or consent, according to court documents. The information on the confiscated cell phone was used to set up the account, including pictures of a scantily clad Arquiett.
In addition to the "suggestive" and "revealing" photos, pictures of other minor relatives as well as her child were used.
Sinnigen then allegedly used the profile for three months, initiating contact with "dangerous individuals" and people Arquiett knew as part of his investigation into a drug trafficking ring.
Arquiett claimed the page made her look like a snitch.
"She suffered fear and great emotional distress because, by posing as her on Facebook, Sinnigen had created the appearance that [Arquiett] was willfully cooperating in his investigation of the narcotics trafficking ring, thereby placing her in danger," the lawsuit contends.
When Arquiett discovered the profile she became seriously distressed and extremely concerned that she could be in danger because of it. The page has since been taken down by Facebook
The DEA has insisted Arquiett lost all rights to her cellphone data when it was confiscated, while not disputing the facts contained in the lawsuit.
Speaking to BuzzFeed News, Anita L. Allen, a professor at University of Pennsylvania Law School said she found the case disturbing stating,
"It reeks of misrepresentation, fraud, and invasion of privacy."
Court records show that the case is now in mediation, after initially being scheduled for trial this week. Arquiett is asking for punitive and compensatory damages totaling a half-million dollars.
Jay Syrmopoulos is an investigative journalist, freethinker, researcher, and ardent opponent of authoritarianism. He is currently a graduate student at University of Denver pursuing a masters in Global Affairs. Jay's work has previously been published on BenSwann.com and WeAreChange.org. You can follow him on Twitter @sirmetropolis and on Facebook at Sir Metropolis.