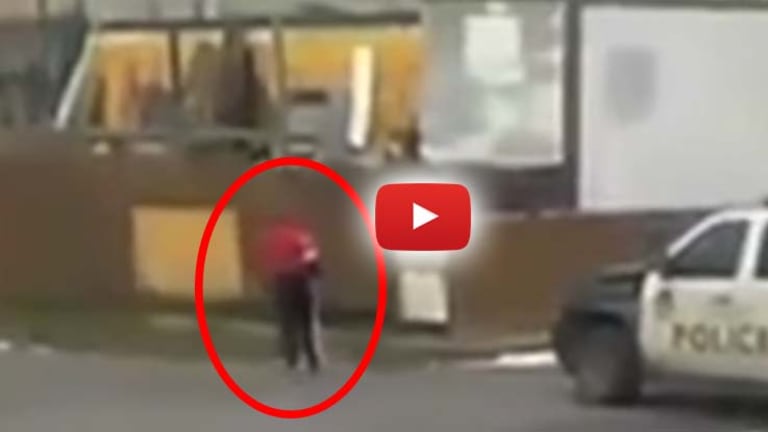 WATCH: Facebook Live Video Catches Cop Ram His SUV Into a Man Holding a Knife
A woman live streamed a disturbing video to Facebook showing a Buffalo cop ram his SUV into a man for holding a knife.
Buffalo, NY -- A disturbing video was streamed to Facebook live over the weekend showing a Buffalo police officer ram his SUV into a man holding a knife.
While the details of the incident, like who the man was and what he was doing with a knife, are unclear, the officer's decision to ram him with his SUV is very clear.
According to Buffalo Police spokesperson Michael DeGeorge, the incident began inside of a residence before escalating outside into the streets.
In the video, posted to Facebook around 12:30 pm Saturday, we can see the unidentified man walking slowly forward as officer begin to surround him. Within a few moments, the officer in the SUV makes the decision to slam the gas and plow his SUV into a man, smashing him into a wall.
After the SUV smashes the man into the wall, nearly a dozen police officer then moved in. A few minutes later, we see the man being loaded into an ambulance.
About 24 hours after the Buffalo police department became aware of the video, it was removed from Facebook for unknown reasons.
According to WGRZ, Tom Burton, the attorney representing the officer through the Police Benevolent Association, said his officer acted appropriately in order to protect the safety of a fellow officer. According to Burton, another officer not seen on camera in the Facebook Live video faced a specific threat from the man, who was wielding a 12-inch butcher knife.
According to police, the man with the knife was walking toward another officer and engaged in a threatening conversation. However, in the video, it appears that just before he's run over, the man with the knife turns and starts to walk away.
"There's no hiding from what happened," Burton said. "This cop was motivated by preventing this fellow from hurting himself or anyone else."
So, why didn't the multiple officers on scene simply surround the man and taser him or attempt to use a less than lethal approach -- other than ramming him with an SUV?
Well, for starters, Buffalo police do not carry tasers.
"The Taser is an in-between alternative between physical force that might entail having to grapple with someone," Burton said. "One would think the Taser would have been an absolutely ideal alternative here."
However, that was not an option due to the ridiculous policy of the Buffalo police department not carrying tasers. So, this officer is being praised for his decision to ram the man instead of disciplined.
According to police, the man was hospitalized with non-life threatening injuries. Also, the officer who ran the man over has not been placed on leave, according to Burton.
Internal affairs will now investigate the incident as a use of force case.